New York can be an overwhelming destination if you don't know how to do it right! This ultimate list includes the 18 most incredible places in New York that will guarantee you a hassle-free vacation!
Made up of five boroughs enclosing the peaceful Hudson River facing the Atlantic Ocean, New York is everything we think about that "American Dream"!
Playing its role as a melting pot of culture and the world's frenetic financial hub, New York is one of the most visited destinations in America.
With this 784-square-kilometer city, how do you think you've got a full glimpse into its heart and soul?
To cover you with an enjoyable vacation, we've got a list of the 18 most incredible places to visit in New York down below!
New York at a Glance
New York, a densely populated commercial hub in the United States of America, has so much going on that it can be overwhelming for first-time visitors.
The concrete jungle of the world-famous skyline pierces through the sky and serves as the most common background when someone imagines New York.
New York shares a slice of America's most incredible history and reputation, from the iconic Brooklyn Bridge to the fascinating museums, from a mecca of international cuisines to the bustling shopping neighborhoods. 
New York is a no-brainer when it comes to cultural exchange. This fascinating place has become the digital nomads' and finance workers' favorite hub, giving New York a solid base to be a melting pot of culture.
There's no wrong time to visit New York, and you can hit this sprawling city anytime in the year. The intelligent and convenient subway system, along with Uber and taxis, smoothes out your navigation around the city where you want to spend up to a week visiting. 
18 Must-See Places to Visit in New York
1. The Metropolitan Museum of Art – Wake up Your Artistic Self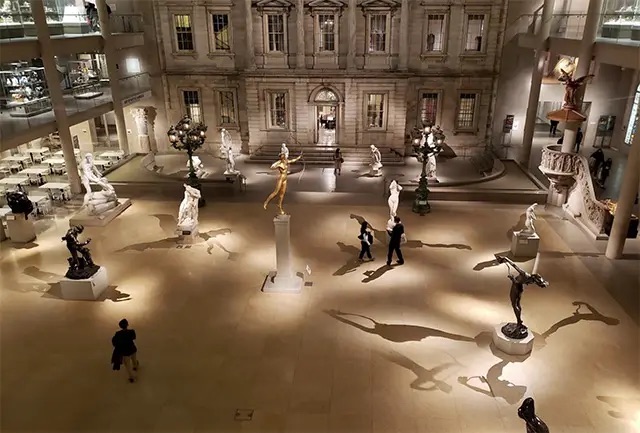 No visit to New York is complete without an insight into this iconic building. You don't have to be an art admirer to appreciate the Metropolitan Museum of Art! Perched on the bustling street of Fifth Avenue, the Metropolitan Museum of Art leads you through layers of art history logically displayed throughout its four levels.
Leave the chaotic setting of Manhattan behind and step into the dramatic world of mysterious cultures. There's a myriad of rotating exhibits peeling off the magnificent insight from the Hellenistic Kingdoms to Turkmenistan and the Mediterranean.
Then stroll through the haute couture and avant-garde fashion to soak up the masterpieces of the everlasting renowned designers. Finally, save the Metropolitan Museum of Art for the first day of your trip. You probably need at least three to five hours to max out your aesthetic journey at this very spot!
Don't forget to claim your discount ticket: The Metropolitan Museum of Art Tickets
Get the location on Google Maps>>
2. Central Park – A Massive Green Oasis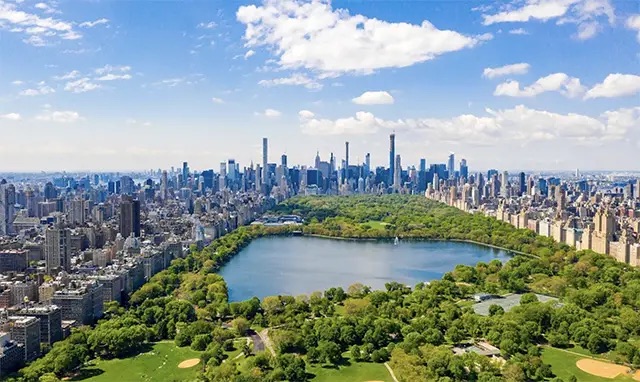 Walk a little further from the Metropolitan Museum of Art. The woodland maze of New York Central Park looms like a gigantic green oasis nestled by the surrounding concrete jungles. Take a long walk down the tree-shaded path and lush meadows for a sense of reconnection with nature.
Treat it as a quick getaway from the honking horns and bumper-to-bumper traffic; you will find Central Park a handful of outdoor pursuits. Check out the Strawberry Fields for an inspiring photogenic spot. If you're traveling with kids, put your little ones on a Carousel ride and unleash their inner dream.
Are you hitting New York during winter? First, embrace the sunny days in the coldest months of the year with a visit to Wollman Skating Rink! Then, when the sunbeams down, head out to the beer garden to sip on your favorite ale.
Start from any entrance, and then make a big loop to return to your initial spot for a complete experience!
Get the location on Google Maps>>
3. Brooklyn – A Hectic Slide of Heritage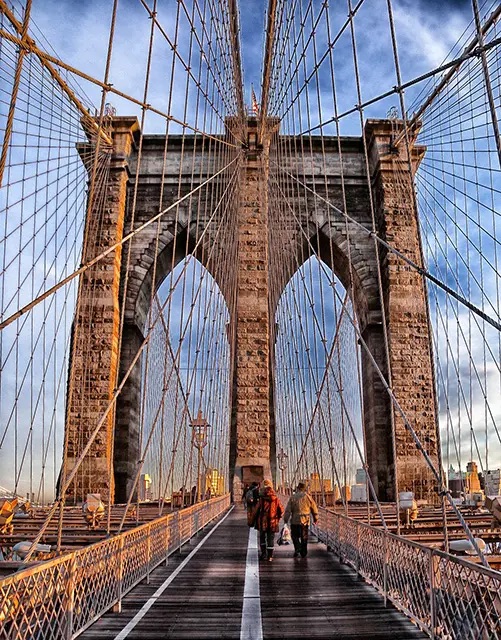 As one of the boroughs, Brooklyn lends its local flavor to become one of the best places to check out in New York. But, of course, the most sought-after symbol of the neighborhood is Brooklyn Bridge. This gigantic suspension bridge stretches over the East River.
And as the sun casts its dazzling glitters on the river, Brooklyn Bridge becomes a contemplative backdrop to feed your Instagram. This awestruck feeling's got the world by storm, and many passionate photographers flock here to capture their lifetime masterpiece.
Pinwheel your way around the bridge and immerse yourself into the full-on food scene. Brooklyn has it all to quench your hunger, from bagels, donuts to Smorgasburg and Chinese cuisines! Live performances stir up the crowd of Brooklyn every night. You'll see the madding crowds spilling out of bars and Barclays Center to fill up the streets every night.
Get the location on Google Maps>>
4. Broadway and the Theater District – The Crown Jewel of Midtown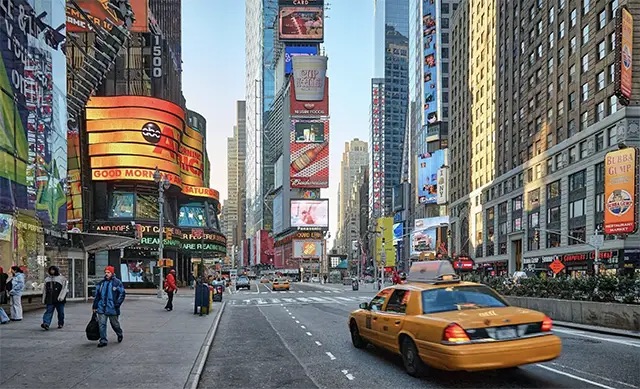 The Theater District is next in line to top your list of New York's must-visit places. The neighborhood is the crown jewel of Midtown Manhattan, with hundreds of theater curtains pulled up every night serving curious audiences.
No matter which type of show you're into, the New York Theater District has something for everyone. But, call it a blockbuster musical or monologue, Theater District can be overwhelming for out-of-towners trying to navigate through this dizzying experience.
If you're new to the scene, start with Broadway, and you'll be on your merry way! It comprises 41 theaters around Times Square. Get ready to indulge in the splashy musicals with a premium ticket ranging from $130! In sync with Theater District, Broadway is the most excellent way to introduce you to New York.
Get the location on Google Maps>>
5. Classic Broadway Musicals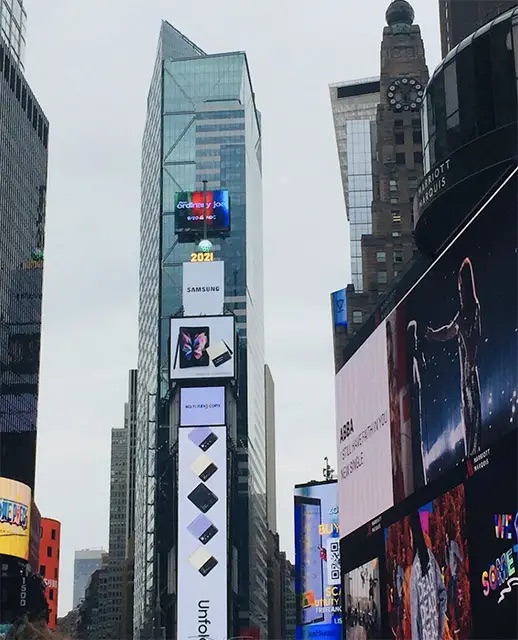 Get more information on Google Maps>>
6. The American Museum of Natural History – Discover Your Earth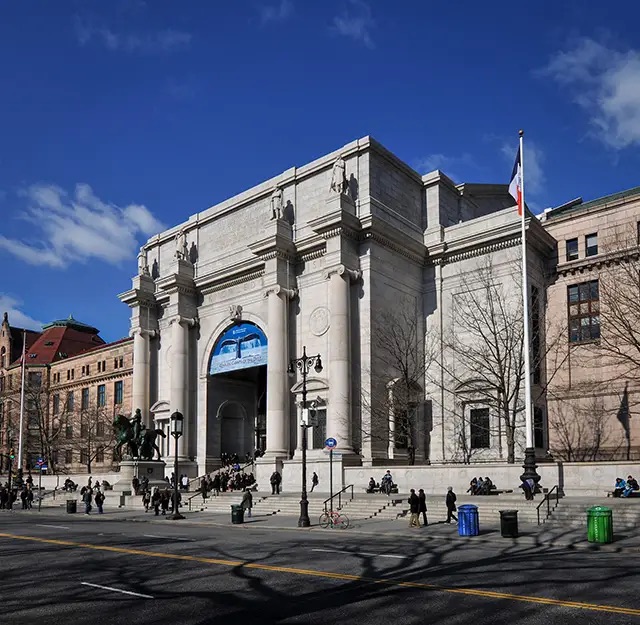 Amazing and overwhelming, the American Museum of Natural History transports you to different parts of the earth. Nestled in the Upper West Side, the American Museum of Natural History spans from Antarctica to North America and Asia, with lively artifacts including dinosaurs, fossils, and reptiles peppered throughout the building.
You need to spend at least two hours and a half at the museum to fully keep up with the happenings and get a decent sense of natural history. In addition, the museum is an extensive collection, and you're much more likely to experience brain fatigue if trying to absorb everything it has to offer.
Therefore, we recommend narrowing it down to one or two sections on every visit and making it multiple times to enjoy the experience fully!
Don't forget to claim your discount ticket: American Museum of Natural History Ticket.
Get the location on Google Maps>>
7. High Line – A Look into New York's Innovative Development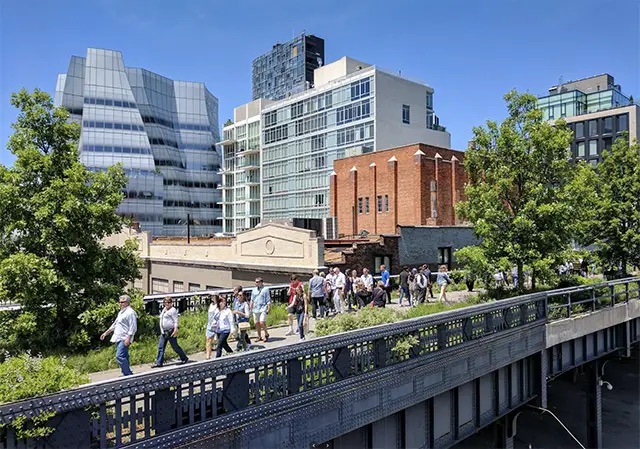 Born as an elevated highway, High Line nowadays is transformed into a public park complex giving a flair to anyone visiting New York. Innovation and an inviting atmosphere become its biggest hits.
Walk around the park, and you'll hypnotize by its thriving green spaces and an array of artworks. In addition, seasonal food vendors offer the best local treats to delight your taste buds.
Nothing's worth a significant effort as all you need to stroll through the park and soak in New York's history with a glimpse into this abandoned elevated railway. Then climb the vessel and revel in its awe-inspiring stairs and landings.
However, the vessel sculpture is currently closed as of February 2021, when our New York travel guide is released.
Hudson Yards developer informed it and for further notice, the time you visit, make sure to check the latest updates!
Get the location on Google Maps>>
8. The Statue of Liberty – An All-Time Iconic Landmark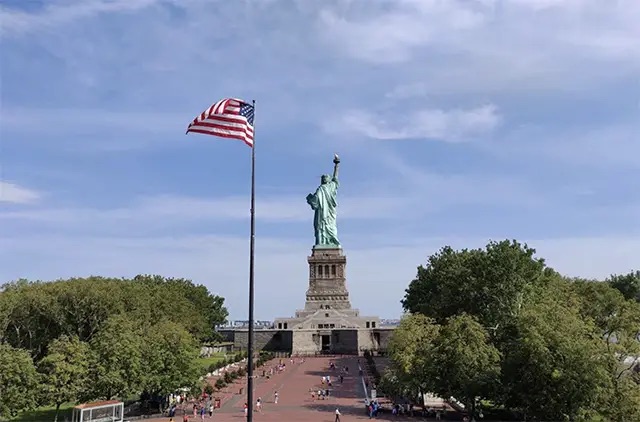 Beyond the shadow of doubts, the Statue of Liberty is an all-time iconic symbol of New York. Its 135-year-old reputation lies in the attachment between America and France.
For the past few years, the surge of visitors to the Statue of Liberty has skyrocketed, proving the everlasting attraction of this ensuring symbol of freedom.
Officially known as the Liberty Enlightening the World, the statue first landed in the harbor of New York in 1886, representing the figure of Libertas, a Roman deity of freedom.
Hitting the second floor inside the statue to immerse into the Statue of Liberty Exhibit is one of the best ways to discover this magnificent landmark. History buffs will have a fascinating time touring the Torch Exhibit and uncover the remarkable facts behind the famous torch held by the Lady.
Book a tour: New York Statue of Liberty and Ellis Island Tour
Get the location on Google Maps>>
9. Empire State Building – A Reminder of America's Lavish Dream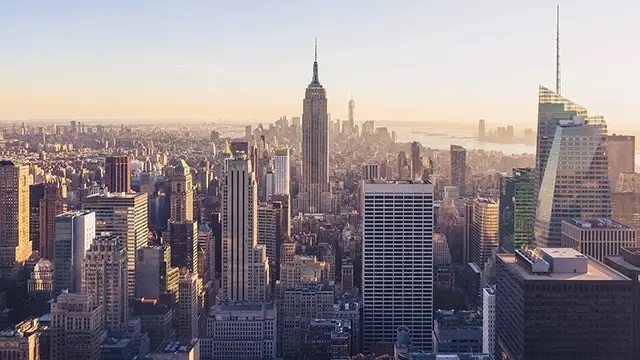 The list of New York's most famous places goes on and on, but it will never forget the Empire State Building! In 1931, Empire State Building was dubbed Americas' favorite architecture.
Perched amid the dense concrete jungle of New York City, Empire State Building boasts a magnificent vantage point up on the 102nd floor. Where an observatory deck is waiting to have, you admire the panorama of Hudson and East River.
Don't forget to check out a wealth of restaurants enclosing this marquee attraction!
Where I got my ticket: Empire State Building Ticket
Get the location on Google Maps>>
10. Union Square Greenmarket – Game Up Your Gastronomy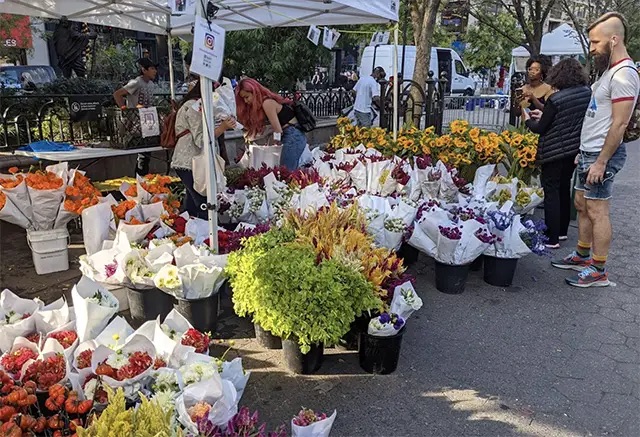 It's a no-brainer to say New York is a hub of the booming shopping scene, but it definitely cannot go without Union Square Greenmarket. This lively outdoor market offers a vast assortment of local gourmet and fresh produce.
Explore a thriving offer of farmer's authentic products such as cheese, bread, flowers, and many more. Call it a treat to drop by and sample freshly baked goods or pick on your favorite artisanal keepsakes.
Winter is the best time to visit Union Square Greenmarket! Is there anything better than sipping on your hot apple cider walking around to choose your memorable Christmas souvenirs?
Get the location on Google Maps>>
11. Bryant Park – A Hidden Meditation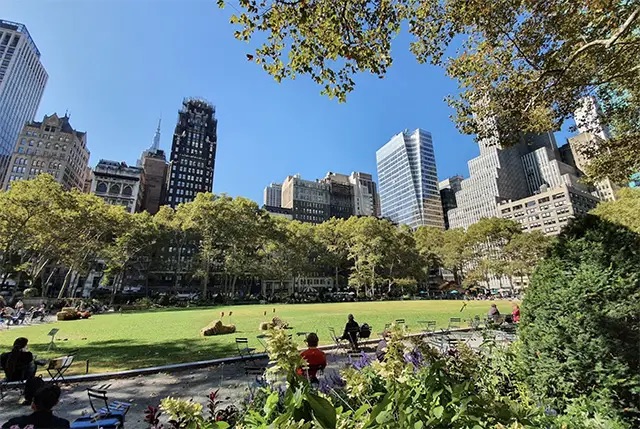 The bustling streets of New York are hands down a chaotic scene. But there's nothing to fret over because New York is home to a mecca of green spaces to reconnect with nature and enter your blue mind!
Bryant Park is one of the most visited parks in town, dubbed Manhattan's Town Square. The greenish rolling hills, free outdoor activities, and alfresco dining are ready to keep you occupied.
Ice skating at The Rink becomes the locals' favorite winter sport, but Bryant Park is a year-round destination. It gives you a unique experience to fly under Central Park's mainstream radar – something serene and pleasant to unwind.
Get the location on Google Maps>>
12. Times Square – Live up to the Hype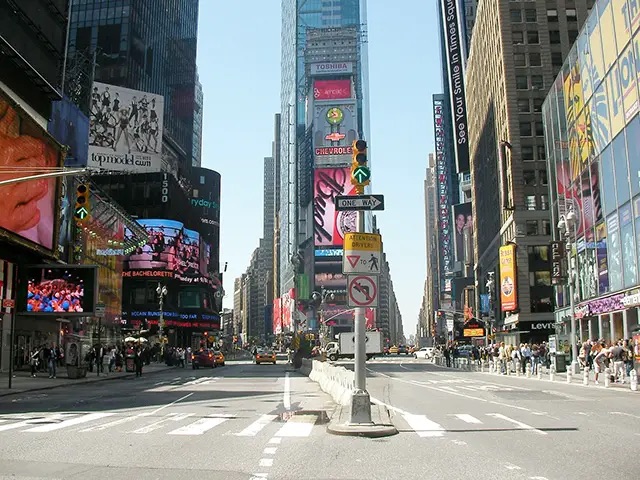 Times Square is one of the most visited areas in New York and is ranked as the world's busiest pedestrian area. Giving a total contrast to the tranquil setting of the parks, Times Square witnesses madding crowds weaving through the Theater District every night. 
The lights, crowds, noise, and attempting food scene pull in many visitors every year. But, chaotic as it is, the top tip to keep in mind is a duck out of the costumed characters, unless you're happy with helpful information after the photo.
Get the location on Google Maps>>
13. Fifth Avenue – An Answer to Your Shopping Spree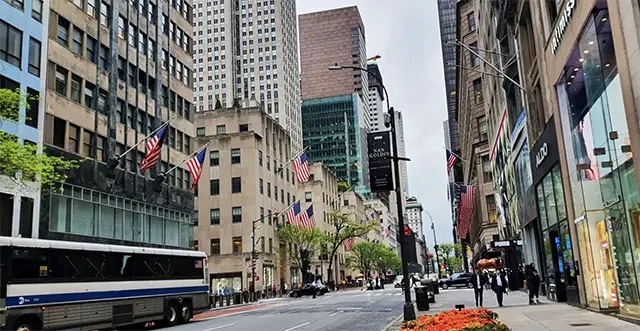 Along with other iconic landmarks, Fifth Avenue has a lot to do with the reputation of the Big Apple. Dubbed as Millionaire's Row, Fifth Avenue can see as the most expensive shopping neighborhood.
As a result, fifth Avenue is the apple in the eyes of luxurious retailers. As a result, the stream of fashion mavens that attract this place keeps escalating every year.
Armani, Ann Taylor, Club Monaco, Dolce & Gabbana, Jimmy Choo, and M.A.C are only a few to be named. So if budget is not your biggest concern, why not pep up your retail therapy with a spree around Fifth Avenue?
Get the location on Google Maps>>
14. New York Public Library – A Beaux-Arts Masterpiece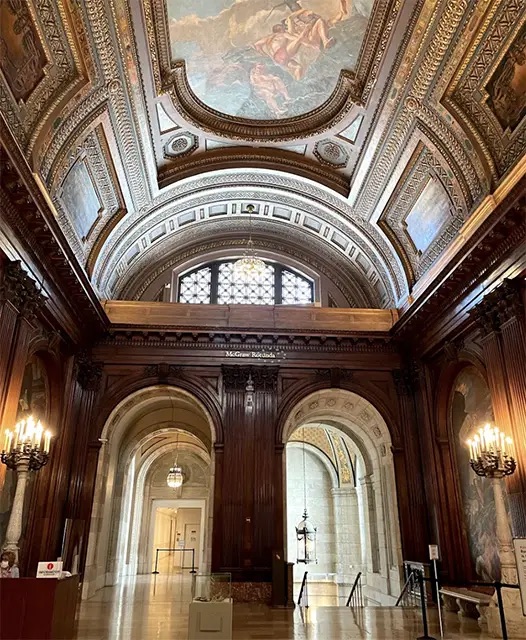 New York Public Library is not simply a place for bookworms. It's the heart and soul of New York that not many people recall when the Big Apple is on the table. It is also the flagship building in the New York Public Library system.
But, more than just a book house, New York Public Library also serves as a Beaux-Arts masterpiece featuring two marble lions welcoming you at the entrance. With its history rewinding to 100 years ago, New York Public Library houses a marvelous collection that requires no entry free to explore!
Get the location on Google Maps>>
15. National September 11th Memorial & Museum – A Wall of Honor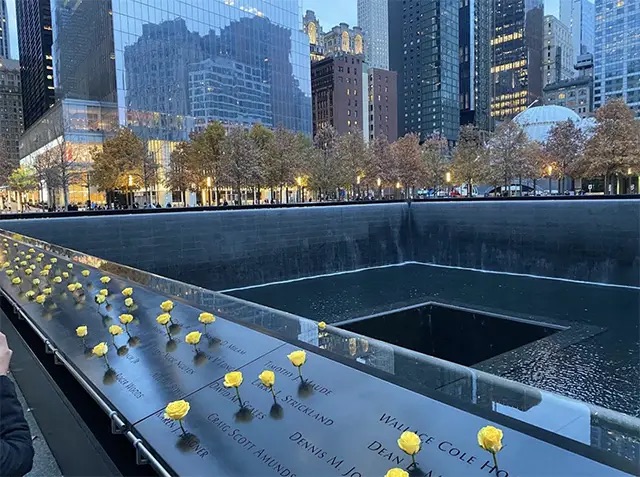 Call it a wall of honor! The National September 11th Memorial & Museum put down 2983 dark-fated victims of the tragic attacks of September 11th, 2001, and February 26th, 1993.
This must-see spot in New York is a chance to slow down and commemorate one of the most infamous events in America's modern history. Note that this is going to be a touching and emotional visit!
Not only can you gain an insight into New York's history but also have a chance to admire this sensitive and informative presentation.
Where I got my ticket: 9/11 Memorial and Museum Ticket
Get the location on Google Maps>>
16. Grand Central Terminal – An Artistic Dream That Stands the Test of Time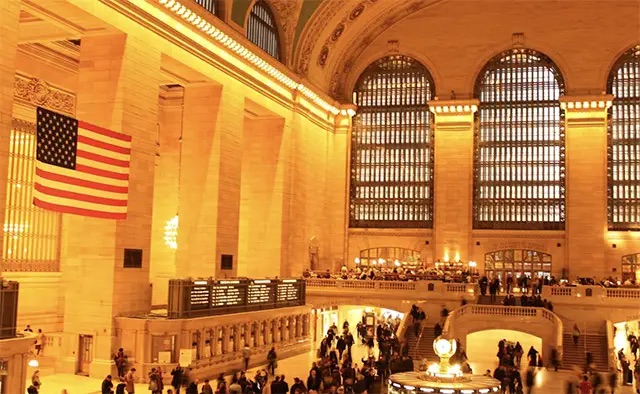 Grand Central Terminal is an important transit hub in New York City, displaying the typical beauty of Beaux-Arts architecture. Going strong for over a century, Grand Central Terminal is a subway station and a retail and dining area.
Don't be surprised if we say Grand Central Terminal is the world's largest and busiest train station spanning over 44 platforms. Its grand façade is worth a proper shot. At the same time, its beautifully laid-out interior provides you with a gorgeous backdrop to feed your Instagram.
Get the location on Google Maps>>
17. Wall Street – It Keeps the World's Economy Going!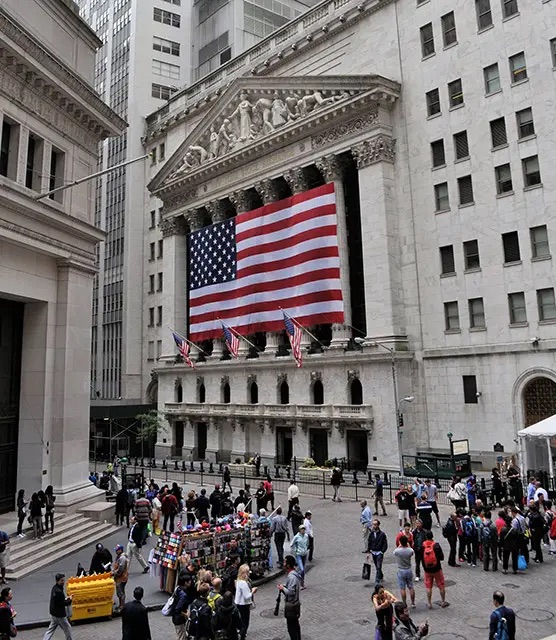 You will understand why New York is regarded as one of the busiest financial hubs when walking down Wall Street. There is no other place on the planet where you can experience the frenetic and wild pace of stock trading like the New York Stock Exchange, which locates smack dab on Wall Street.
It's not an overstatement to claim that Wall Street keeps hostage of the entire world economy.
Get the location on Google Maps>>
The most visited feature on Wall Street is the giant bronze bull. Walk down the street, and you're instantly hypnotized by the madding crowds spilling out of banks and financial institutes. To fully indulge in the vibe of Wall Street, choose from one of the guided tours ranging from Wall Street walks to Lower Manhattan Walking Tour!
Patrick's Cathedral – A Holy Oasis
Soaked in the rich Neo-Gothic architecture, St. Patrick's Cathedral is a must-see sight in New York. It goes way above the definite meaning of a holy shrine as you're about to be hypnotized by the titanic bronze doors and splendid high altar.
Take a quick look around the interior to observe a chain of stained glass windows shining under the glittering sun. St. Patrick's Cathedral has been around since 1879 after 21 years of relentless construction.
Emerging as a shiny jewel amid the dense footprint of modern skyscrapers, St. Patrick's Cathedral gives you a ticket to the past with its unmistakable Gothic reminding you of old Europe.
Even though the cathedral nestles in the vibrant area between Fifth Avenue and Madison Avenue, you'll leave behind the hustle and bustle of New York once stepping inside this dramatic holy oasis!
18. Coney Island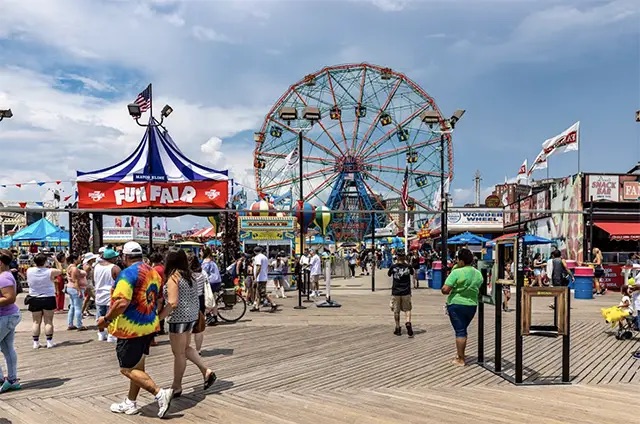 To wrap up your adventure in New York, head to Coney Island for a quirky getaway! This magical seaside section of Brooklyn is a paradise for families with kids. There's a handful of exhilarating rides and cyclones to scream your heart out, a haven for big foodies, and sun-filled beaches to brace the waves. 
Located in the Southern tip of Brooklyn, Coney Island will likely pull you out of the hectic and steamy New York City in exchange for an ideal summer respite. Coney Island comes in handy to balance out your soul for those dreaming of a perfect getaway from the chaotic New York life.
Get the location on Google Maps>>
So have fun at a beach volleyball court, revive your sun-kissed skin, take a big bite of Nathan's hot dog, or rock the playgrounds in your way!
That's a wrap for this populous city of America. If possible, spend up to a week in New York to experience its ambiance to the fullest!