This comprehensive guide to Disneyland Resort California: Disney Park is the only travel guide you need. We revealed our favorite attractions, how we got our ticket deals, itineraries, hotels, food, and more essential tips no one tells you.
The moment we compiled this ultimate travel guide to Disneyland Park, California. All the best memories flashed back to our minds, and we almost lost our grips.
So, if you haven't been there before, take this inspiration and buckle up; you will get there in person! Please read this guide and jot down all the essential tips we share below and make sure you don't miss out on anything!
Best Way to Drop Off Your Family and Let the Kids Live up to Their Dreams
Alright – let's be frank! Who doesn't love Disneyland? We are not too young to go crazy over the mascots but not too old to sit on the bench watching everyone eating popcorn and taking photos! Disneyland is meant to revive your youth and unleash your inner child! So here we are – Disneyland Resort consists of two theme parks located in Anaheim, southeast of Los Angeles:
Disneyland Park.
California Adventure Park.
The two sites are heaven on Earth with So Cal-themed rides and a whirlwind of concept backgrounds where you can take pictures of gorgeous walkways and whimsical mascots.
They have an area called Main Street (where the gigantic Disney castle bases) and 8 themed lands (we will dig into each with details below).
Here Are Some Highlights of Disney Park Which We Will Go in Details Further Below
FASTPASS and Disneyland app.
Tomorrowland.
Star Wars: Galaxy's Edge.
Adventureland.
Mickey's Toontown.
Fantasyland.
Adventureland.
These are our handy tips and favorite themed areas you MUST check out no matter what happens! If you still have time on the second day or third, you can choose to visit the Disneyland California Adventure Park. But I only recommend it if you hang out with a group of friends since the speedy and exhilarating rides are pretty unsuitable for small kids.
Some Personal Tips We Want You to Know Before Visiting Disneyland Park
How to Buy Tickets at a Discount as We Did?
One thing we barely see in other theme parks is the multi-day ticket. As we all know, the park divides into two separate theme parks. It allows you to opt for one-day, two-day, or three-day access. You can purchase these tickets online a few weeks before visiting the park. 
Or you can even do that now if you've already had everything planned out. We always buy tickets beforehand as it offers excellent discounts now and then. Plus, we can skip the line at some entries or rides, depending on the day.
Once you get the e-ticket on your phone, show it to the man in charge at the entry and exchange it for the physical tickets shortly after.
When Should You Visit Disneyland to Beat the Crowd?
When it comes to the best time to visit Disneyland, there's barely a correct answer to this. First off, there's no off-peak season throughout the year, even though some months are better than others. 
The park sees a fewer deluge of visitors from mid-September to Mid-November before Thanksgiving. Another section of time we highly recommend is from mid-January to March.
While it's getting way crowded with school breaks in the first half of April as the weather is mild and sunny, you can opt for the last two weeks of April when the crowds finally thin out.
There's one thing many friends of ours failed to acknowledge is that the operating hours shorten and attractions are frequently closed. So, we leave the choice on your side!
How to Get to Disneyland? 2 Best Ways to Arrive at Disney Park
One thing we realized when visiting California is a little inconvenient compared to some other big cities we've been to there. For first-time visitors, the lack of MRT, train, and subway may hold you back in doubt when you try to navigate the best way to reach Disneyland.
For us, a shuttle bus is the best option, especially if you're on a shoestring. We booked with Starline online beforehand, and they picked us up in downtown LA. What's even better is that this is a round trip, and so they drop you off at where you want it at the end of the day.
If you ask us what the second-best option is, we say a rental car. Yeah! You've heard it right. It turns out to be more economical than hailing a cab now and then. 
For public buses – yes, that is alright to ride a public bus. But the thing is that it only runs between midnight~14:06, and we barely knew anywhere to catch it. So if this is your last resort, make sure to have a local show you the right place to see it!
Fast Pass and Disneyland App: What's It for and How to Use?
Do you know that they even build an app so you can download it beforehand to check wait times and buy tickets? In addition, browse maps and locate which Disney characters are standing. The app is available on iOS and Android.
Now, what is a FASTPASS? FASTPASS launched in 2017 for the first time. It allows visitors to shorten their wait time instead of lining up like everyone else using the standby line.
A FASTPASS is available in either a digital form (classic FASTPASS – offered for free to all park-goers) or MaxPASS, a paid service. With a FASTPASS in hand, your wait time diminished significantly, varying between 5 to 10 minutes, instead of waiting for hours in a traditional standby line.
You can receive the FASTPASS by visiting one of the distributor machines. Here is a brief list of the significant FASTPASS machines.
Big Thunder Mountain Railroad.
Space Mountain (on the right of the entrance).
Splash Mountain
Star Tours.
Buzz Lightyear Astro Blasters.
Indiana Jones Adventure.
Haunted Mansion.
Matterhorn.
Roger Rabbit's Car Toon Spin.
Friendly reminder:
These FASTPASS cards are first-come, first-serve, and they will run out.
Draw your pass as often as possible, every 2 to 3 hours.
FASTPASS is only valid within the day of the issue.
Space Mountain, Star Tours, and Splash Mountain are the busiest spots where FASTPASS cards frequently run out.
Top 8 Themed Areas You Never Missed at Disneyland Park
1. Critter Country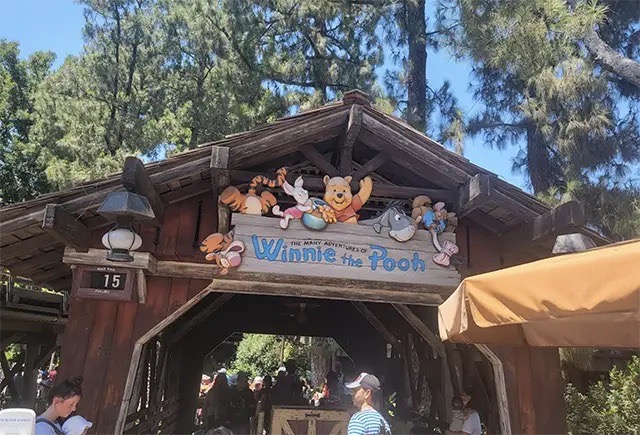 It is one of the first themed lands ever built in the park, where you can find some shades on a sunny day—the entire area wax with woodland creatures, shady trees, and babbling brooks.
Going strong for over half a century, Critter Country hosts many playful animals and attractions. They have a Splash Mountain, Adventures with Winnie the Pooh, and especially the famous dining hole of Hungry Bear Restaurant.
Some newcomers may not know that Davy Crockett's Explorer Canoes is a seasonal attraction. And so make sure to take advantage of this incredible ride if it's open the day you come!
Get the location on Google Maps>>
2. New Orleans Square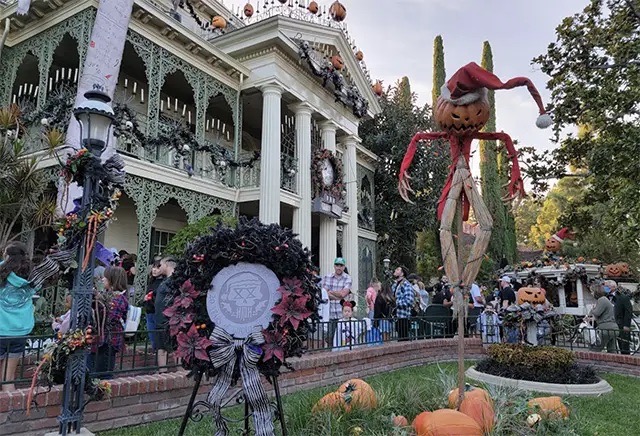 This whimsical town somehow reminds us of the old fun game back in the day. But then, Disney game disks were still a big thing!
New Orleans Square promotes the typical beauty and flair of the so-called New Orleans spirit and culture. Take a leisure stroll around the square, and you will transport back to the life of New Orleans in the 19th century.
Everything about this incredible section delivers a vibe of romance and excitement, with verandahs, wrought ironwork, and the melancholy beats of jazz playing in the air. 
Not to forget the spooky Haunted Mansion and Pirates of the Caribbean moving boat ride! New Orleans Square is a perfect family-friendly stopover!
Get the location on Google Maps>>
3. Frontierland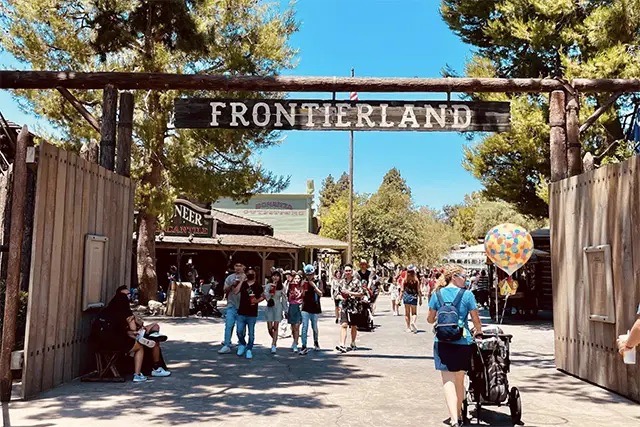 Frontierland sandwich is between Adventureland and Fantasyland. Nothing makes us endorse and respect the way Disneyland promotes its past and history more than how they design and present the themed lands.
It goes the same way for Frontierland. This area is a typical flair of the so-called wild, wild west where the rustic buildings line up around the bareback mountains.
Dance halls and shooting galleries emerge around this mysterious town to welcome you back into the life of Lucky Luke and Davy Crockett.
We rode the Big Thunder Mountain Railroad and honed our shooting skills at the Frontierland Shootin's Arcade.
Get the location on Google Maps>>
4. Tomorrowland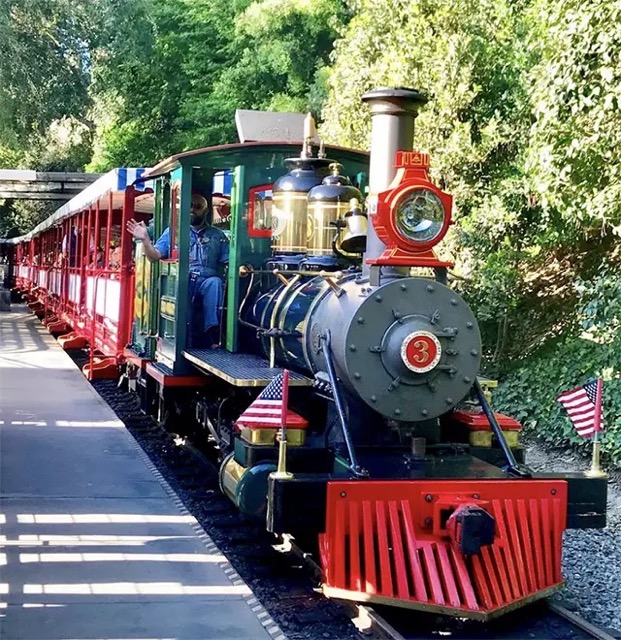 They are known as one of the five original lands laying the foundation for the world-renowned Disneyland. Tomorrowland is one of the most visited themed lands where Space Mountain, Star Tours, and Finding Nemo become the biggest hook for the kids.
Our favorite part to talk about is Finding Nemo! You drive a semi-submarine and keep your eyes out for the characters in the movie.
The coral reefs are stunningly displayed, while the crystal-clear water reflects a beautiful nautical theme for the ride.
Get the location on Google Maps>>
5. Star Wars: Galaxy's Edge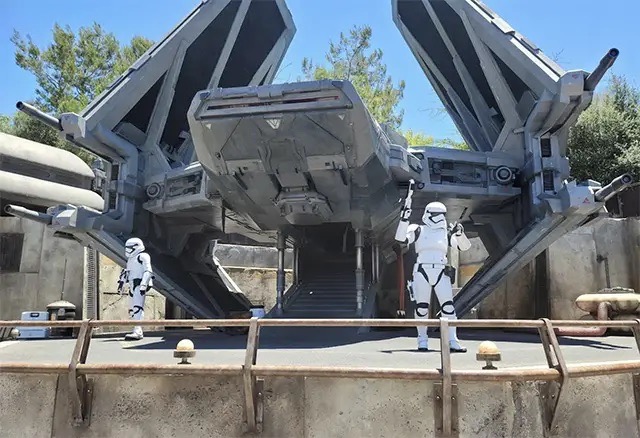 Are you a Star Wars fan? If that's a yes, don't miss out on the latest opening of California Disney: Star War Park. It's known in full as Star Wars: Galaxy's Edge, and the site has been around since the end of May 2019, so not that long ago!
We are not die-hard fans, but this theme park is truly unique. Imagine walking into the park with a Star Wars soundtrack banging in your ears. Covering a 14-acre theme land is an extraordinary setting that promotes big themes and tiny nuances that bring all details of the film series back to life. 
We loved a walk around Smugglers Run and tested our skills at the Droid Depot a lot. You can spend around an hour there or more if you have kids. In addition, we got some black knights and a few pieces of Star Wars costumes at the open-air bazaar at the back of the site, so make sure you won't miss out on it!
Get the location on Google Maps>>
6. Mickey's Toontown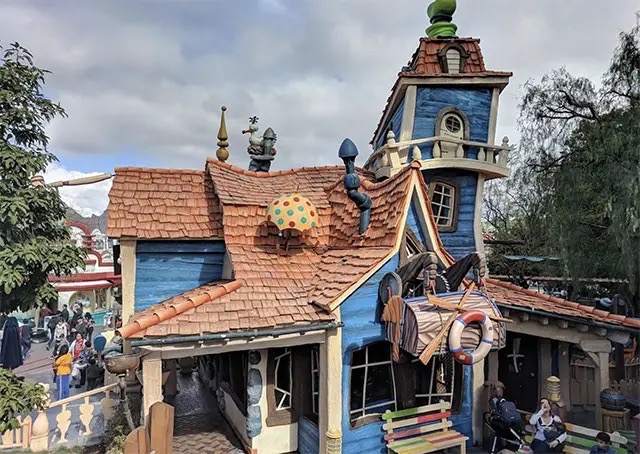 Let's go on the ride and scream your hearts out at the bends and spins! Mickey's Toontown is another big draw for teens and families with kids, thanks to a plethora of crazy spins that go around the hillside buildings.
It is such a colorful town to have the best laugh! How fun would it be when you sail Donald's boat, and hang on the Gadget's Go Coaster while the talking mailboxes keep chirping by your ears! 
Every corner around this themed land represents a wacky metropolis where the cartoon community of Disney is residing. So if you're not into the ride, why not grab your lens around and take some shots of the colorful, vivid miniature playground?
Get the location on Google Maps>>
7. Fantasyland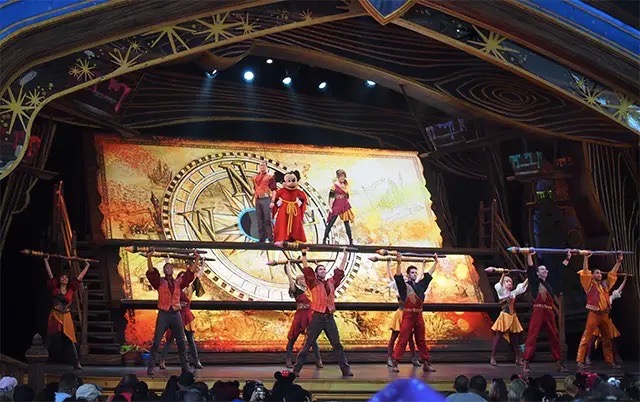 Next up, we have Fantasyland, a perfect place for a long stroll and keeping up with the Disney mascots! We almost lost our grips after taking the first steps into the enchanting town!
Where on earth is every famous Disney castle gathering in one place? We spent so many years watching every Disney episode and movie. Now, all the characters and castles appear right before our eyes! Every building and ride is so exquisite.
Fantasyland is incredibly busy. The kids are running around, and the soaring sound of rollercoasters is vibrating in the air. It's pretty cool that all the sites are not jam-packed in one place, and they spend a lot of effort creating ample green space between the sites.
If you come over during the best months of summer and the tropical sun is shining through, we promise it can't beat your trip to Fantasyland!
Get the location on Google Maps>>
8. Adventureland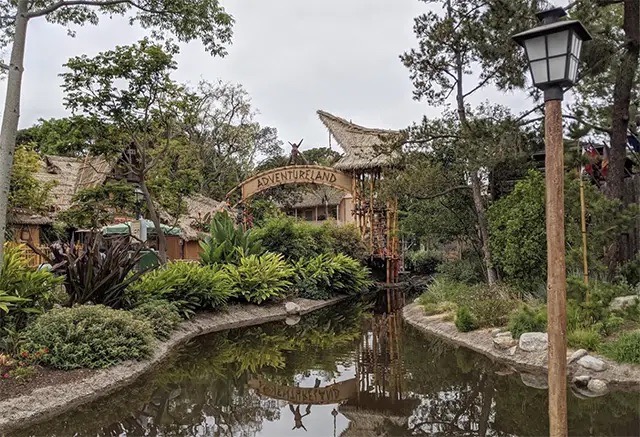 The most remarkable thing about Adventureland is the sweet blend of the future and the past. There's a ride on an old wooden roller coaster with a modern touch of high-end technology. And when you walk around the land, you will spot some live bands playing in the middle of the street wearing Disney mascots.
Adventureland is nestled on the left of the path when you cross through the Sleeping Beauty Castle somewhere near the end of Main Street. This themed land is an exotic and fanciful playground with a mash-up of foreign locales.
In some parts of the land, you may see an African flair to it. Some other corners have a touch of Southeast Asian culture. Polynesia and Middle Eastern vibes are also there in the scene. 
The most talked-about zone of Adventureland is Indiana Jones Adventure. It is a thrilling jeep ride where you vein through the abandoned temples. Of course, we all know that everything is handmade, but the compelling setting is so authentic.
Get the location on Google Maps>>
Simple Itinerary to Conquer Disneyland in Your Way
Disneyland LA: Disney Park is an epic-themed park that may take you up to three days to fully discover it (plus a trip to Adventure Park as well). This time, we bring you a one-day itinerary, the most common option. And here is how we did it!
Space Mountain.
Matterhorn Bobsleds.
Big Thunder Mountain Railroad.
Millennium Falcon: Smugglers Run at Star Wars: Galaxy's Edge area.
Haunted Mansion.
Tom Sawyer Island (this is a perfect place to unwind for a leisurely picnic).
Pirates of the Caribbean.
Indiana Jones Adventure.
Splash Mountain.
Depending on how long you enjoy each place and how long the queues are, one day is sufficient to cover these significant spots.
Get the location on Google Maps>>
Where to Stay around Disneyland?
If you choose to base around Disneyland for easy access to the park, chances are you will end up staying at one of the Disney-owned hotels. These hotels can be a little expensive per night, but instead, it would be a great choice if you tag your kids along.
Otherwise, you can also book a cheaper hotel, a stone's throw from Disney. It takes you roughly 10 minutes to reach the park. You can browse through Booking.com or Agoda to take a pick but if you need our words for it, consider giving Country Inn & Suites by Radisson a shot!
It is cheaper, while the Best Western Plus Anaheim Inn on S Harbor Boulevard is a higher-range accommodation and closer to Disneyland on foot.
Where to Eat at Disneyland Resort?
Lucky for us that the epidemic didn't shut down the whole dining facility, and many restaurants are re-entering the scene so you can fill your tummy on the go. Here are some of your favorite restaurants, and they take mobile orders as well:
Bengal Barbecue.
Pizza inn.
Milk Stand.
Gibson Girl Ice Cream Parlor.
Stage Door Café.
Tropical Hideaway.
Red Rose Tavern.
And when you walk down the streets, there's a handful of vendor carts selling the best American comfort food ever. It ranges from churros to snacks, hot foods, and popcorn (everything a kid craves for).
Conclusion
In this handy guide, you've just browsed over:
8 best-themed areas you cannot miss.
Our recommended itinerary is to conquer the park.
Where to stay and eat?
How to use FASTPASS and find tickets at a discount.
Essential tips regarding when to visit Disneyland to beat the crowds.
Make sure to have your tickets booked for a stress-free vacation!