We visited the Lower Antelope Canyon as part of our one-day tour from Las Vegas. Getting out of the foam mattress at 4:45 am to board the tour bus was fighting tooth and nail.
But we can't blame it! We'd been waiting for that day to come for so long! The tour was exceptional but sorting out everything from choosing the tour package, photography tips, and dos, and don'ts went an extra mile!
So we decided to share all the insights we collected along the way in this Lower Canyon travel guide so you won't have a hard time dealing with it yourself!
Lower Antelope Canyon – Mother Nature's Otherworldly Artwork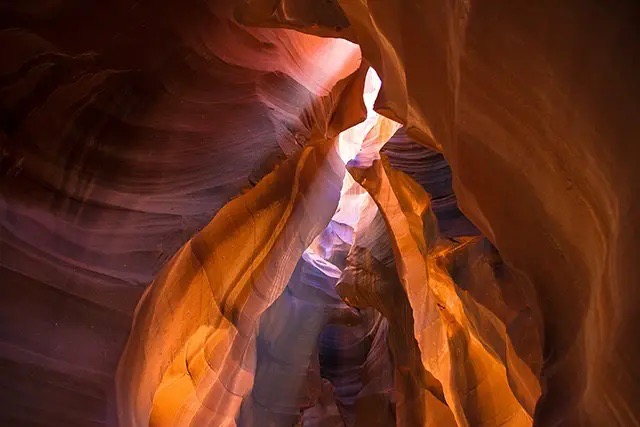 Antelope Canyon is an exclusive natural wonder owned and protected by Navajo National Park and Reservation. Being one of the most incredible and magical photography backdrops worldwide, Antelope Canyon is a must-see that all nature enthusiasts crave when visiting the States.
This gigantic slot canyon spans over a large footprint east of Page, Arizona. It reaches 37 meters in depth and over 1000 meters in floor elevation. While the groundbreaking numbers create a striking impression to ignite your imagination, the glowing effect of the red canyon walls and light beams do the talking.
If you're an ardent shutterbug or simply someone who loves nature, we're sure you'll love the canyon as much as we do! Upper Canyon is undoubtedly the crowd's jewel. Of course, it's the winner of them all, given the flat terrain and better effect of sunlight. But for us, we had a more significant impression of the Lower Canyon for numerous reasons.
Upper and Lower Antelope Canyon: Which One Is a Better Call for Your Day Tour?
The Antelope Canyon divides into "Upper" and "Lower." While this travel guide is about the Lower Canyon, let's spare a few minutes to identify how they two differ from one another so you can make the right pick!
It takes five minutes to drive between the two canyons, each of which takes an hour to complete. Before, Upper Canyon was way more popular.
This reputation level boils down to the light beams, falling sands, and dramatic walls. But ever since Peter Lik captured the sensational "Phantom," the number of visitors to Lower Antelope Canyon climbed to the top of the chart. 
And now both of them are equally popular. However, there's still a significant discrepancy in the prices between the two. Upper is still taking the lead with an exorbitant price per guest, and tour slots quickly sell out.
If this is what you aim for, make sure to claim your slot at least three months beforehand! The terrain is flatter and not as tricky as the narrow passageways you see from Lower Canyon. That's why it suits all fitness levels, and seniors won't have difficulty navigating!
Meanwhile, the Lower Canyon tour price is way more bearable. You don't have to book months in advance; just a few weeks are good enough! However, its rough terrain and steep paths are not easy calls even for adults. Therefore, we don't advise expecting women and seniors to head for this!
How to Travel to Upper and Lower Antelope Canyon?
There's no specific address since the Antelope Canyon is within Navajo National Park and Reservation. However, you'll find it three miles east of Page, Arizona.
There's no point driving alone because you can't access it if you don't belong to a tour group. So what you want to do is pick which tour you want to sign up for, then meet the guide at the designated venue. It's usually hotel pick-up, or you meet the guide at the travel agency. You'll see our suggestions for tour groups from different parts of the States below!
When Is the Best Time to Hit the Lower Canyon? Watch Out for the Light, Crowds, and Floods!
Mysterious light beams sweep through the canyon, reflect on the rocks, and hypnotize everyone standing at their feet. The best lighting comes between March and October. The crowds assemble during the summer months of March and April and autumn from September to October. So avoid these sessions if you want to dodge the crowds!
As a child of Mother Nature, Lower Canyon was influenced by its natural endowment. It goes the same way for disaster and overcast weather. Therefore, give a head up for the monsoon season! 
If you have to go in this season, watch out for the flood! It rushes very fast and fills up the base of the canyon. Now can you see why you need a local guide?
How Can You Visit Lower Antelope Canyon? Which Tour Should You Sign up for It?
The only way to enter the canyon is to sign up for a group tour. It would help if you had a local guide to lead the way and check you in. Numerous terms range from one to two days.
A one-day tour covers the Canyon and Horseshoe Bay. This one departs in Las Vegas if you stay in this city! We signed up for the one, and they picked us up right at our hotel – Bally's Las Vegas Hotel & Casino downtown.
It is a one-day tour, so you've got to wake up pretty early to wait for the bus to come over around 5:30. It saved horseshoe Bay for the morning, and we reached Lower Canyon at mid-day to catch the best light beams early in the afternoon.
A two-day tour covers more desirable destinations. For example, you get to see Zion National Park, the South Rim of the Grand Canyon, Horseshoe Bend, and Antelope Canyon.
Before December 2019, the photography tour was top-rated. Visitors were allowed to bring tripods, and the guide always cleared the crowds to get the best effect.
However, they had an escalation in negative reviews as the guides permanently blocked crowds from entering the frames of their groups. Aside from that, hectic price tags compared to the actual quality and level of contentment also raised eyebrows.
Finally, it shut down the Antelope Canyon photography tour for good in December 2019.
Our Experience with Lower Antelope Canyon
You have to pay attention to the guide and stick to your group at all times! Our guide went out of his way to ensure our safety. That's why he kept hollering "Stay Together" so we wouldn't disperse here and there! It would be a nightmare if we lost the crowds!
We tried to keep pace with the rest of the group to catch all the photography tips the guide revealed.
Remember to watch your steps along the way! Climbing the Lower Canyon is not like walking on the field. Narrow passageways up and down the climb made it way more fun, and we somehow had to squeeze through the ladders climbing up.
Photography Tips: How to Nail Every Single Shot at Lower Canyon?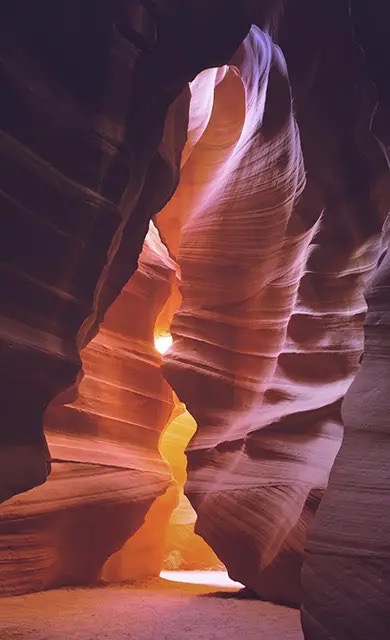 No worries if you're not a professional photographer! Our tour guide was excellent, and he knew what he was doing. His instruction on ISO setting, re-framing the angle, and adjusting exposure were top-notch!
It depends on whether you're using an iPhone, a Samsung, or a basic Sony A6000. If you're an iPhone user, remember to activate the Vivid filter to increase the picture's contrast!
This filter is top-rated for taking sunsets and other natural landscapes. Otherwise, the pictures will turn out lamb since they fail to catch the reflection of sunlight against the rocks!
You need to remember that light beams change at every turn! So, in this case, switch your camera to the lowest ISO setting; it allows the exposure to run as long as possible!
Modern Samsung models, including its A52 line, are developed with advanced camera settings that allow you to play around with the ISO, aperture, exposure, and contrast however you like!
Wrap-Up: What's Not Allowed to Bring into the Canyon? Bathroom Location
Basic bathroom facilities are available by the parking lot. There is nowhere to answer the call of nature down there underground! Make sure you're ready and fresh before signing in and heading down to the canyon.
Tripods, selfie sticks, snacks, and drinks are prohibited in the canyon.
Are you ready to rock Lower Antelope Canyon? Then, bookmark this travel guide and carefully consult it for a hassle-free adventure!