When I set foot on the island of Tasmania, I fell in love with its simplicity. The clean air is different from the Australian mainland with a little bit of dust, and here I feel what is fresh. Crossing the countryside in the fields, Dutch towns, and towns, New Zealand feels like the distant mountains, making you unconsciously slow down and enjoy this beautiful innocence.
I will share this beautiful scenery with you to add a little more time to this island. It will make you unique.
As this classic attraction list, it should help you plan your road trip to Tasmania. Click Here>>
Let's check these attractions see what we can add:
The Nut Stanley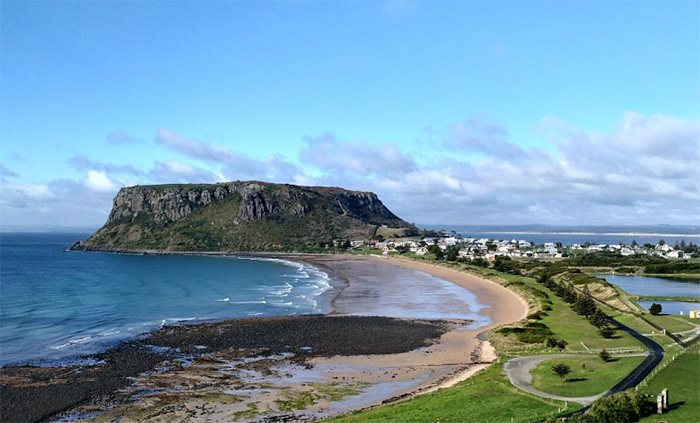 An ancient volcanic plug, this steep bluff features a chair lift, hiking trails & panoramic views. This colossal rock looks like Uluru, and many people call it "Sea Uluru. "
>>Check location on Google Map
Dove Lake Boatshed in Cradle Mountain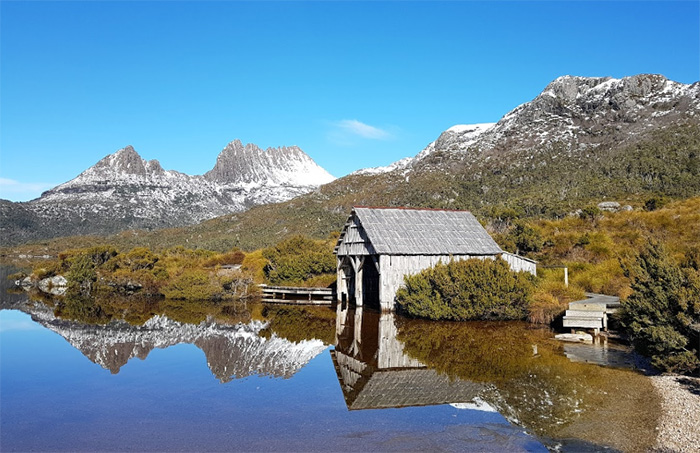 The national park comprises protected rainforests, alpine heathlands, and untouched mountains—a genuinely photogenic place, rustic, and full of character. The day I visited was windy, overcast, and occasional showers added to the atmosphere. You can see plenty of photos of the place on a clear day, but when you get to be there on days like that, you can experience the elements and moods of the area.
But I must say that the route to Cradle Mountain is not easy to drive. Therefore, it is better to take their bus. To enter Cradle Mountain, you also need to purchase a pass.
>>Check location on Google Map
Marion's Lookout in Cradle Mountain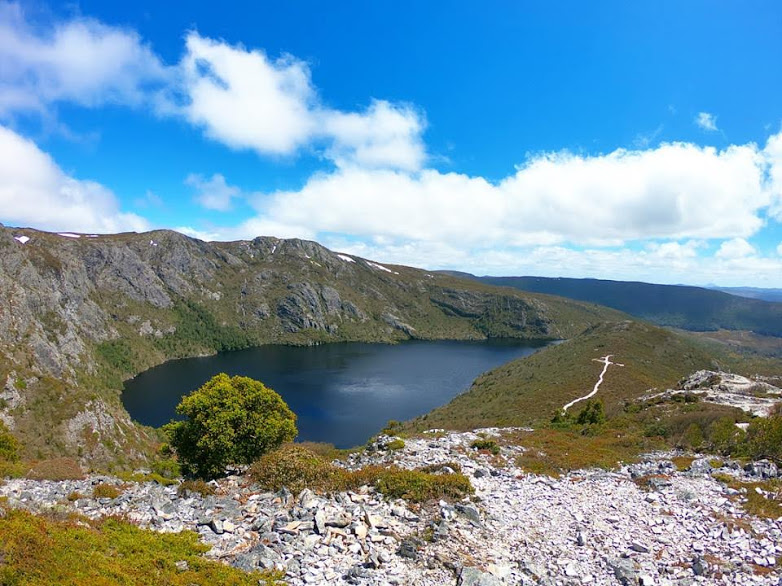 It's a beautiful experience from the beginning to the end of the walk to Marion's lookout.
>>Check location on Google Map
Glacier Rock in Cradle Mountain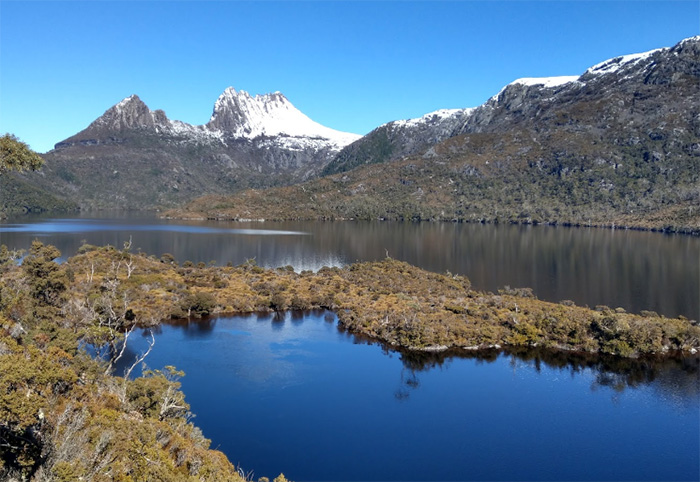 It's one of the easy walks in the Cradle Mountain National Park. On dove Lake, walk head left from the car park, and in just a few minutes, you will find yourself standing on Glacier Rock. The view of Dove Lake from here varies depending on the weather.
You can find information on how the rock is on the surrounding info boards. Children can climb on this rock with parental supervision—a great place to pose for photographs.
>>Check location on Google Map
Tasmazia & The Village Of Lower Crackpot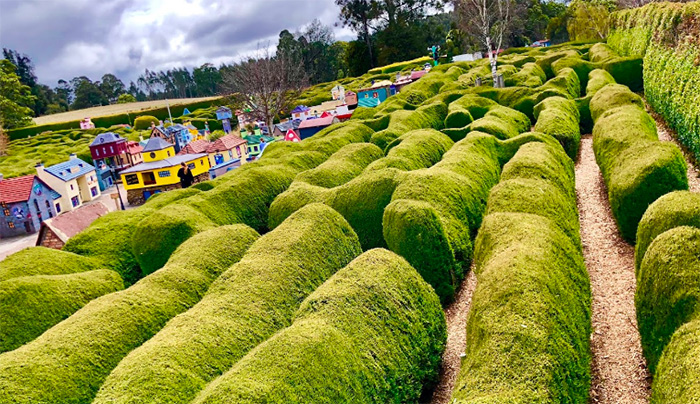 Unique world garden, all embassies of different countries! Bring your kid and enjoy a day in Tasmania, have family price. Great place for taking photos. And the words in the maze are interesting.
>>Check location on Google Map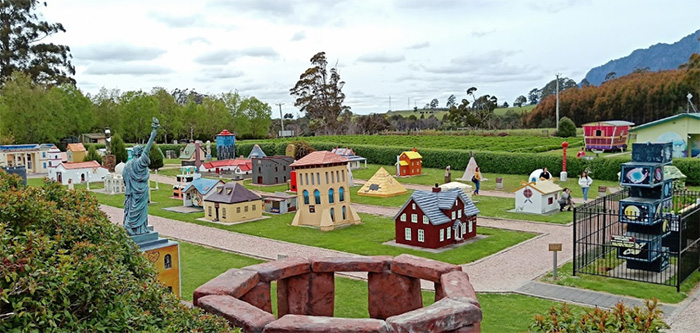 King Solomons Cave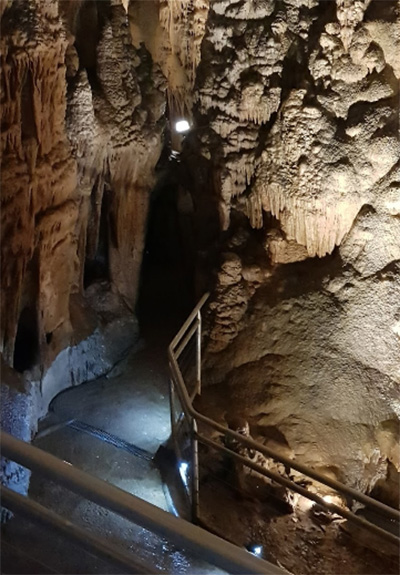 We enjoyed this cave. It was a short easy walk to the cave from the car park where we left our dog. The cool temperature in the cave was steady at 9′, and the tour guide was very informative and friendly. With a seniors discount, it was AUD15 each. We would highly recommend this tour.
>>Check location on Google Map
Marakoopa Cave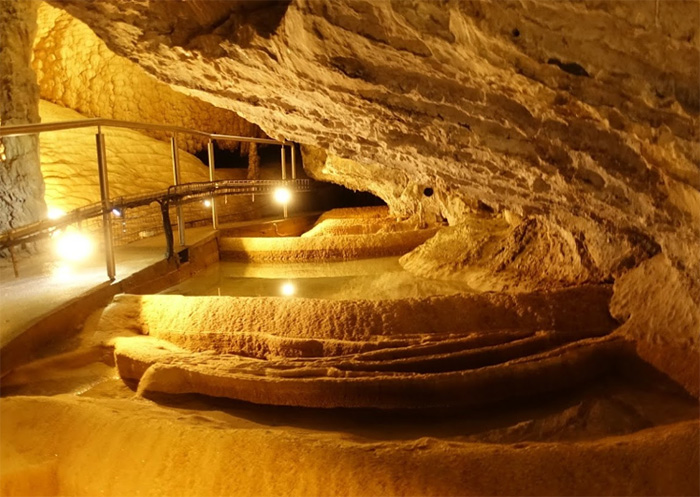 Nice touring experience. We were in a small group, and the friendly tour guide gave us a very detailed explanation of the formation of the cave. Just a reminder, the cathedral cave tour and river tour operate alternate hours. So make sure you check the timetable to avoid disappointment.
>>Check location on Google Map
Bridestowe Lavender Estate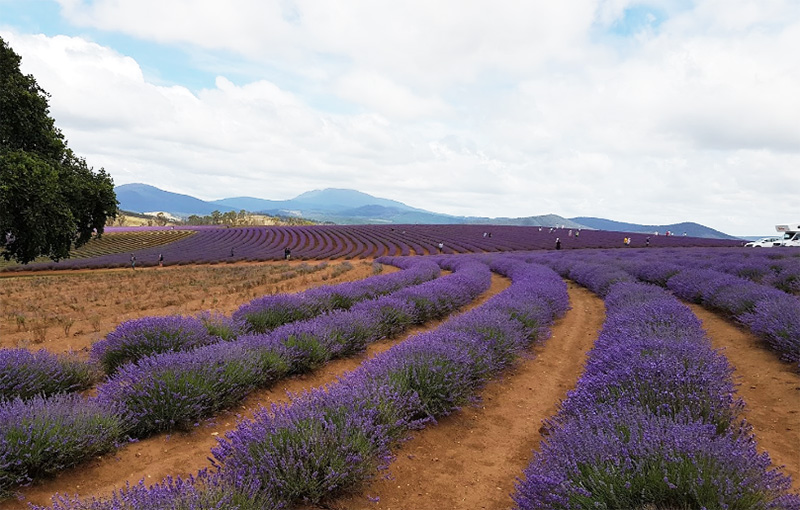 Lovely place. Fantastic scenery and just a beautiful place to break up a long drive. Great store with lots of lavender-based souvenirs priced for every budget.
>>Check location on Google Map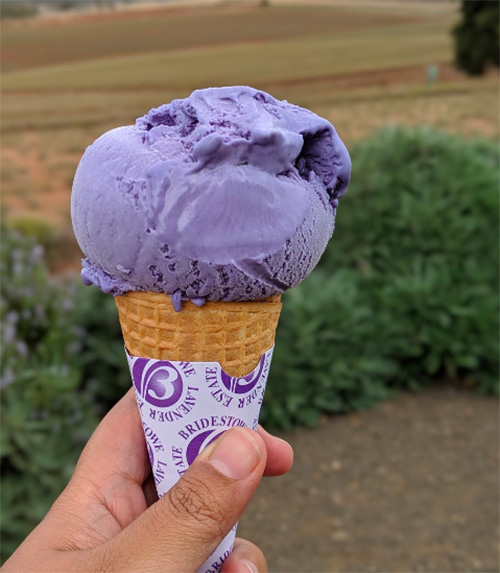 Cataract Gorge Reserve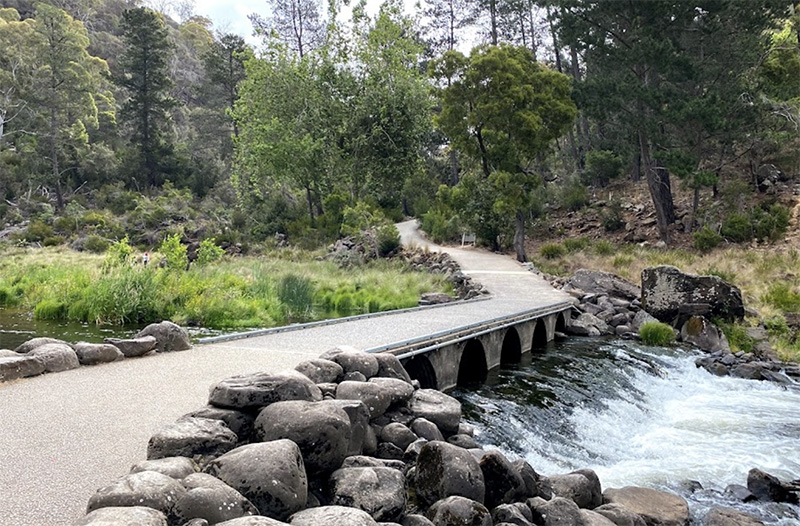 It's a public park with a chair lift, hiking trails & landscaped gardens, and a cafe & restaurant.
And it's a great place to walk/hike around with beautiful gardens. The Cataract walk was short and pleasant. The Reedy Gully/Snake Gully tracks from the power station weren't as lovely as the Duck Reach trail track. We purchased the chairlift, which was excellent (and the lady selling the tickets was friendly!).
If you purchase a return chairlift ticket, you also get a souvenir postcard as your ticket! Worth stopping by.
>>Check location on Google Map
Little Blue Lake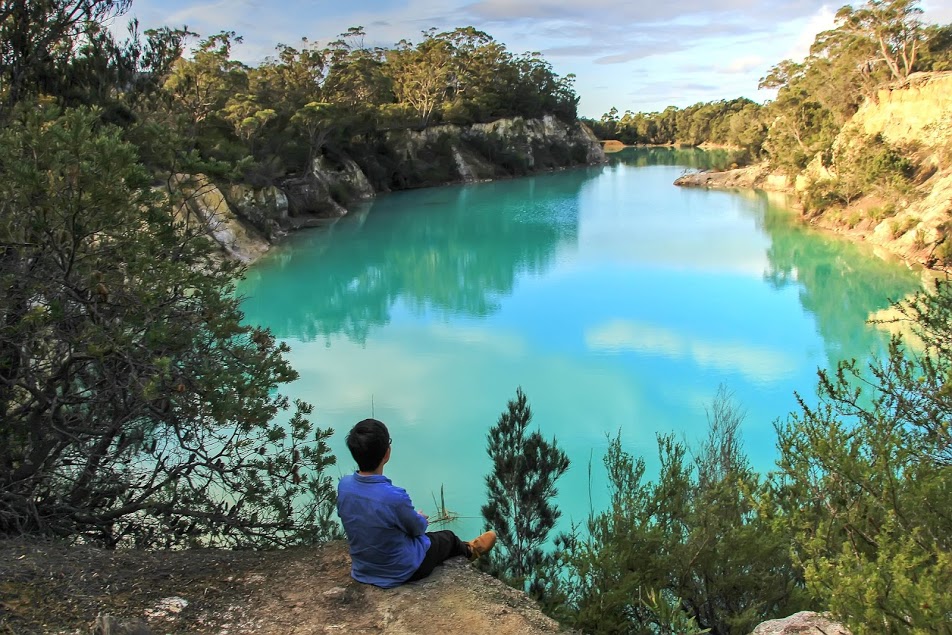 It's a natural phenomenon resulting from the pioneering mining days of South Mount Cameron and the surrounding areas of the Far North East of Tasmania. Initially a mine hole, the lake reflects a vivid aqua blue from the minerals in its base. Follow the "Trail of the Tin Dragon "for a fascinating insight into a completely different perspective of this region!
>>Check location on Google Map
Bay of Fires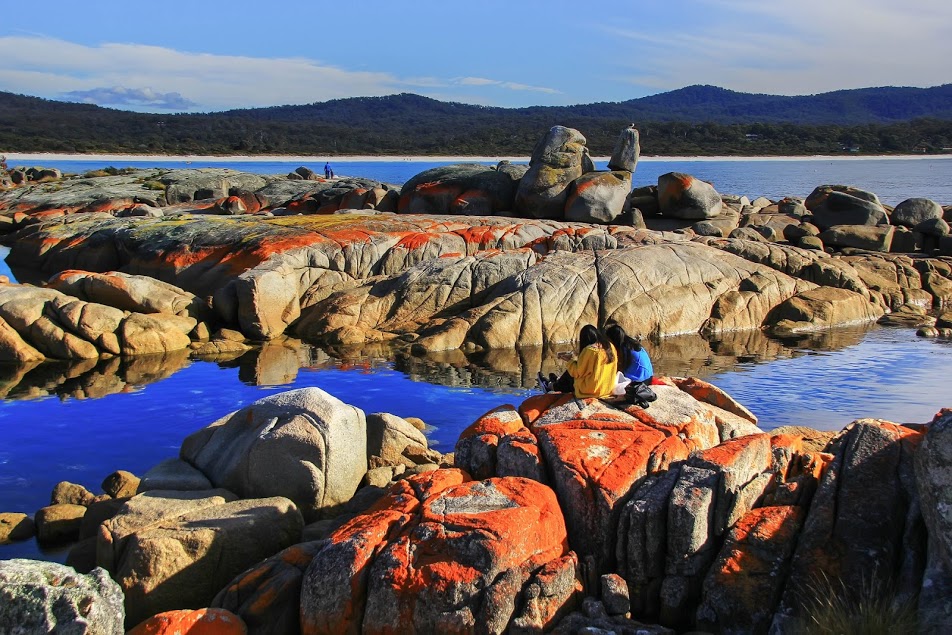 Picturesque ocean bay offers clear waters, white sands & orange-colored granite rocks. Great area with lots of camping and day-use places. The beach and rocky headlands are fantastic—so many great spots to wander and ponder.
>>Check location on Google Map
Iron Blow Lookout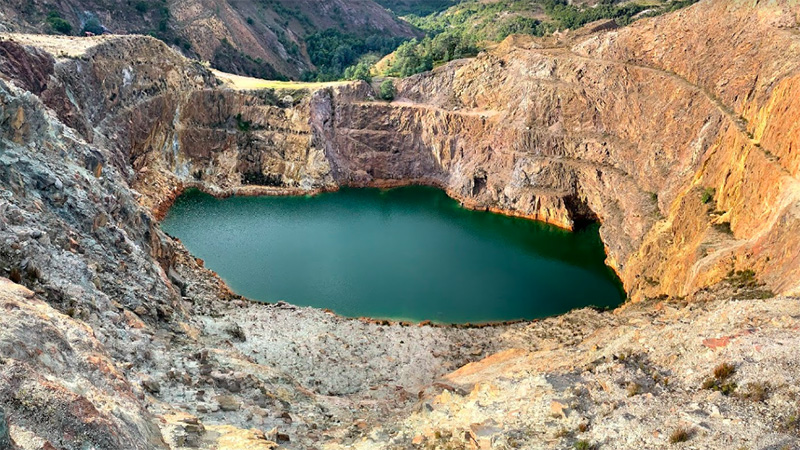 Excellent walk through attractive bush rewarded with a spectacular view after a short, comfortable climb.
>>Check location on Google Map
Gordon Dam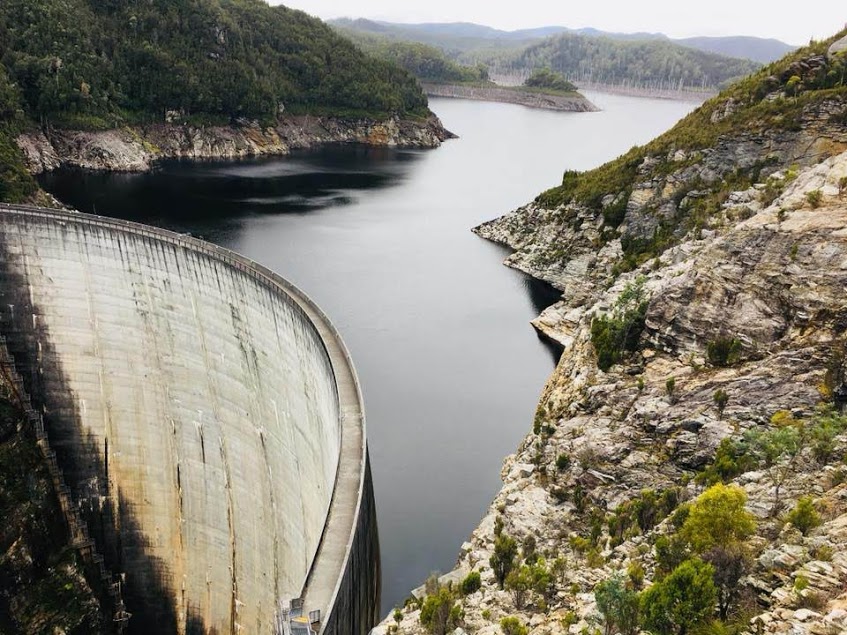 A fantastic feat of engineering. Sure it's a bit of a drive, but there are some incredible sights to see on the way there: good road and relatively easy access. If you're sensitive to heights, probably don't go down to the dam wall.
>>Check location on Google Map
Lake Pedder Lookout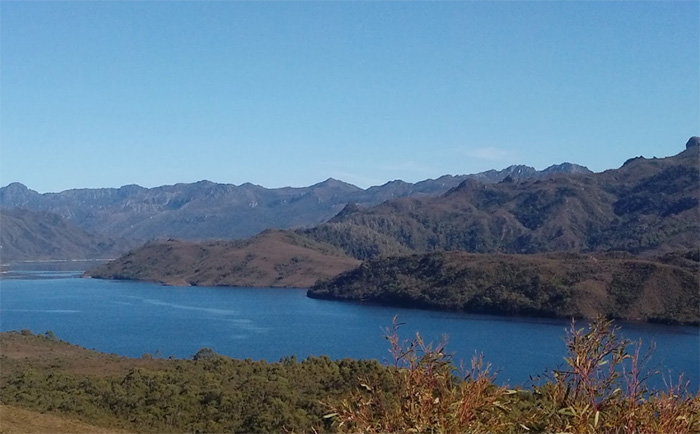 It would help if you stopped here on the way to the Dam, it wouldn't take long, and you'll get a beautiful overview of Lake Pedder. It's very relaxing, as is any lovely scenery you'll see if you choose to go on this brilliant drive to the Gordon Dam.
>>Check location on Google Map
Bicheno Blowhole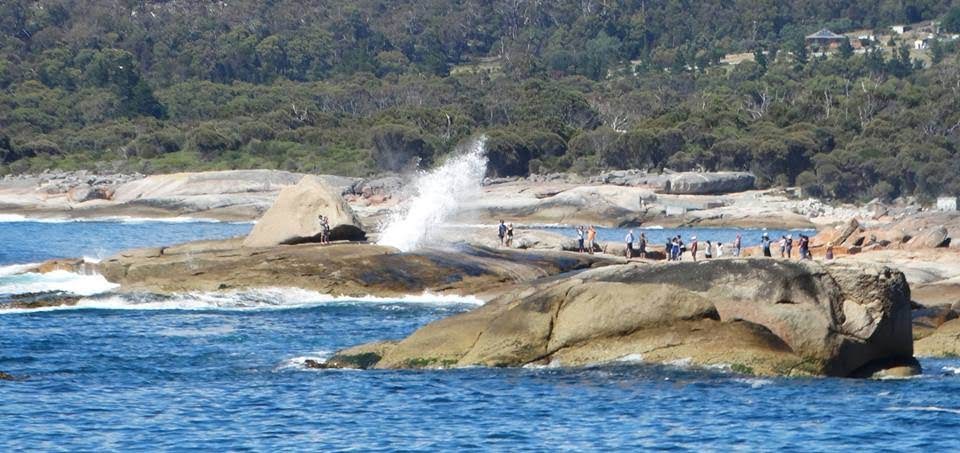 Amazing spot. We went when the swell was small and still found it beautiful to watch. Because the blowhole wasn't blowing too big, we could walk right out to the top rocks. Suitable footwear is a must as it gets a bit slippery.
>>Check location on Google Map
Honeymoon Bay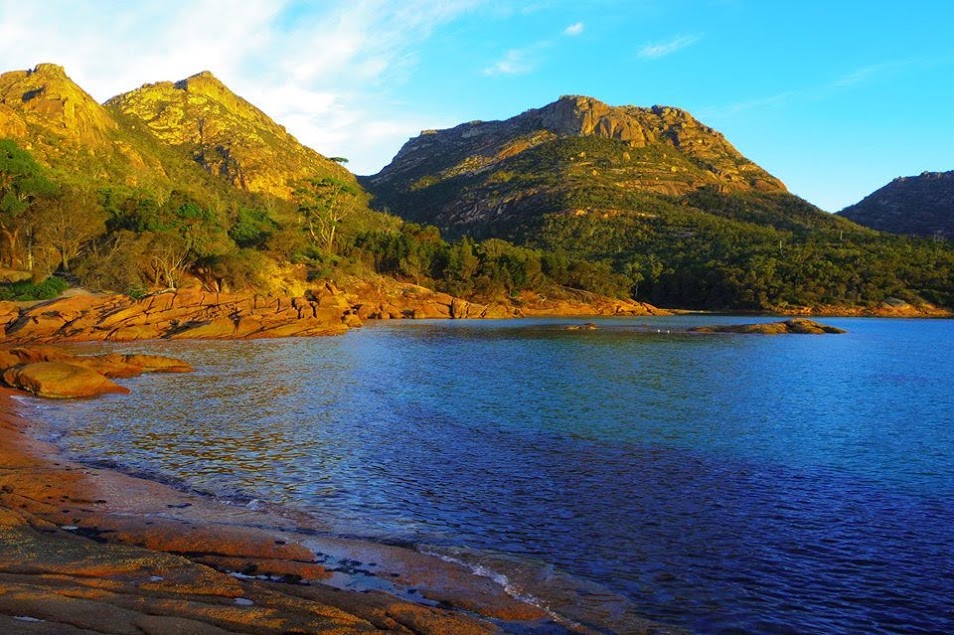 Great view. Small, deserted bay with clear, cold water. We had the whole bay to ourselves, which was beautiful to go for a dip and lay on the rocks after a walk to the Glass bay lookout.
>>Check location on Google Map
Wineglass Bay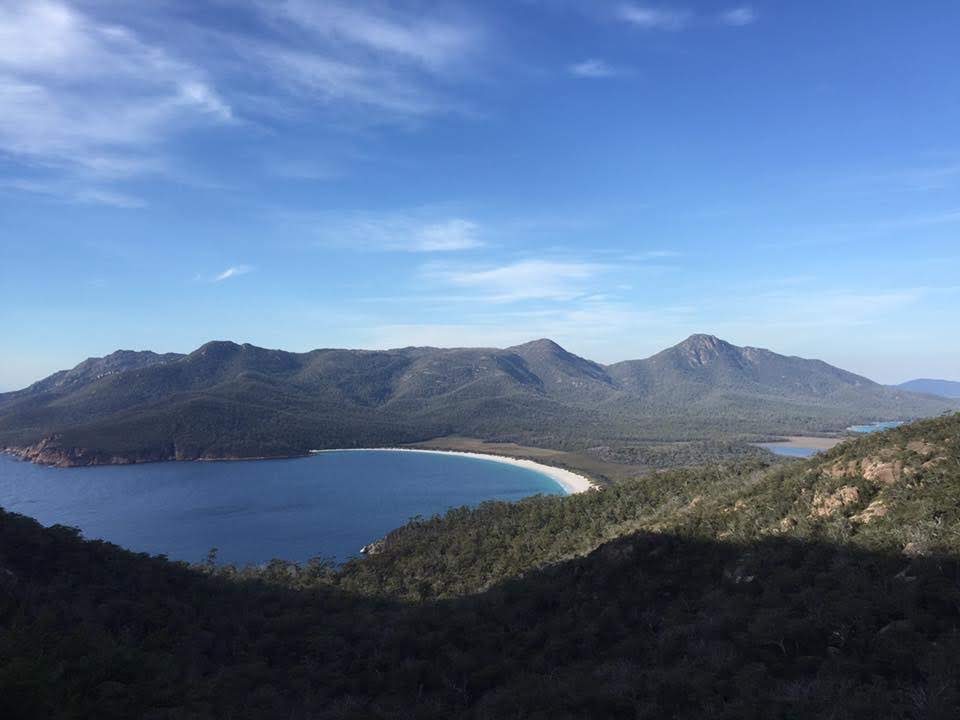 It's a scenic white-sand beach & turquoise bay with a path to a rocky lookout offering iconic vistas.
And it's a beautiful beach with breathtaking views from the lookout. The first part of the trek wasn't easy (lots of stairs), but it's all smooth sailing once you get past the first 2kms. After that, I suggest taking the longer route through Hazard Beach for an easier climb.
>>Check location on Google Map
Mount Field National Park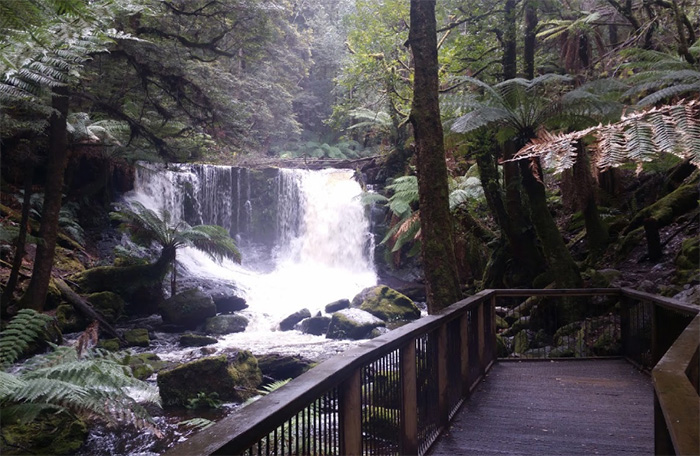 The celebrated park offers native wildlife & diverse landscapes, plus a visitor center & campground.
>>Check location on Google Map
Horseshoe Falls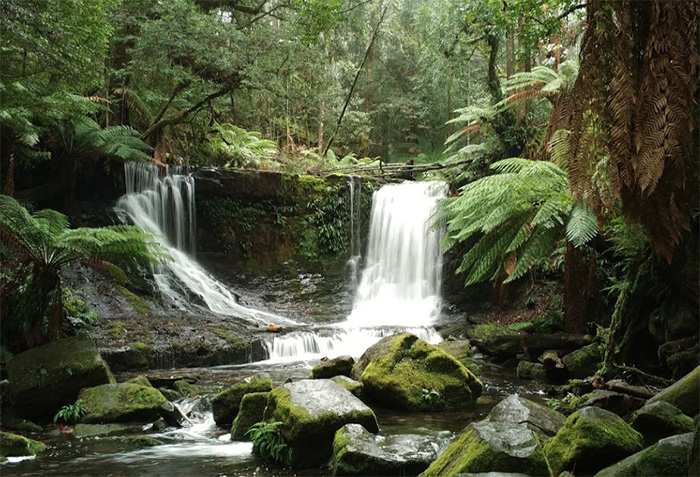 Waterfall upstream from the famous Russell Falls, with a tiered cascade amid rocks, ferns & forest. Beautiful. The stairs are hard for people with limited mobility, especially the first bit. They are rocky ones, very uneven. But the waterfall is so beautiful it's worth it to take it slow.
>>Check location on Google Map
Russell Falls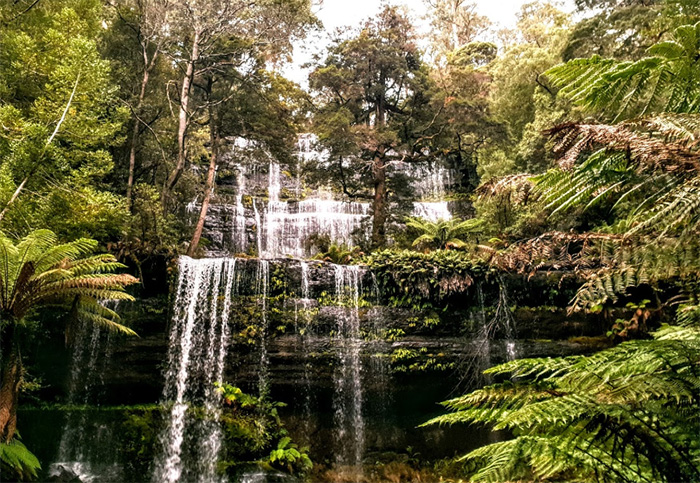 Multi-tiered waterfall in Mt. Field National Park, with a viewing platform for photography. One of the best falls. It isn't easy to take your eyes off it—a straightforward walk up to falls. Forest is also unique. The cafeteria at Russell's serves quality food. You can go there by car or camping van. The national park has several trekking routes, which inquired from the information center. It is a heaven for trekkers.
>>Check location on Google Map
Wellington Mountain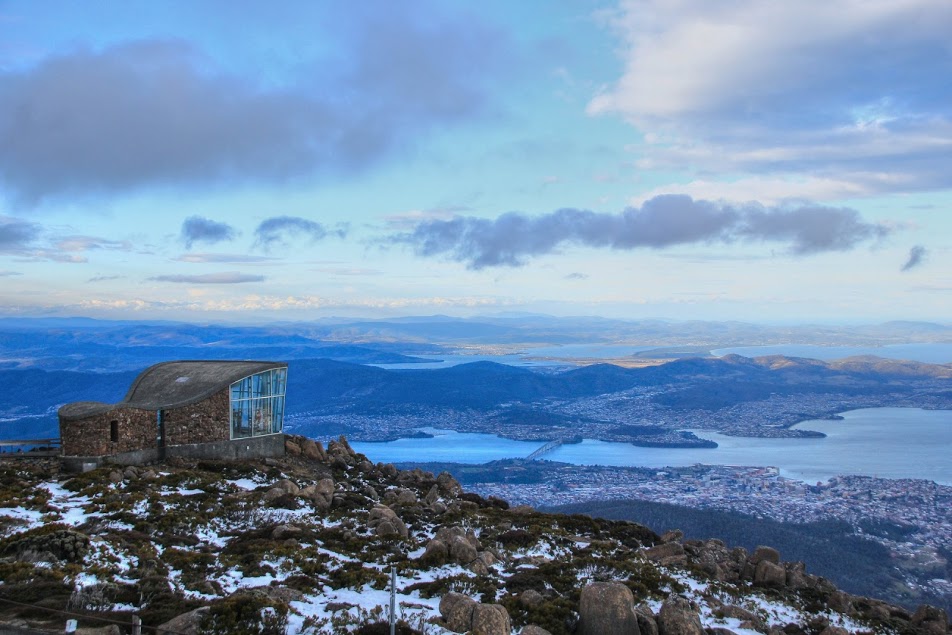 4,170-foot mountain with trails & a lookout point, plus a dolerite cliff known as the Organ Pipes. A must-see when in Hobart. Fantastic view of Hobart from the Mount Wellington Summit. Temperature can drop significantly up there, so carry warm clothes. There are toilets but no food or coffee available. It's only 35 minute drive up from Hobart on a sealed but windy road.
>>Check location on Google Map
Hastings Caves and Thermal Springs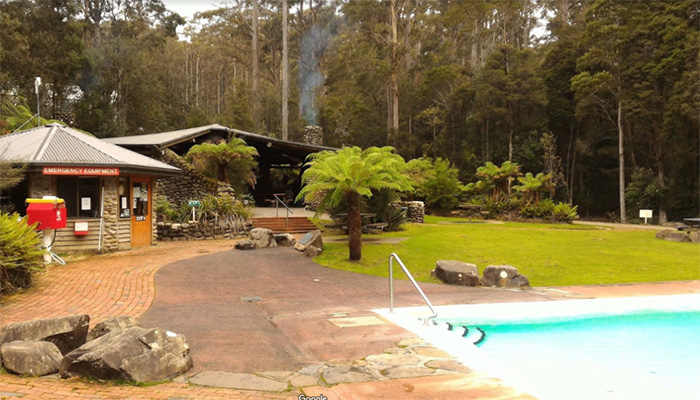 Park with Newdegate Cave (notable for being dolomite rock) plus a hot-spring pool & trails. Park with Newdegate Cave (famous for being dolomite rock) plus a hot-spring pool & trails. Well worth the drive. The staff and park rangers are AMAZING! World-class. The facilities are spotless. The thermal springs are clean, warm, and very inviting. Great for families too. If you are in Tasmania at any time, you must go.
>>Check location on Google Map
Maria Island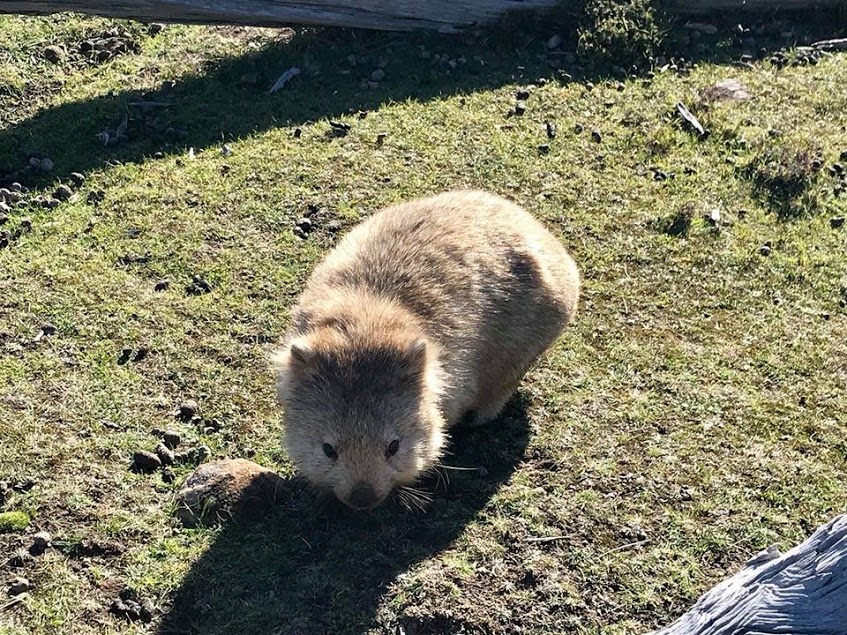 It's amiable boat staff to the island, a real nice ticket office in Triabunna. The island is heavenly, full of blonde wombats.
>>Check location on Google Map
Tessellated Pavement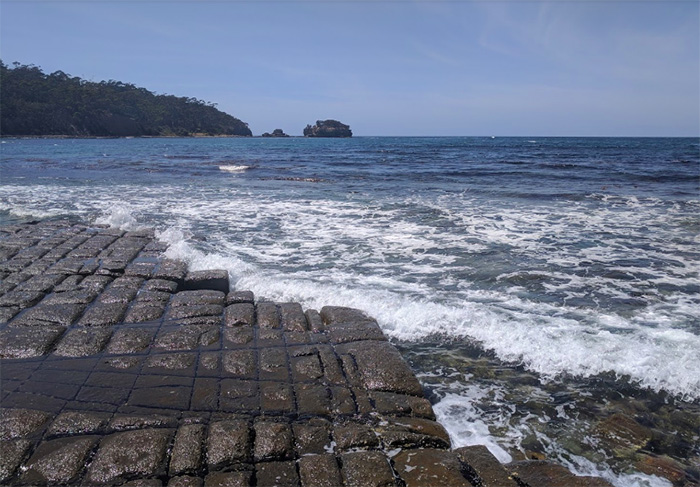 A short walk from the car park to the Tessellated pavement can walk on it. Take time to read the history of the existence of the pavement; it's interesting. Great opportunity to see the salt and water reaction on the alluvial. It of a kind experience. Such a beautiful place. It's safe to bring kids even. I was here two months back, and it was a low tide then.
>>Check location on Google Map
BlowHole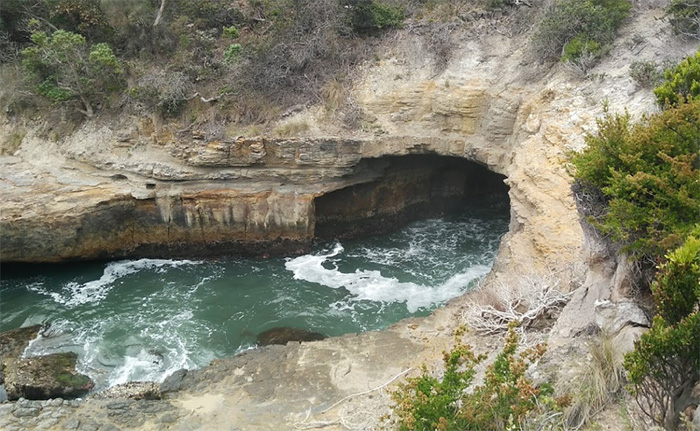 It's only impressive during the right time (I can only imagine as we saw the minor blow when we visited). If you're around the area, you might as well check it out.
>>Check location on Google Map
Tasman Arch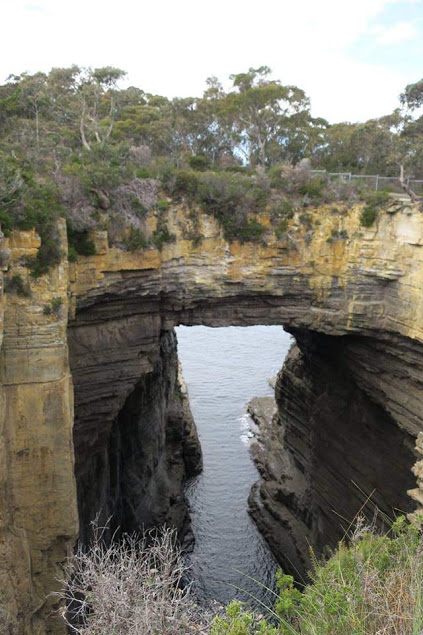 Beautiful arch with easy access. Plus, there are a few leisurely walks close by (right behind the angle takes you to Devil's Kitchen and a lookout to see the coastline). Recommend it!
>>Check location on Google Map
Devils Kitchen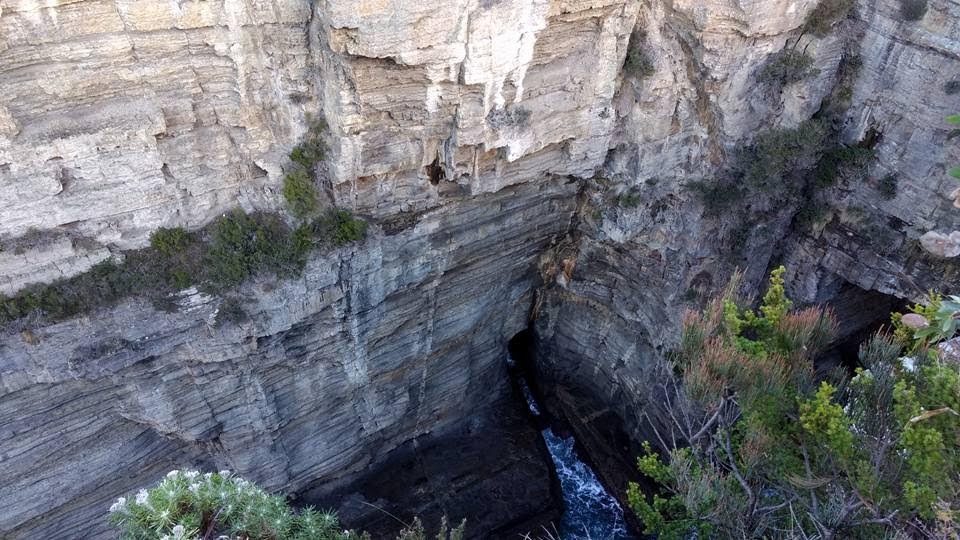 Cliffside observation platform offering striking views of the old, patterned rock face & ocean. If you want to capture this spectacular rock scene, recommended that you prepare an air drone, but the wind will be a bit big. So pay attention to the wind before shooting.
>>Check location on Google Map
Port Arthur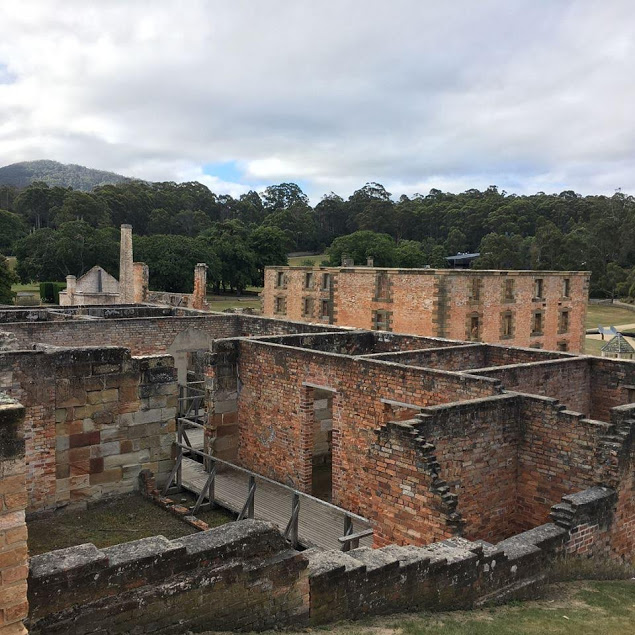 Port Arthur is a village and historical site in southern Tasmania, Australia. Sitting on the Tasman Peninsula, it was a 19th-century penal settlement and is now an open-air museum. Ruins include the giant prison and the remaining shell of the Convict Church, which inmates built. Solitary confinement cells in the Separate Prison building used to inflict mental punishment in place of floggings. This substantial former convict settlement built in the 18th & 19th centuries is a famous historical landmark.
This fantastic site about the convicts has some excellent original buildings from the 1800s. The tours are very informative, and you can learn a lot from them. The boat tour is lovely and also very informative. The memorial to the people killed in the Martin Bryant incident is a beautiful way to remember those lost.
>>Check location on Google Map
Remarkable Caves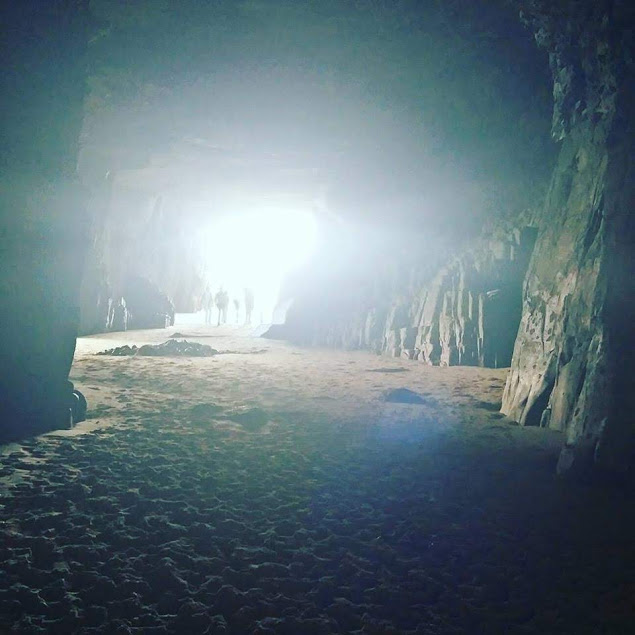 It's a pretty cool place to go and have a look. There are not heaps to see, but it is rather beautiful. People will often jump down from the platform and take a closer look by going through the cave. I would not suggest this if you don't know what you're doing and there's water flowing. It can be pretty dangerous.
>>Check location on Google Map
Tasman Island Cruises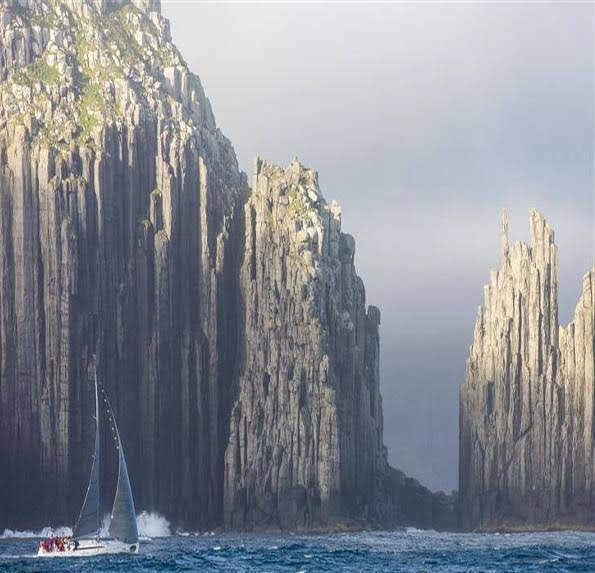 Sightseeing cruise encountering sheer cliffs & sea caves, plus marine birds, dolphins & more—the best cruise in Tasmania. The staff is friendly and informative. I have finished Three Capes Track before, so I chose to cruise this time. It didn't disappoint me. The weather was superb, and the sea was calm.
We got the chance to get to the cliffs closer and observe closely. Seeing Cape Pillar, Tasman Island, and Cape Hauy from sea level is another perspective that completes the Three Capes Track from the other side—highly recommended!
>>Check Agency location on Google Map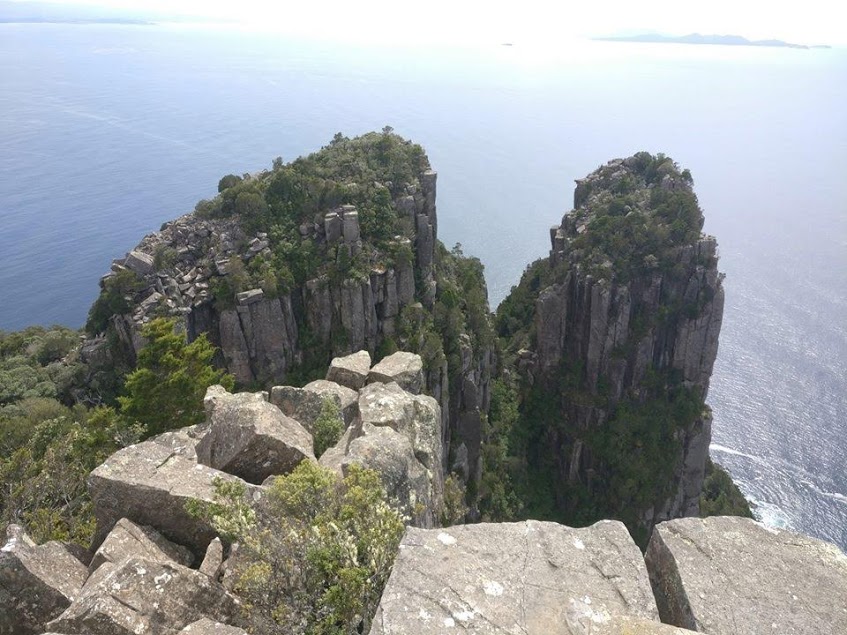 Tahune Adventures Tasmania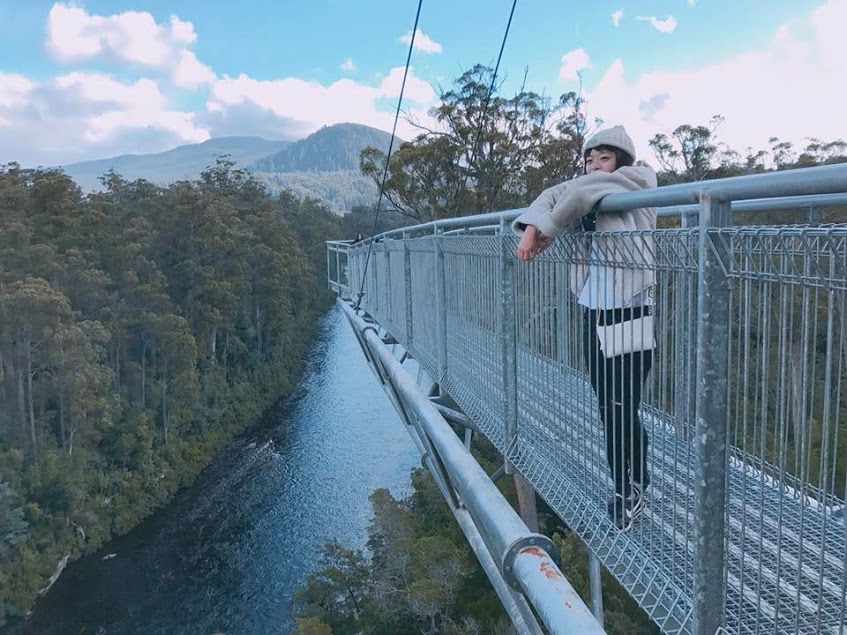 It's a fantastic experience on the edge of the Tasmanian World Heritage Wilderness Area. Lots to see, and the walks all have their character. Worth the drive out from Hobart as even the industry takes you through the lovely Tasmanian countryside. Drove out from Hobart to do the treetop walk.
It takes about an hour to get around, depending on how fast you walk! It includes two swing bridges across the rivers. It is beautiful, so peaceful. Saw a group doing kayaking/canoeing on the river. There's a cafe and a gift shop.
>>Check location on Google Map
Bruny Island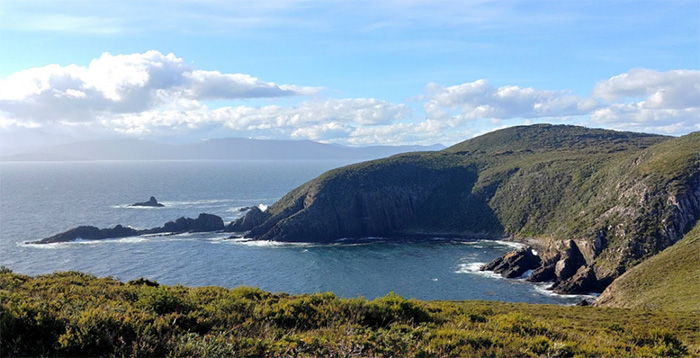 We loved Bruny Island; it was easy and inexpensive to take our camper over to Bruny Island. The people are amiable, and there are lots to do.
>>Check location on Google Map
The Neck Lookout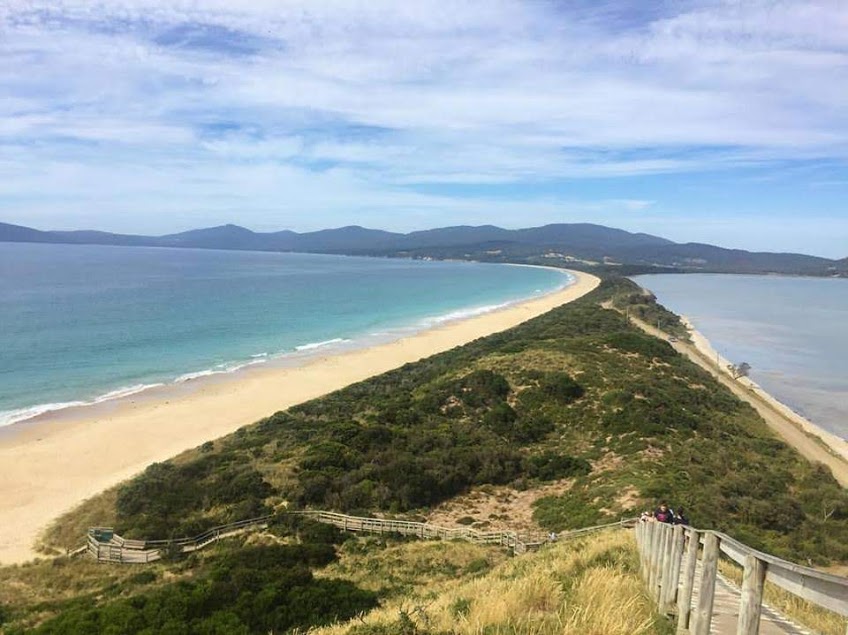 It's a picturesque setting with boardwalks & observation platforms for viewing native wildlife & the sea. It is worth the visit. Lots of wildlife around, and it's very dramatic. The lookout is windy, and the trek up has quite a few stairs, but the view is spectacular. I wish we could stop for a bit longer and the weather a bit warmer and less windy to walk along the stunning beach.
>>Check location on Google Map
Bruny Island Lighthouse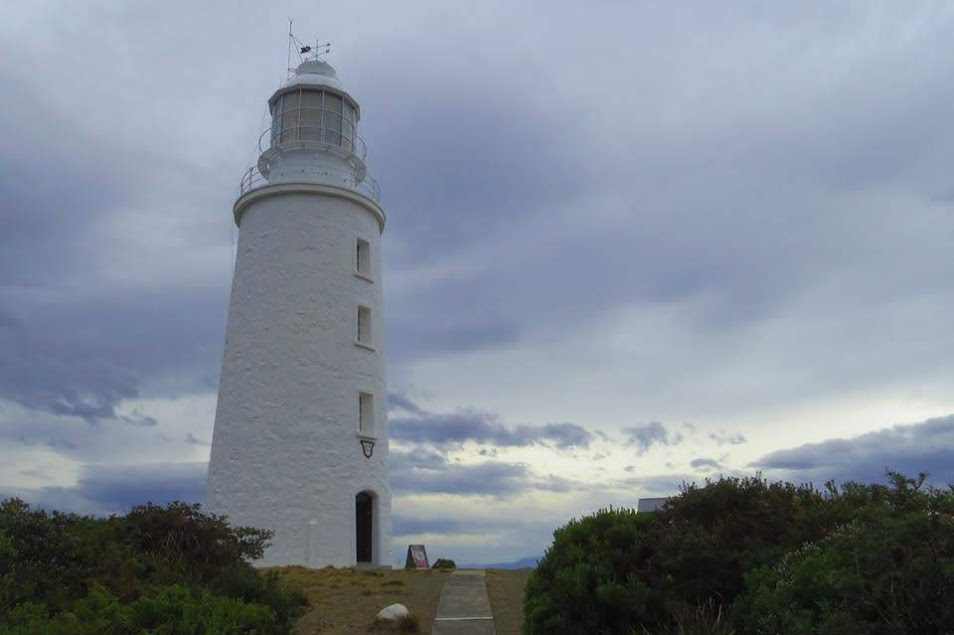 First lit in 1838, this white rubble-masonry lighthouse is 43 m. tall & currently inactive. A great lookout point for ocean views of the southern tip of Bruny Island. It is a drive, especially from the ferry, and quite a few stretches on unpaved, narrow gravel roads. The parking lot is relatively small, and it got pretty crowded fast. However, there's a toilet next to the parking lot, which was very helpful since there's nothing else around. Excellent views and worth a visit if you have time on Bruny Island.
>>Check location on Google Map
Conclusion
Want to plan your own Tasmania road trip? Read this article and get started!