If you plan a road trip to Great Ocean Road, the Twelve Apostles' must-visit point is a stunning attraction. But, are there any other attractions I must go to it? In this article, I will share my experience of the Melbourne Great Ocean Road trip.
But, I must first say that I have not been to every attraction. I just tried to recommend some more worthwhile attractions which may be familiar to you. And the advice itinerary I gave, you don't have to do it all, because you can't drive as long as I can, you can follow this route at your own pace.
Finally, you must carefully consider your limited vacation time. There is beautiful scenery on this road, so enjoy this trip.
Great Ocean Road Trip Drive Route Overview
The Great Ocean Road is a fantastic main attraction. Anyone who travels to Melbourne must go to the Great Ocean Road. There are several ways to choose. First, of course, let's look at the distance of this journey.
How Far to Drive to Great Ocean Road from Melbourne?
The best point to start a road trip is Melbourne City because it's a big city near this attraction if you want to go to Great Ocean Road.
Average takes 3 hrs self-drive from Melbourne to Twelve Apostles, 2 hrs 45 mins 226 km without seaside driving, 3 hrs 34 mins 269 km include attraction of Memorial Arch.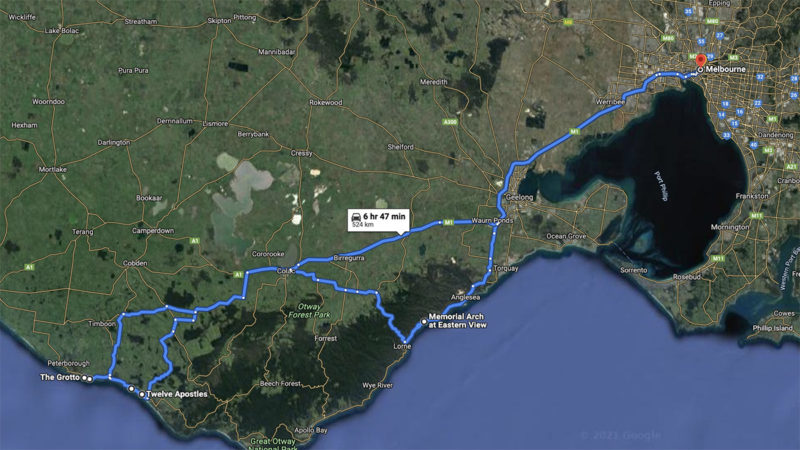 With a drive back to Melbourne, that distance counted 526 km, about 6 hrs 26 min total. (With avoid tolls setting)
Flight to Melbourne and Rent Car
Melbourne City is convenient for road trip preparation, so I recommend this city to arrive if you are searching for a flight ticket. Then, either rent a car or book a day journey which trips to Great Ocean Road. >> Click here to search for flights to Melbourne. (Skyscanner)
Once you arrive at Melbourne Tullamarine Airport, pick up your car, which you rent via DriveCarNow or RentalCars. You can book a regular car like a wagon or SUV or try outback camping with a camper van; try it as you want.
Route Planner: How to drive to Great Ocean Road from Melbourne?
From your flight to Tullamarine Airport near Melbourne City, pick up your car at the airport and start your Navigation on Great Ocean Road.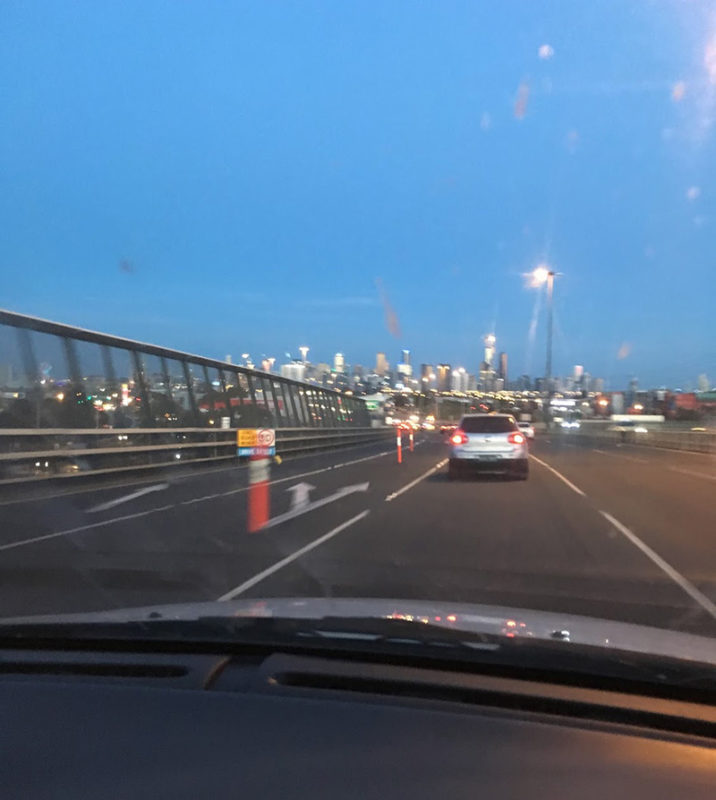 A highway links the airport & Melbourne City, but many tolls locate in some sections near the city. I have set avoid tolls for all my navigation links; you can click & start. Indeed, you can drive to Melbourne City or downtown for preparation, take a one-night rest, then start the Great Ocean Road trip tomorrow.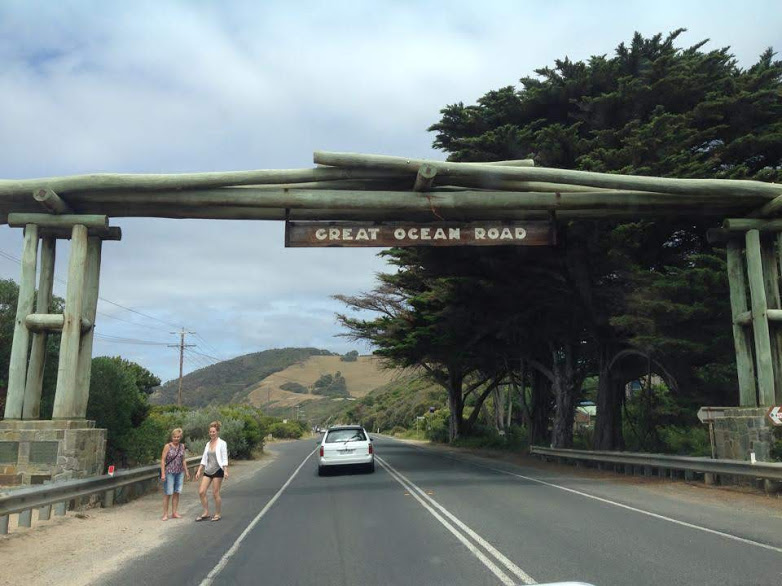 It's a long way from Melbourne. Like the last section I've told you, you have to drive over 3 hours across Geelong, Memorial Arch at Eastern View, then Twelve Apostles Facilities. This route sets via the fastest inland highway.
The trip route of Great Ocean Road, which shows on Google Maps, seems like a "one-way drive." However, you can enjoy all these attractions on the Great Ocean Road seaside trip by renting a car self-drive. Go for them as you want, event planning, stay over, that's better & flexible.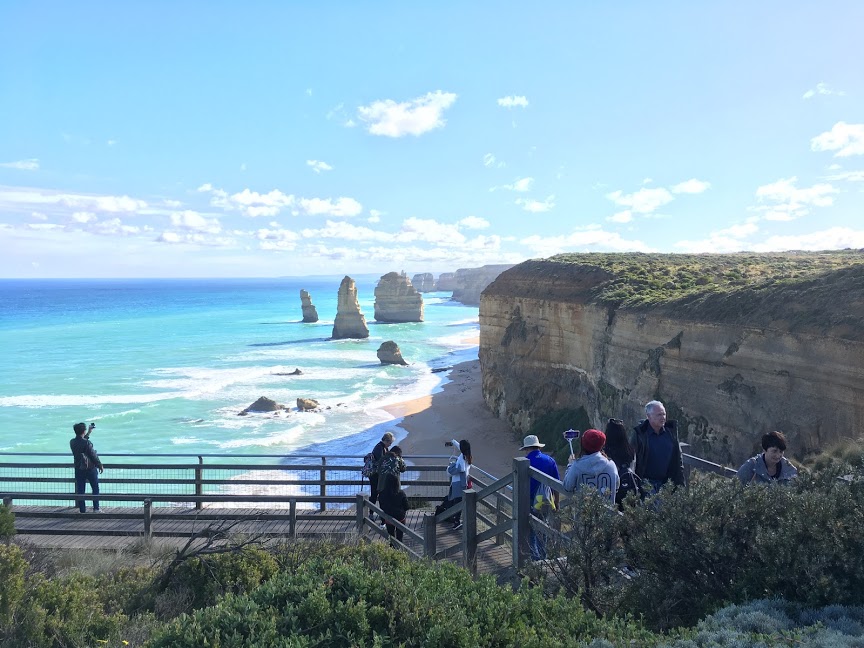 When you arrive at Twelve Apostles Facilities, visit Twelve Apostles, then Loch Ard Gorge, London Bridge, and The Grotto; what an excellent route for a road trip you!
After The Grotto, it's time to go back to Melbourne; I suggest you follow the inland highway and don't drive along the coast highway. There are too many curves.
Either you can drive back to Melbourne or hit another fun-filled event like surfing, navigating & staying one more day in Warrnambool, & having surf. Plus, loading the food & fuel fill up for the next trip. Got a car rent yet? Let's go to The Great Road and have a lovely road trip! Pick your car which you rent via DriveCarNow or RentalCars.
Best Attractions list in Great Ocean Road
Here is the attractions list near the seaside of Great Ocean Road; check it out:
Memorial Arch at Eastern View
Twelve Apostles
Castle Rock
Loch Ard Gorge
Tom & Eva Lookout
The Razorback
Mutton Bird Lookout
The Blowhole
Sherbrook River
London Bridge
The Grotto
Twelve Apostles is the most popular attraction worth being near Great Ocean Road. By adding this place to your road trip plan and what something needs to notice? This article will share my experience with the Melbourne Great Ocean Road trip.
Check the Attractions near Great Ocean Road>>
Tips for Great Ocean Road Self Drive Itinerary
Why not join a tour group?
In the last section & best attractions list, I recommend your trip there by self-drive. Many tourist groups visit either Twelve Apostles & or Loch Ard Gorge.
That tourist group means you visit these two attractions by joining tours with a hundred costs per person. Then, you get out of their bus, walk for an hour, get back to the bus, and then finish. What a boring that kind of road trip, unless you are a solo traveler or with your parents.
Advantages of a self-drive trip
Drive along the seaside with ocean wind. This highway is called The Great Ocean. There are several inland highways to reach it, but only one best way could save your time unless you decide to take a trip in 2 days, one night.
Day tour is the best kind no matter whether you join the tour or rent a car, rather than I take it by self-drive. It's flexible, and I can arrange rounds. In addition, I can hold all my time before sunset. The fastest way to reach Twelve Apostles needs 2.5 hours of driving; route map here you go.
So let's talk about itinerary detail.
2 Days Itinerary Drive Trip
I recommend you arrange two days, one night, for this Great Ocean Road trip.
Day 1 – Preparation at Melbourne
On the first day, when you arrive at the airport, pick up the car you rent, then drive to Melbourne City or downtown, whatever hotel you are booking. And then, shopping at the supermarket for some food, snacks & drinks for tomorrow. And then you can take a city tour in Melbourne City, have great meals at some particular restaurant. Finally, sleep well and fill up your energy for tomorrow's driving.
Day 2 – Trip to Great Ocean Road
On the second day, leave Melbourne City, fill your car fuel, have breakfast at McDonald's or another takeaway store, or eat your prepared meals. I suggest driving before 7 am because you have 3-4 hours moving midway. For example, driving through Memorial Arch at Eastern View, then going to Twelve Apostles.
Take a rest, and have lunch at Twelve Apostles Facilities. There's an information center Parks Kiosk, including toilets & attractions information. Notice only these toilets you can have. Otherwise, nothing else until to Port Campbell. You can have more choices for lunch in Port Campbell after visiting the Twelve Apostles & Loch Ard Gorge, or you can eat your prepared lunchbox.
Afternoon, go to London Bridge & The Grotto. These are 5 mins attractions, walk to the platform & take photos, but beautiful worth.
When the sunset comes, it's time to go back to Melbourne. Unless you want to go the other places, I don't suggest that you drive at night because kangaroos appear on the road. Drive back to Melbourne, trip complete.
So this is a typical two days itinerary which goes from Melbourne to Great Ocean Road.
Check the Attractions near Great Ocean Road>>
Conclusion
I hope you enjoy this road trip, and you already know the best route for The Great Ocean Road. Now, get your belongings ready, get food and a map, turn on your car engine and start it!
By the way, besides the Great Ocean Road trip planner, I recommend these route planners for your next road trip: