Australia is probably a place of wilderness in your impressions. It is dry in the seasons, hot in the weather, and certainly one of the countries with the most natural attractions. However, many megalithic landscapes are hidden in this rough ground, waiting for you to explore.
Why Do You Need Australia Natural Attractions List?
Maybe you have been to some national parks for hiking, and walking, perhaps you are used to this scenery by your side. But, for foreign tourists, this may be one of the most eye-catching enjoyments of their journey.
To let you stay Impressed, I put this Australia natural attractions list for things to do that are worth adding to your road trip plan.
let's check this attractions list:
1. Twelve Apostles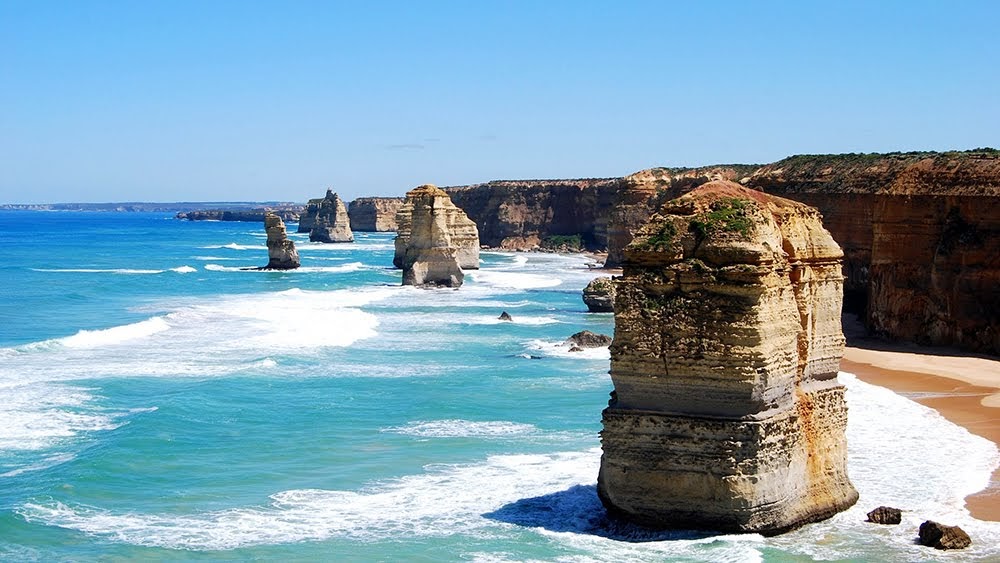 Feature:
Twelve Apostles is the most popular attraction located southwest of Geelong, a naturally formed bay with about 12 huge rocks standing on the ocean. It looks like apostles following Jesus Christ walking through the ocean road God Father separates.
However, when you stand at the lookout platform, it feels terrific that those beach lines look smaller on the rocks' side, which means you can feel how big they are! This attraction is always the number one most people choose for their tour, just at the side of the road, and it is easy to make a booking to join the travel tour. You can visit here at different times that separate in morning, afternoon & sunset; they have different ocean colors, how beautiful!
How to go:
It's easy to arrive by driving from Melbourne, through Geelong, then along the B100 highway and transferring from Apollo Bay to C119, the C159, C155, C156, C166 these highways through the mountain because that's a quick way to replace the curved sea line.
2. Kings Canyon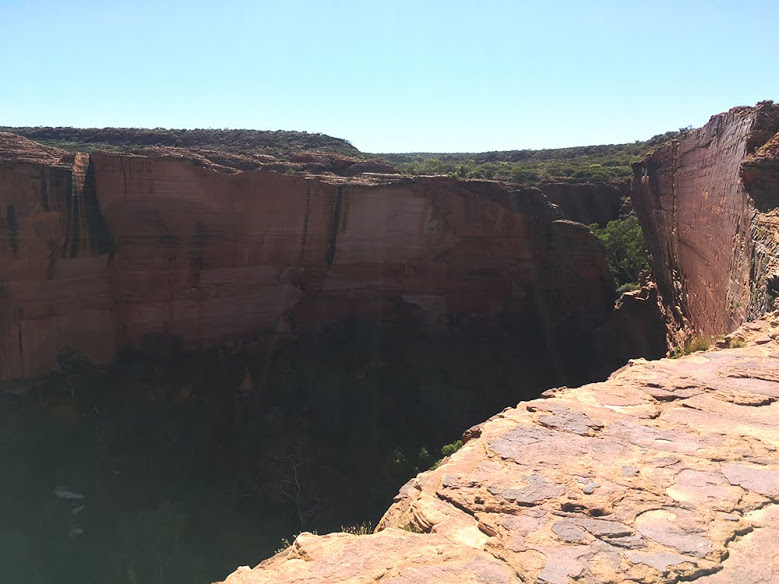 Feature:
Kings Canyon is also a huge attraction that looks like a giant crack while standing on the lookout. It's pretty hard to take photos of catching all views of this valley, so I just took this part of the cliff, almost significant & excellent worth to be.
How to go:
I suggested you drive & stay one night at Kings Canyon resort because too far away here. Whether you want to come from Alice Springs or Coober Pedy, two days one night is good for you. With the highest fuel price, you've to be prepared to pay more money for that ONLY petrol station.
3. Ayers Rock (Uluru)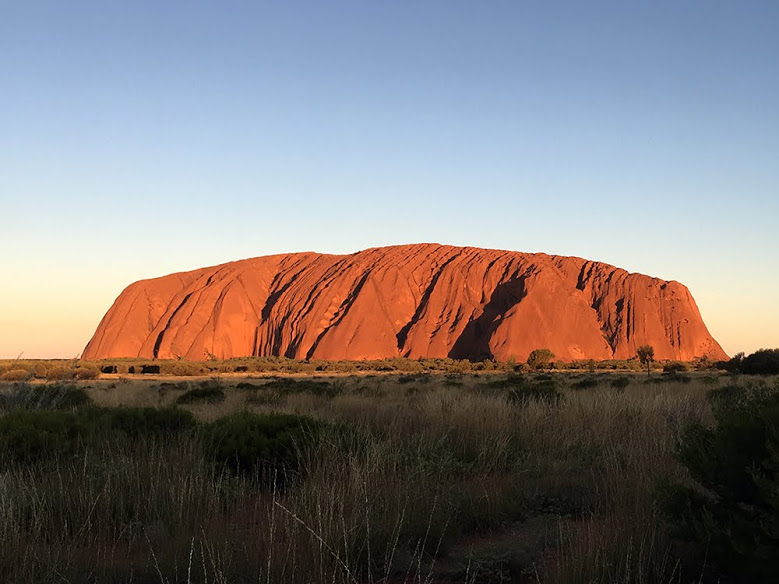 Feature:
Uluru, named Ayers Rock, always a popular attraction that people likely to visit, a hundred thousand years ago, formed a stand on the whole flat ground. You were driving around this rock that made you feel great escape! In another experience, you can see different rock colors in sunrise & afternoon sunset, with sunset color rendering the whole sky that's so gorgeous viewing!
How to go:
That's a big challenge! You must drive a long way from north Alice Springs or south Coober Pedy and turn at Erldunda then 250 km driving, my feeling? I just said it is always driving, driving & driving!
Check the Route from Melbourne to Uluru around the Western Australia road trip.
Note: Before entering Uluru National Park, you must buy a day pass ticket to view Ayers Rock & Kata-Tjuta. Most people ordered a three days pass card for AUD 25 per person.
4. Kata-Tjuta/Mount Olga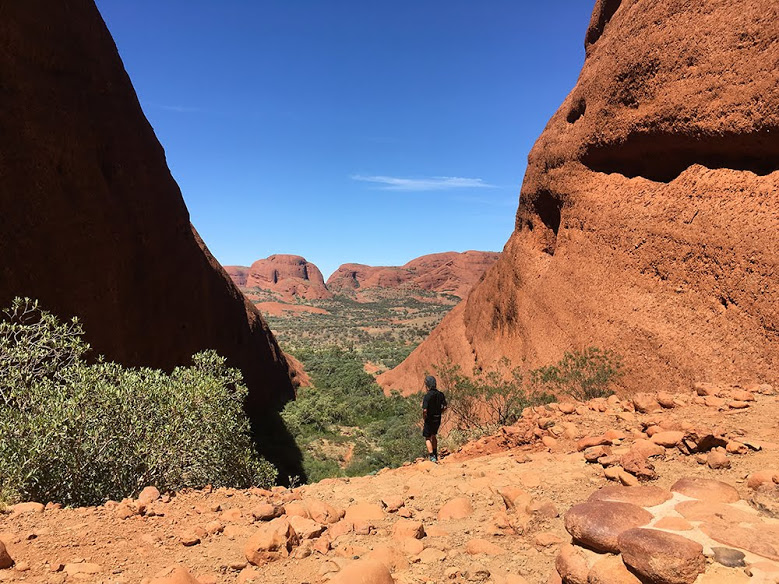 Feature:
Kata-Tjuta is a famous attraction because of its HUGE formed rock, like long walls jaw-dropping. However, the best viewpoint is the second lookout in the middle of the Valley of Winds; when you stand on the top of the walking track, look at this valley, wordless to explain, it's fantastic.
Before you start the walking track, make sure you've already brought enough water, hat-wearing & sun prevention, and wear climb shoes. Another point is must notice the temperature; the track will be closed once it reaches 36 degrees.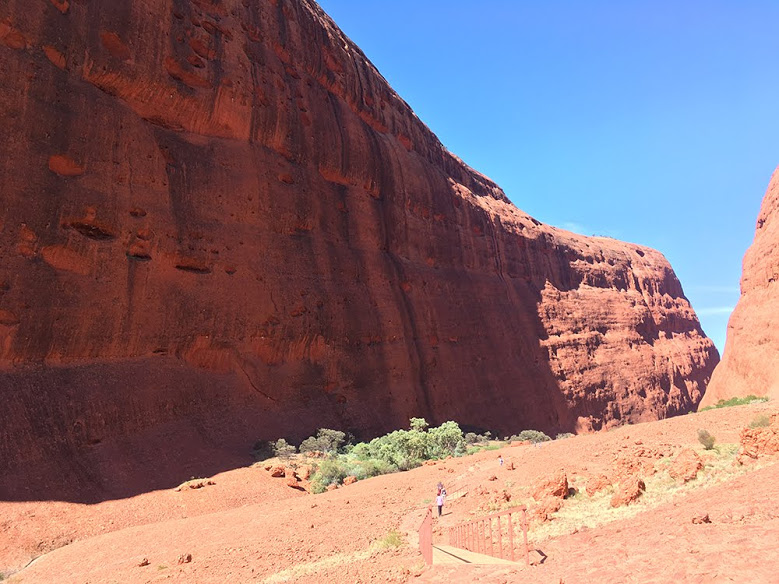 This Mount Olga that's easy to walk. Most travel tours will choose this track as only one tour. When you step on the way, look at two sides of the walls, and you can feel that fantastic natural work!
Besides the walking track, you can wait for the sunset area to see the color of huge rocks, different from Ayers Rock.
How to go:
You've to go through Uluru by day pass entry card, then drive 40 mins to be there. Follow the sign brand. You don't need to head to the Western Australia border. It's too hard to reach. Kata-Tjuta has two entries; one led to Valley of Winds. Another is Mount Olga; if you would like a challenge, Valley of Winds, you can get it!
5. Nitmiluk Gorge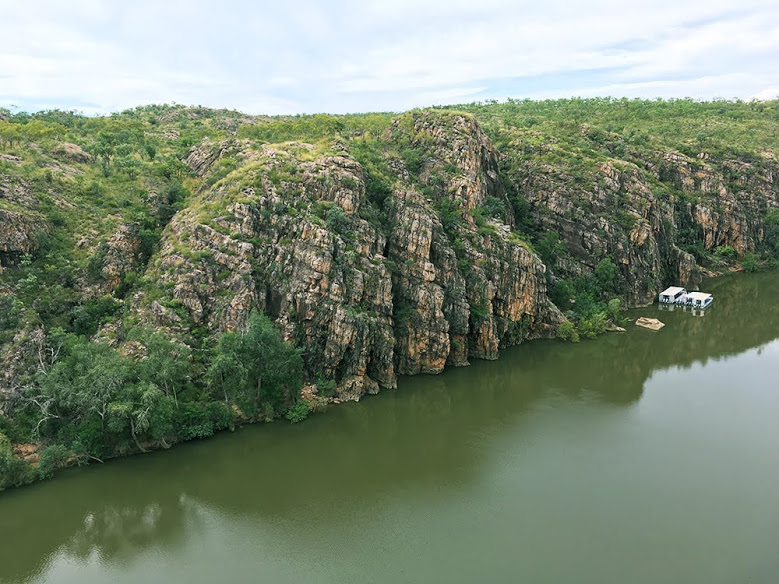 Feature:
Located in Katherine Gorge, nearby Katherine National Park, the popular attraction is Nitmiluk Gorge. You can see these regular lines of rocks extending along the river. The almost square shape of the stone makes you feel like in a movie scene. Enjoy the riverside viewing & there's a waterfall at the end of the river valley.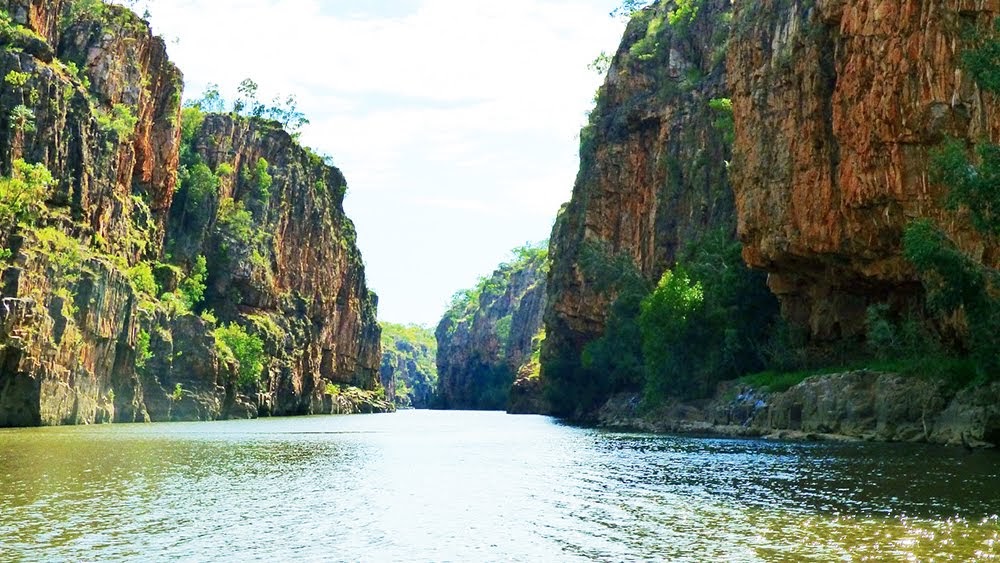 How to go:
You must take a cruise tour only before you arrive at Katherine Gorge to see this view. Make sure you've booked the tour via phone call or order at the reception Visitor Center.
6. Nature's Window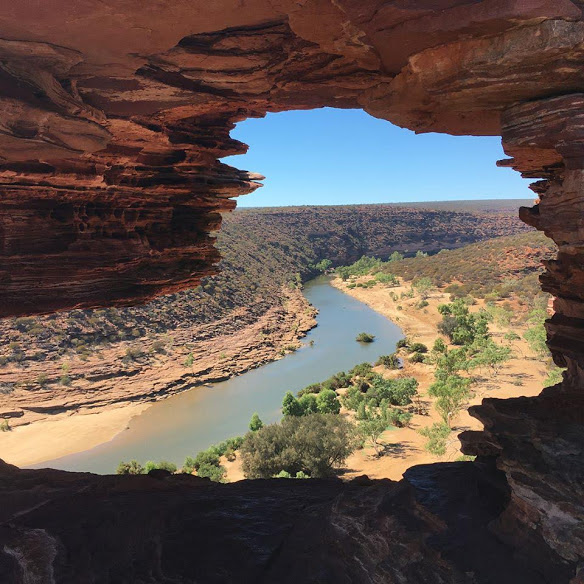 Feature:
It's a unique place on Australia's natural attractions list! It is my favorite natural destination ever; the natural formed work of this rock, hierarchical shape rock. When you try to climb up and sit at this window, it looks like you see a new world! The window locates in the middle of the Kalbarri river, with a beautifully curved shape. It is tiring of taking photos of them; what a fantastic place people prefer to view by prolonged driving.
How to go:
This destination locates in Kalbarri National park; you must purchase an entry ticket of AUD 13 per vehicle entry ticket. Unfortunately, the place isn't easy to get fuel; only one petrol station is northwest of Kalbarri.
7. Natural Bridge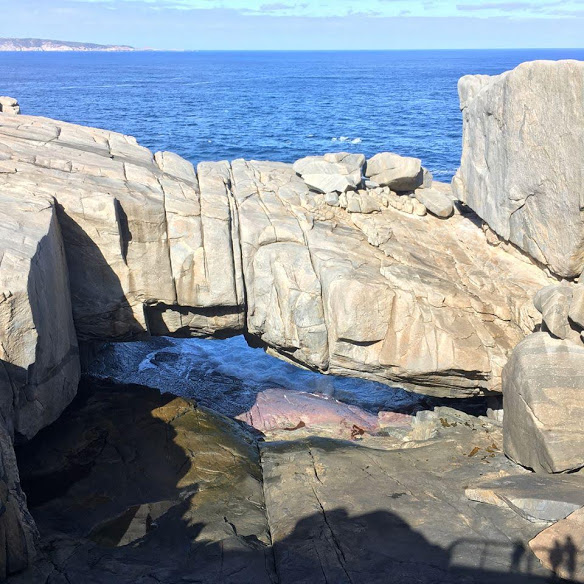 Feature:
Natural Bridge is also a huge rock that erodes by the seawater, natural work, located at The Gap. People only stood on the platform & have a look; they couldn't climb it because it was too dangerous. But you can climb to the other side of the beach to watch the waves, listen to the sea waves sound, how do you feel?
How to go:
Its famous & natural destination in Albany, locates in South West Australia. You can search on Google map type "The Gap, "then navigate there and pay a car parking fee ticket at the car park area. Easy to reach.
8. Wave Rock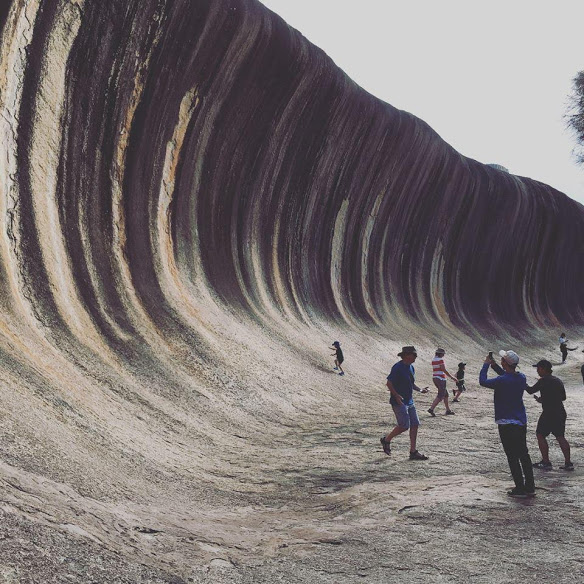 Feature:
Can you surf at the beach? No worries, you can learn how to surf posture standing on these wave-shaped rocks. So many people enjoy this wave no matter whether they are children or older men. Wave Rock is only one natural destination that has this natural shape.
How to go:
Before you go to Esperance, heading up 4 hrs driving from you were in Albany. Don't miss this unique attraction! After that, you go down to Ravensthorpe for one more night.
9. Murphy's Haystacks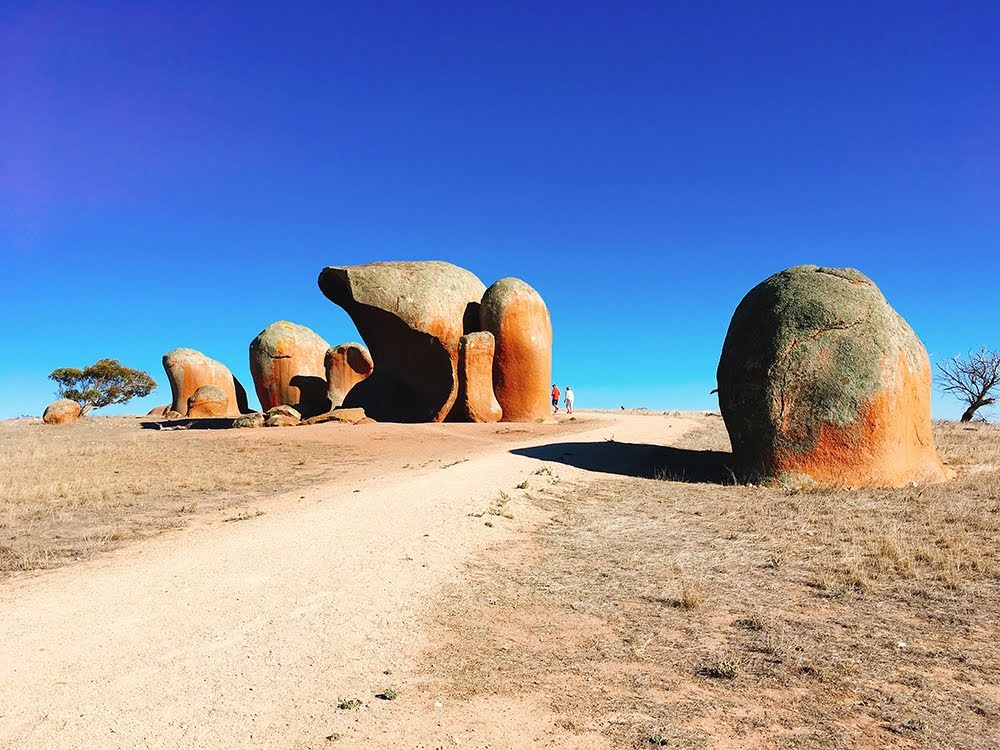 Feature:
Murphy's Haystacks is an enormous rock erosion natural by the winds & sand, the particular unique shape standing on the flat ground. And the jaw-dropping place that people want to drive a long way & transfer at a minor road gets a view.
How to go:
If you come from Eucla, I suggest staying at Streaky bay and then driving there; there's another different style of rock named "Pildappa Rock "you can view. But if you came from Port Augusta, Stay at Wudinna or Poochera, view Pildappa Rock first, then Murphy's Haystacks.
10. Remarkable Rocks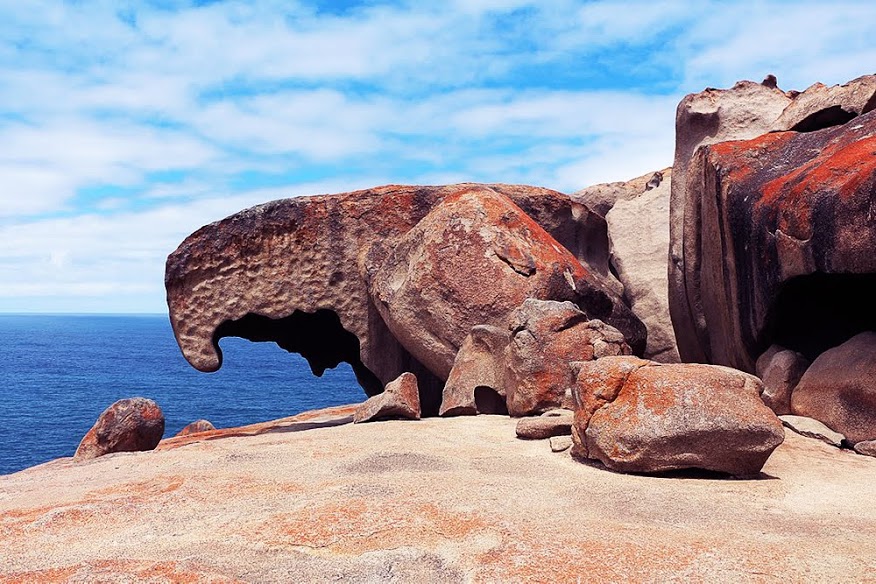 Feature:
This attraction locates in the Flinders Chase National Park, a famous national park on Kangaroo Island; this island is near Adelaide, South Australia, what excellent shape rock stands stable on the ground even stronger sea winds. People like to take sunset photography & rock with a sunset sky that looks beautiful!
How to go:
You must take a ferry from mainland Australia, drive to the National Park entry, then rent a bike to ride along Cape Du Couedic Road to reach the lookout.
Hold These Australian Natural Attractions!
I must apologize that this article didn't finish with enough natural attractions. And I will keep updating this article while uploading more photos & more natural attractions added here. 🙂
Want to touch these BIG NATURAL? You'll be there soon! Indeed, most Australian natural destinations that attract people visit every year, hundreds of attractions that still couldn't grab them all on Google Maps.
Now, Let's Plan a Road Trip to Australia's 30 Days Itinerary!
Are you interested in a road trip around Australia? I prepared a route map, which certain most popular places & where to move & how to go. As long as you read my article, it will make you excited that you can't wait to start your road trip plan!
Check detail of Australia road trip routes>>