The Las Vegas trip inspired us a lot while we had vacationed there, it's almost dreamland and made me feel like time stopped, so impressive! This article will tell you about luxury activities in Las Vegas for families you must try.
Are you ready for an epic vacation to Las Vegas? Let's explore more things to do in Las Vegas other than just gambling with our complete list right here!
Las Vegas, the most populous city in Nevada, is the world's most visited destination for gambling. Of course, we all know that but how certain are you regarding Vegas's best activities?
Emerging from a near-forgotten town, Las Vegas today has transformed into a tourists' paradise, an entertainment haven, and everything in between.
Top-notch casinos, ladies of the night, liquors, night spectacles, and artificial wonders are the top things you have to check out! So without further ado, here are the 15 best things to do in Las Vegas.
Las Vegas – Rose and Shined
It's Las Vegas, everyone! What can you ask for more? They call it Sin City, but guess what – they're just hiding personal anxiety that they just lost a bet! Las Vegas is everything an adult has dreamed of, and it doesn't only include gambling. The top-notch hotels save a gorgeous space for gambling floors, attracting millions of visitors every year.
However, placing a bet is not the only thing Las Vegas has to offer! The clock will never stop in Las Vegas, so embrace the day with a day trip to Hoover Dam, watch a show of Cirque du Soleil when the sun beams down, and dine with a view at Bellagio Fountains. Everything about Las Vegas is an exaggeration.
Neon-soaked boulevards, chef's menus, glam resort pool, golfing, and many other activities turn Vegas into a bustling hub for recreation. So whether you're going to spend a week here or just a weekend getaway, Las Vegas will never let you get home disappointed!
15 Best Things to Do in Las Vegas
1. Don't Just Stay at The Strip, Rock It!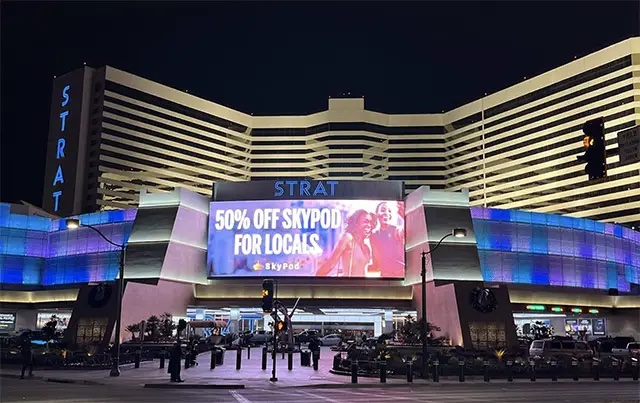 Las Vegas Strip is the main happening in town. Everything you've seen on screen – from the neon-soaked boulevards to high-end hotels and the hustle of bustle in the casinos – gives a unique identity to The Strip.
Geographic-wise, The Strip is a seven-kilometer stretch of boulevard starting from Sahara Avenue to Russell Road. This lively neighborhood includes gambling floors, dining establishments, music venues, and circus-style performances. They say the Strip is the bloodline of Las Vegas, and your vacation is never complete without a visit to this dazzling area.
More or less, the Strip is an adult playground. You will see tycoons in suits spilling out of a sleek casino hotel, adult-only shows, and nightclubs. But the Strip also makes room for upper-crust accommodations and high-profile restaurants. That's what the Strip is about!
Get more information on Google Maps>>
2. Live It Up with Cirque du Soleil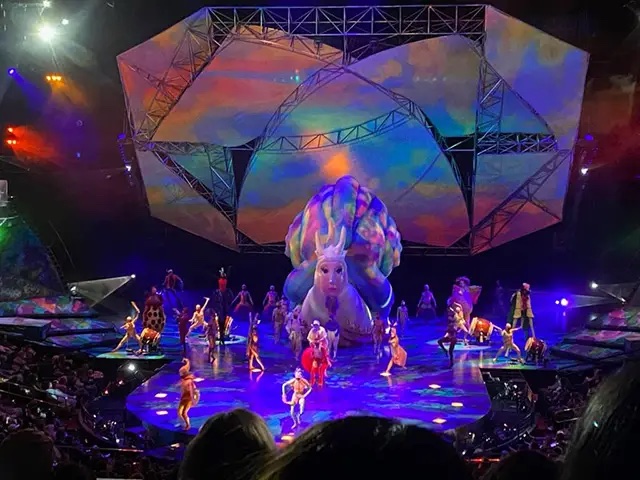 Cirque du Soleil is a world-renowned live spectacle more than just a performance. Taking root in Quebec, Cirque du Soleil has been going strong since 1984 and has become an incredible evening possibility in Las Vegas.
Cirque du Soleil is a large-scale show involving innovative technology using fire and water to embellish awe-inspiring performances. The stage becomes the magical world for spiraling aerialists and underwater dances to rock the night—Cirque du Soleil caters to all types of travelers. If you travel with kids, tag them along and put a smile on their faces. Cirque du Soleil is also a great date night idea in Las Vegas for couples.
Get more information on Google Maps>>
Get Discount Tickets: O by Cirque Du Soleil, KÀ by Cirque Du Soleil
3. Contemplate the State-of-the-Art Hoover Dam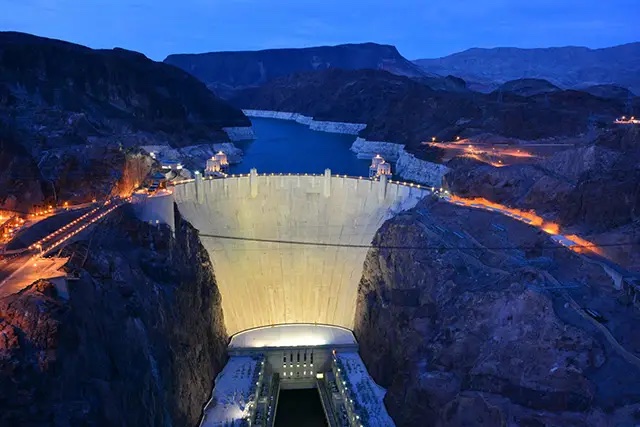 Among all the best things to do in Las Vegas, Hoover Dam never falls off the list. This artificial wonder goes beyond its sole purpose of a reservoir but is art. Hoover Dam is tucked away in the southwest of Nevada, bordering Arizona and Lake Mead.
This never-before-seen is a witness of Art Décor featuring an eye-popping Mike O'Callaghan-Pat Tillman Memorial Bridge. You can freely drive across the Hoover Dam to reach other parts of the States and admire it on your wheels. However, the best part about Hoover is its striking streamlined design and the story and fun facts behind it.
For that reason, it would be a waste if you didn't come over on a guided tour. It allows you to delve into the lesser-known sides of the dam and reveals many things you haven't heard of during its epic construction.
Get more information on Google Maps>>
4. Dine Out at Bellagio Fountains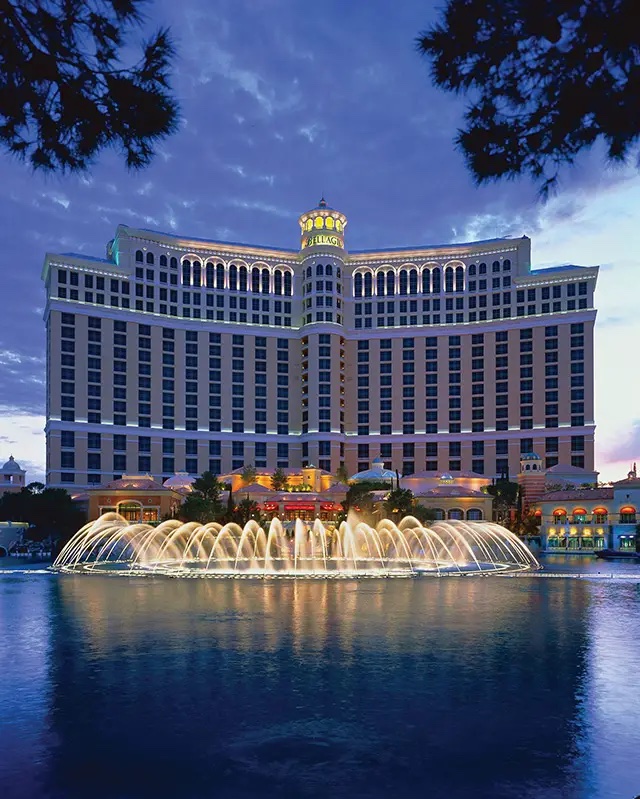 We can't tell how many times we've seen Bellagio Fountains in Hollywood movies. And the thing is – it never fails to impress us. The dancing waters of Bellagio serve as a candid backdrop if you're looking for a knock-off Instagram shot. But more than just a landmark in Las Vegas, Bellagio Fountains gather some of the best upscale restaurants in the city.
Every night, visitors and locals alike flock here from corners claiming a seat with a view over Bellagio. Imagine sucking up that fresh lobsters, sipping on some Chardonnay, and admiring the lake throwing up enchanting water in sync with the music! It is the kind of satisfaction you cannot beat.
Get more information on Google Maps>>
5. Let Antelope Canyon Blow Your Mind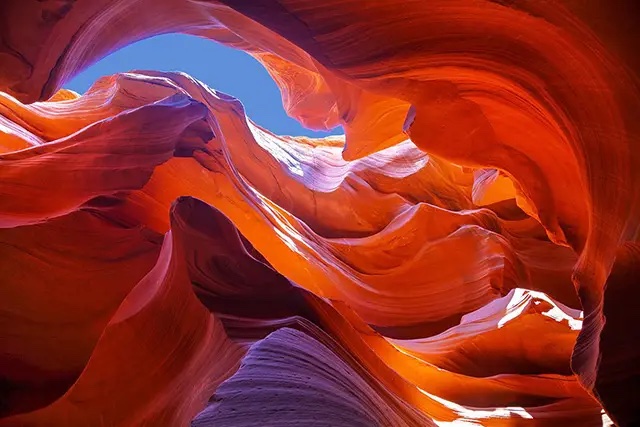 Located roughly four hours from Las Vegas, Antelope Canyon is a gift from mother nature. She's been so kind to reward you with a chance to admire this majestic site in a mystical land. Reaching 37 meters in depth, Antelope Canyon is a slot canyon divided into Upper and Lower sections.
It brought antelope to life due to the erosion of Navajo Sandstone when flash flooding happened. The best experience we can recommend is kayaking to antelope from the waterside, driving for 90 minutes to the canyon mouth, and getting back on foot.
You need a local guide as permission to enter the dam's interior. This regional guide is a dab hand at unveiling the most incredible fun facts about this natural wonder. You'll have a chance to take in the colors of nature and the fantastic rock formation. So buckle up, prepare some handy camera tricks, and soak in the splendor you're about to witness!
Where I booked my tour: Lower Antelope Canyon Day Tour>>
Get more information on Google Maps>>
6. Capture the Beauty of Horseshoe Bend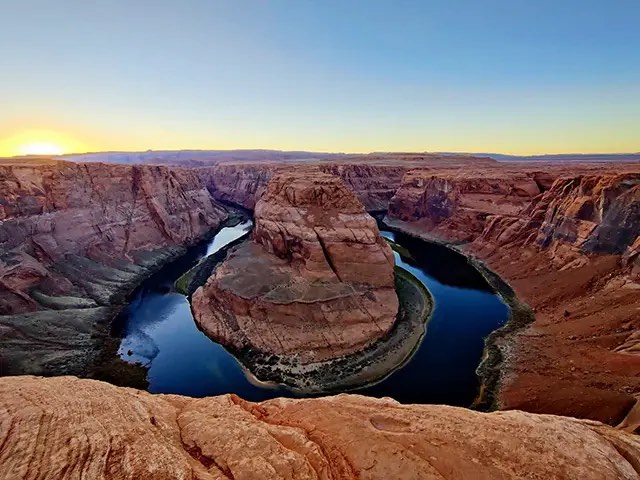 Antelope Canyon and Horseshoe Bend usually come in a duo. However, it is a big mistake if you only visit one of them and forget the other. Horseshoe Bend emerges from a forgotten cliff-side lookout to an enchanting wonder that attracts a great drive of tourists.
This horseshoe-shaped incised meander wraps up the Colorado River at the edge of Page. Watching from above, Horseshoe Bend becomes a dramatic landscape and one of the most photographed places in America. In addition, you can partake in an extensive self-drive tour or, even better, an organized day trip from Las Vegas to avoid all the hassles.
Get more information on Google Maps>>
7. Visit the World-Renowned Grand Canyon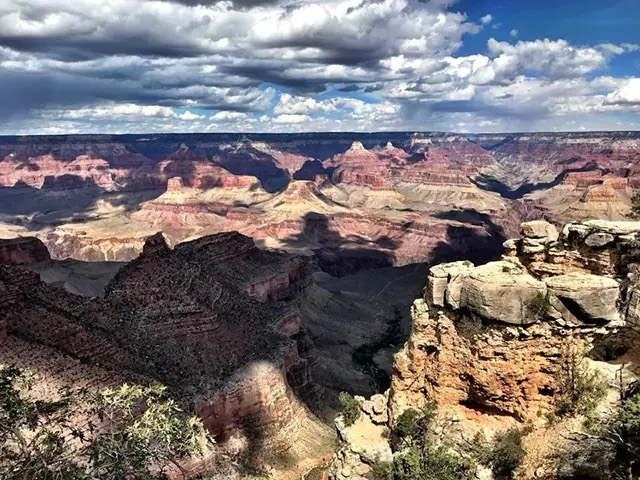 Grand Canyon is not a small venue! Let's face it – but the closest spot you can get from Vegas is the West Rim of the canyon. A day trip from Las Vegas lasts roughly two and a half hours of driving. As a result, you will have a chance to enjoy a wealth of visitor services, family-oriented activities, and mesmerizing views.
Bus tours and car rides are all available. However, you surely want to get on a helicopter tour from Las Vegas to engulf this magnificent wonder and be whisked away with wow! Grand Canyon National Park dominates 446 kilometers of the Colorado River and its enclosing highlands.
Book your tour: 2D1N Antelope Canyon and Grand Canyon Tour>>
Get more information on Google Maps>>
8. Spend It All at TopGolf MGM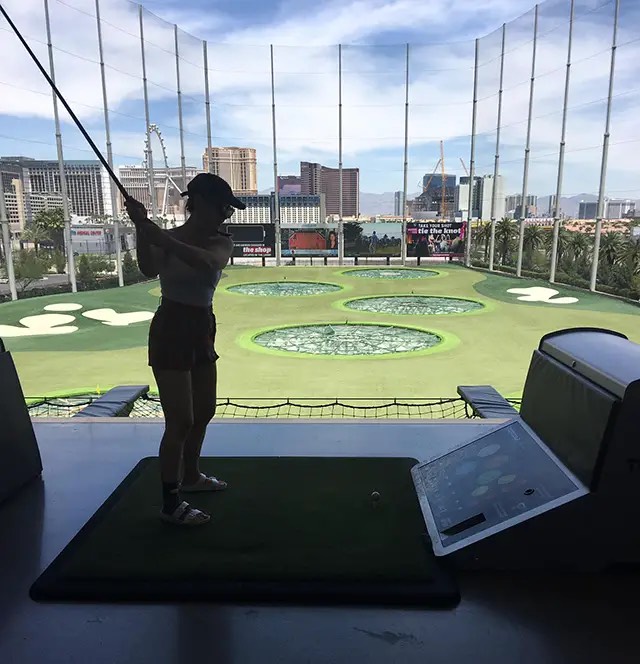 Tucked away at the back of the MGM Grand, TopGolf is a multi-level hub of high-end entertainment possibilities. You can hit the climate-controlled golf bays, swim with a view and a drink in your hand at the swim-up bars, or sway to your jam at a concert.
TopGolf is more than a stress reliever. It's a lifestyle. Housing everything a person dreams of on vacation to Las Vegas, TopGolf may not be an ideal place for those on a shoestring. However, if you have more bucks to spare, feel free to pop into its lounge, play some games, and enjoy New American dishes after rocking the golf bays.
Get more information on Google Maps>>
9. Pop into Casino Royale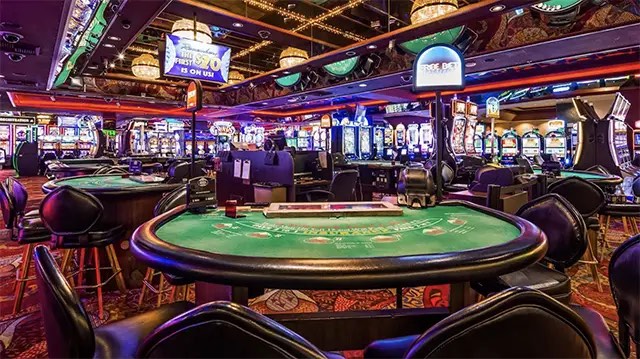 If we have to name our favorite off-radar casino-hotel in Vegas, it would be Casino Royale. Known in full as Best Western Plus Casino Royale, this significant venue is gaining an enormous spotlight of the Strip. Boasting a colorful, eye-pleasing exterior design, Casio Royale is the haven for low rollers, table minimums for roulette, craps, and blackjack.
Its central location allows you to enjoy all the main actions of the Strip in no time. In addition, each room comes with top-notch amenities, while some offer whirlpool tubs. Mealtime is another accent of the Royale where you can indulge in an American meal, pop into a pizza parlor or laze around in the cocktail lounge.
Get more information on Google Maps>>
10. Ride the High Roller Las Vegas Ferris Wheel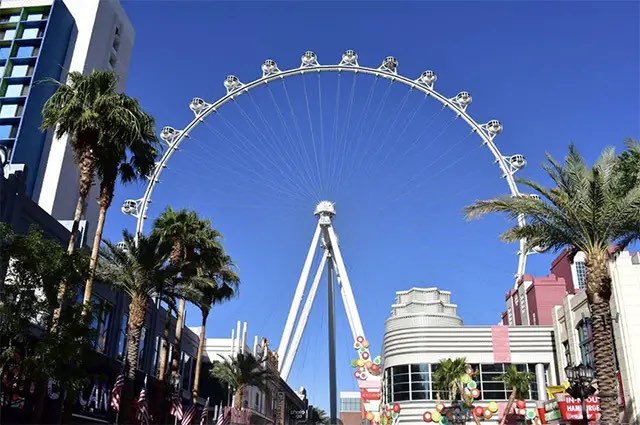 Ranked as one of the world's highest observation wheels, Las Vegas High Roller is no joke! Do you want to soar above the sky at 550 feet off the ground and engulf the whole city with your bare eyes?
Unlike a regular skyscraper observation deck, the High Roller takes your experience to a whole new level as it rotates parallel to Las Vegas Boulevard. A complete revolution lasts for 30 minutes.
In addition, some of the pods come with a Happy Hour bar where you stand and sip on your favorite wine during the sightseeing.
Get Discount Tickets: High Roller Las Vegas Ferris Wheel Ticket>>
Get more information on Google Maps>>
11. Hunt down the top Free Las Vegas Shows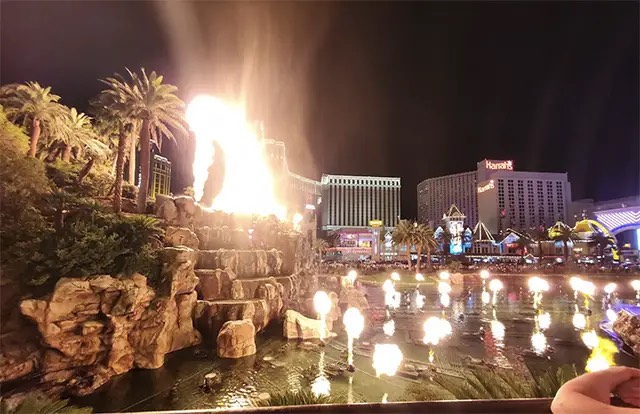 Las Vegas doesn't need to be expensive if you know how to do it right! You can hunt for free tickets from affiliated hotels and casino hosts or search for promoters and publications to some of the top-rated free shows in Las Vegas.
For example, pop into Mirage Hotel, and you'll have a chance to admire the Volcano Show nestled beside a candid lagoon. The show is scheduled after dusk when it wakes up and erupts to feast your eyes with all the fireballs and water piercing through the air.
Other than this, don't forget the world-renowned Circus Act at the Circus Circus Hotel, the Fountains of Bellagio, and the Aquarium at the Silverton.
Get more information on Google Maps>>
12. Go, to Hotel Hopping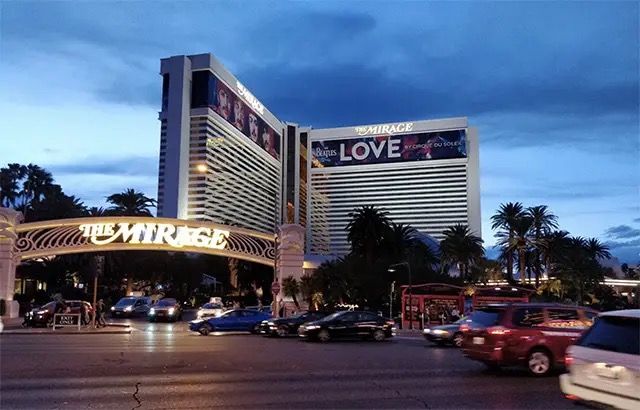 Las Vegas is all about extravagant possibilities and buzzing casinos, but it cannot go without the tacky-wacky hotels. So if you stay in one hotel, why not spend the rest of the day just hotel hopping? And it's not just about gambling!
Hit the Polynesian-themed Mirage Resort and Spa for a relaxing treatment before contemplating the atrium shaded with rainforest flora and strolling around its aquarium. Spot celebrities while soaking in a Roman-themed outdoor pool at Caesars Palace. Dine out at the Bellagio Hotel after dusk. And if you're not on a shoestring, why not stay at a different hotel each night to fully immerse into their great vibe?
Check Out the Best Places to Stay in Las Vegas>>
Get more information on Google Maps>>
13. Rock the Fremont Street in Your Way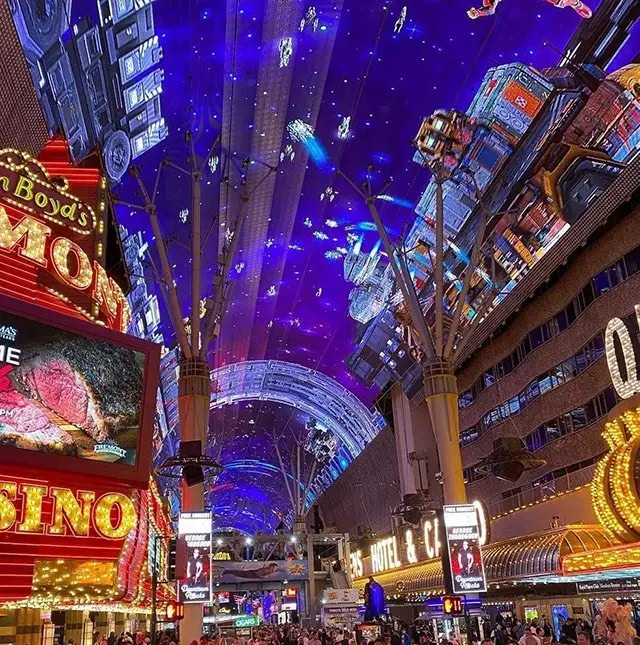 Fremont is not only about gambling, even though it locates in the heart of the downtown casino corridor. A long stroll along Fremont takes you to the top casinos in the area. We have Binion's Horseshoes, Eldorado Club, The Mint, and many more.
But if you happen to blow your gambling bankroll (just in case), there's a myriad of experiences to help you refresh after you quit.
Hit the Viva Vision Light Shows, collect some keepsakes at Indian Arts and Crafts, pose with Vegas Vic, and visit a brewing company.
Fremont nightlife is also a big thing! So if you're in the mood after some booze, feel free to hit the street when the sun beams down and move your hips with a stranger in a summer concert!
Get more information on Google Maps>>
14. Pose with Your Idols at Madame Tussauds Las Vegas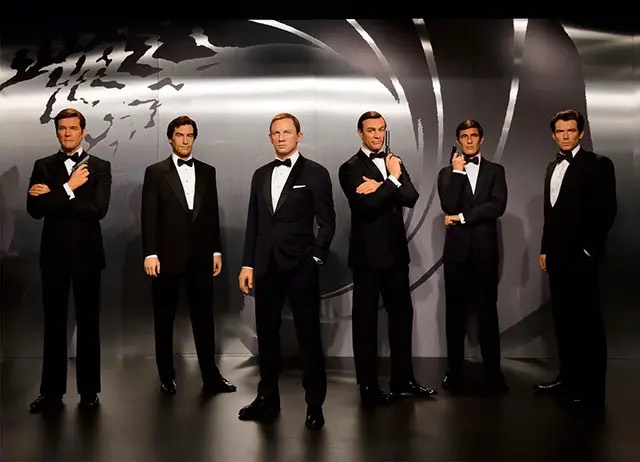 Without further explanation, we all know Madame Tussauds is the world's most excellent wax museum. For that reason, it is a big mistake to miss out on this symbolic landmark when in Las Vegas.
Madame Tussauds is located in the heart of the Strip, making it easily accessible if you're strolling around or staying in the Strip. Grand Canal Shoppes at The Venetian Resort Las Vegas, Madame Tussauds is the first Tussauds museum introduced to America.
With a massive display of famous wax figures, this venue is so much fun. It will be an excellent hook for families with kids to put a bright smile on their faces.
Get Discount Tickets: Madame Tussauds Las Vegas Admission Ticket>>
Get more information on Google Maps>>
15. Upgrade Your Knowledge at the Mob Museum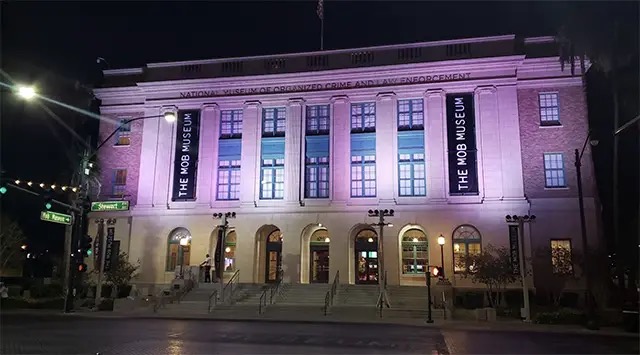 Ultimately, we have the Mob Museum as one of the must-visit places off the Strip in Las Vegas. We recommend a solid three hours to soak in the displays and historically completed information thoroughly.
Officially named the National Museum of Organized Crime and Law Enforcement, the Mob, walks you through all the iconic milestones in American history through true stories.
Nestled off the street of Fremont, the Mob is like no others! It helps you dig into a deeper level of organized crime's history and its impact on American history – then and now.
Get Discount Tickets: Admission to Mob Museum>>
Get more information on Google Maps>>
Even though hitting the slots is not the only thing to do in Las Vegas, you can spend a long weekend of up to 3 days to get a sense of gambling. Otherwise, a week is an ideal amount of time to spend in Las Vegas.