Blue Mountain is one of my favorite attractions in Australia. When I was a backpacker, I visited it twice. The first time I followed the tour guide, the second time I moved to Sydney, we went with our roommates one morning.
There are so many beautiful sceneries in the Blue Mountains that are worth you. But, if you are planning a road trip, don't miss the giant mountain of the Blue Mountains.
As this classic attraction list, it should help you plan your road trip to the Blue Mountains. Click Here>>
These are attractions which in or nearby these mountains; let's check:
Three Sisters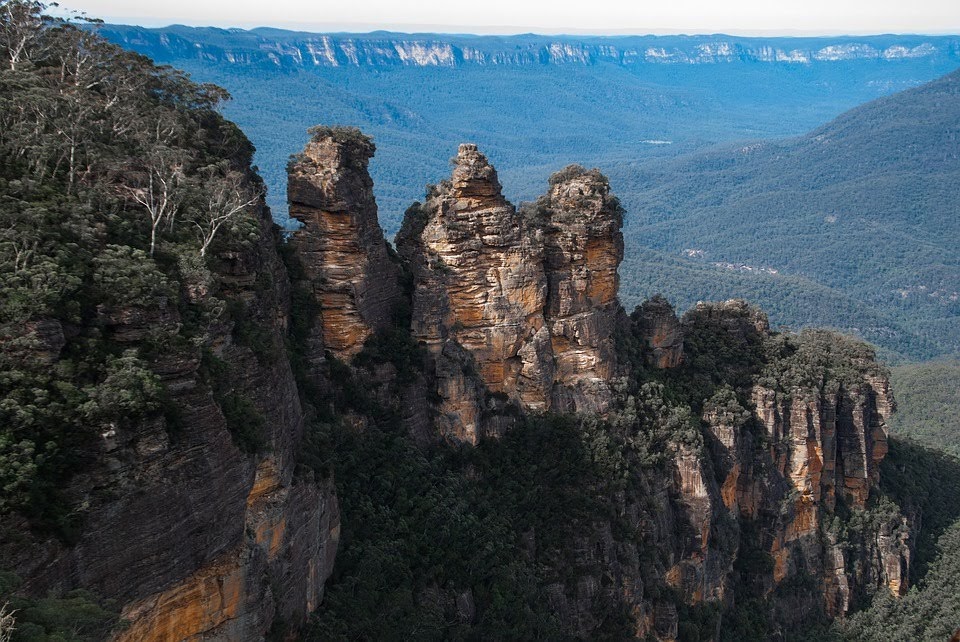 The Three Sisters are incredible attractions that naturally formed several thousand years ago. Three giant rocks are towering in the Blue Mountains, attracting many people to visit. Three Sisters in Katoomba (A local town in the Blue Mountains). Easy to get there by bus & train if you don't want to rent a car. But that only visits Three Sisters of all.
You need to rent a car and then drive to Katoomba via the A32 highway in 1.5 hours; easy to go. When you arrive at Katoomba, park your vehicles at Scenic World; this park is only the best place to have an excellent view of seeing the Three Sisters.
>>Check location on Google Map
Scenic World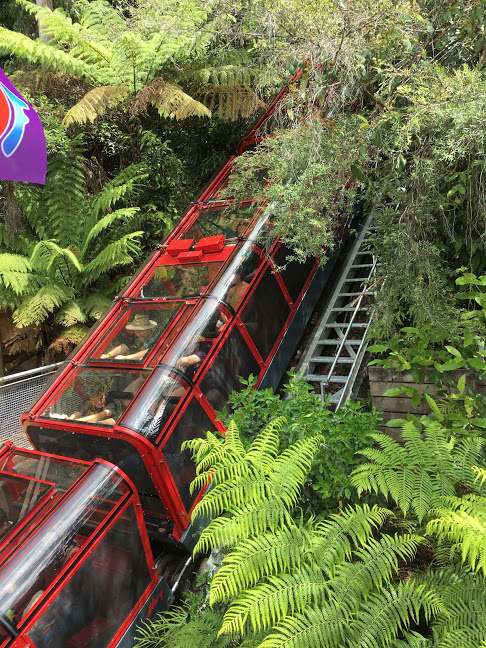 This attraction is the most popular place to start up in the Blue Mountains. You will enter the famous facility of Scenic Railway & enjoy constructed vertical close 90 angles railway in this park.
After that, you can see Three Sisters while the train arrives on the platform. Recommend this place to walk around the trail in the forest but require an entry fee of AUD 35 for adults.
>>Check location on Google Map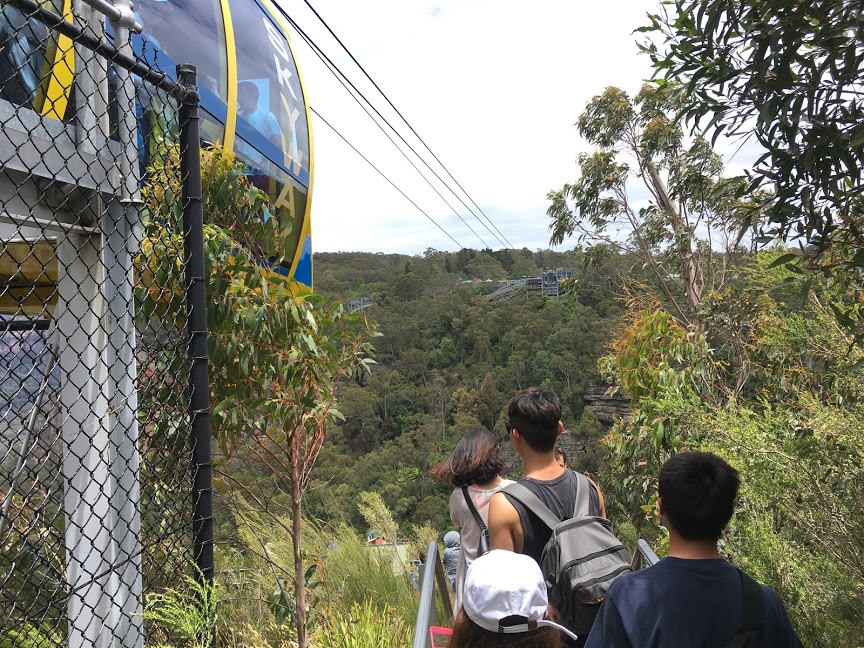 Katoomba Falls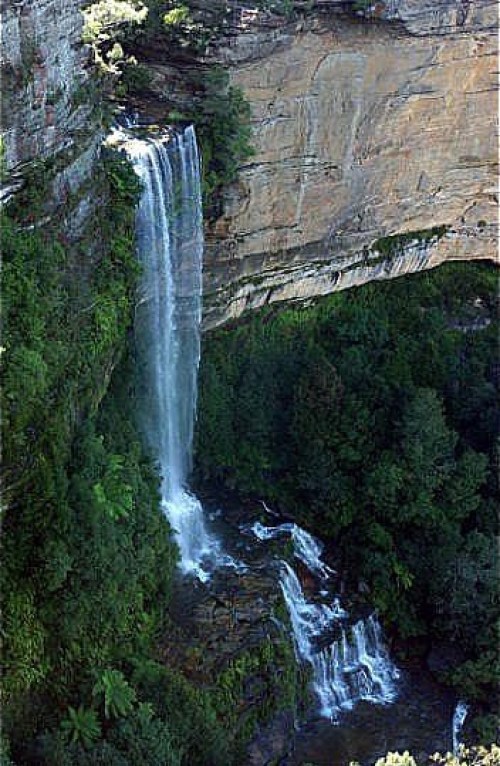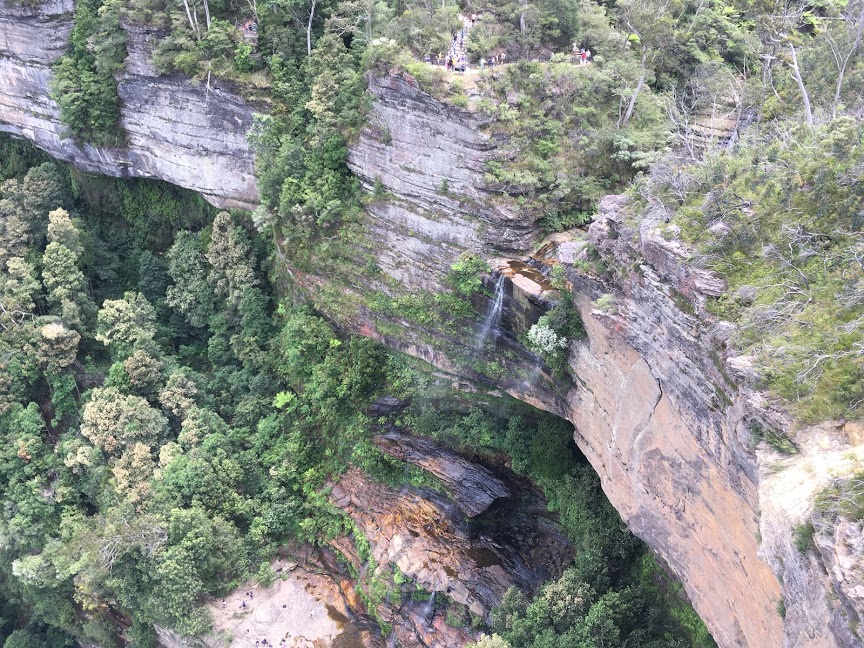 Katoomba Falls, its naturally formed & tallest, falls at the side of a cliff. To see Katoomba Falls, Skyway is the best way for that; go for it after the Scenic walkway.
Best Lookouts to see Three Sisters:
>>Check location on Google Map
Spooners Lookout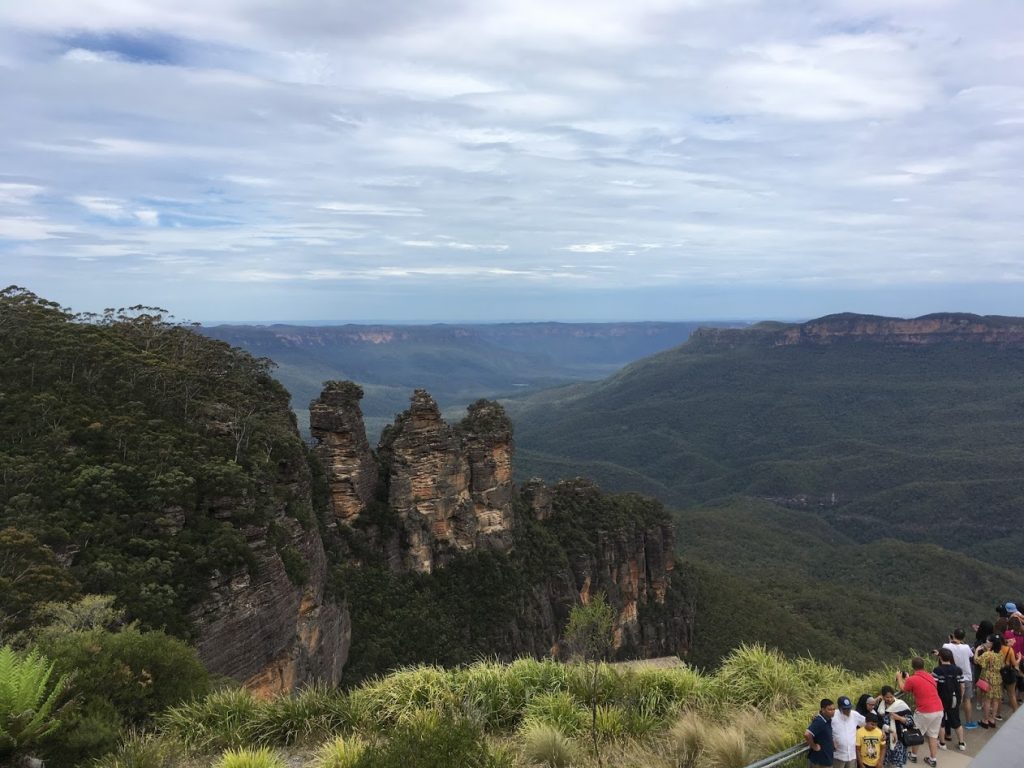 It's an excellent platform close to Three Sisters; worth being here & enjoying the giant.
>>Check location on Google Map
Giant Stairway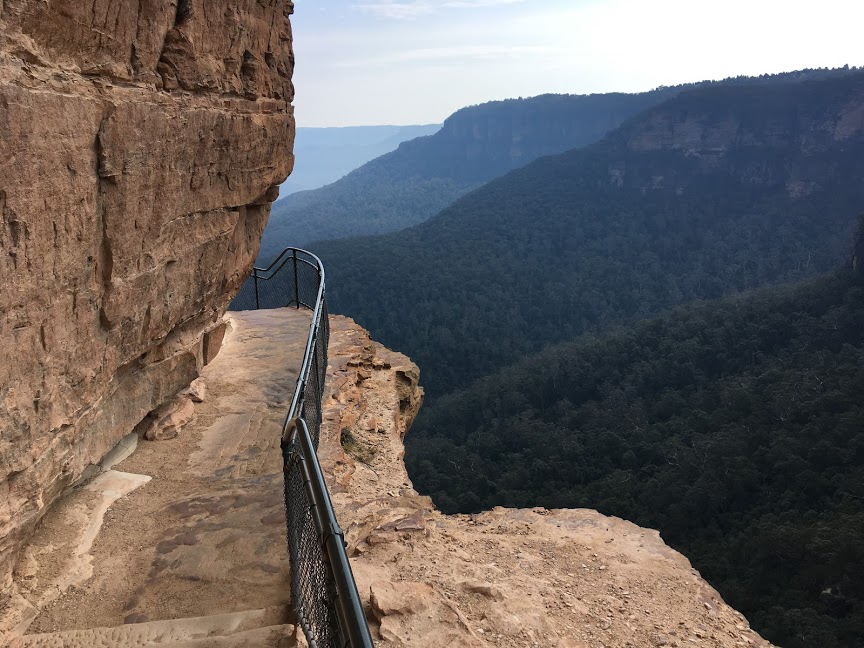 You can move standing with Three huge rocks as memories and the enormous cyan-blue grand mountains. So definitely go if you would like; worth it there, but you don't need to walk along the natural walk below the valley for many hours.
>>Check location on Google Map
Echo Point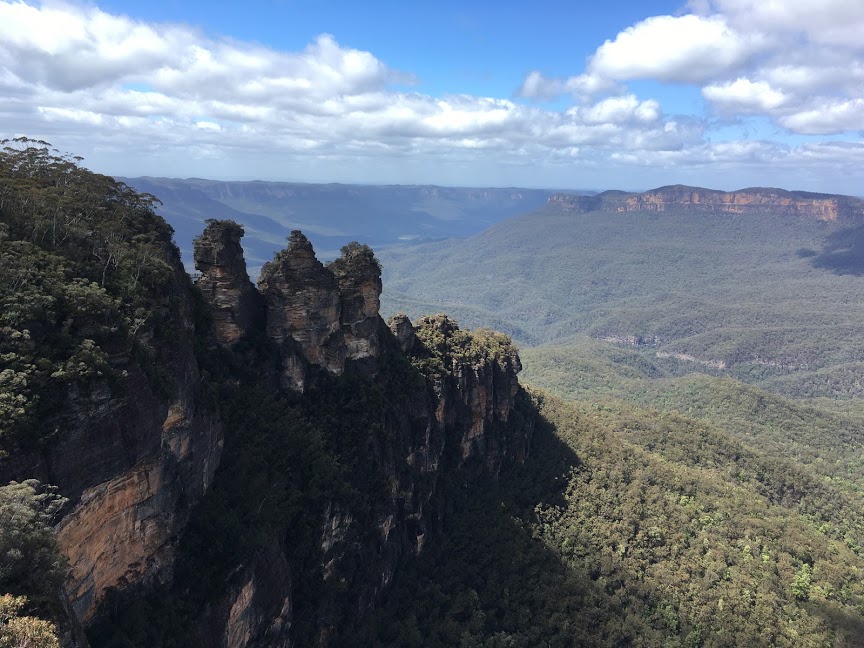 Echo Point is a great attraction to see the grand valley of every cyan-blue with the interest of Three Sisters, a beautiful lookout worth being. This view platform is most famous for tour groups. Even if you want to try here by walking from Scenic World, best try your travel alone, now stand this platform & enjoy the whole cyan.
>>Check location on Google Map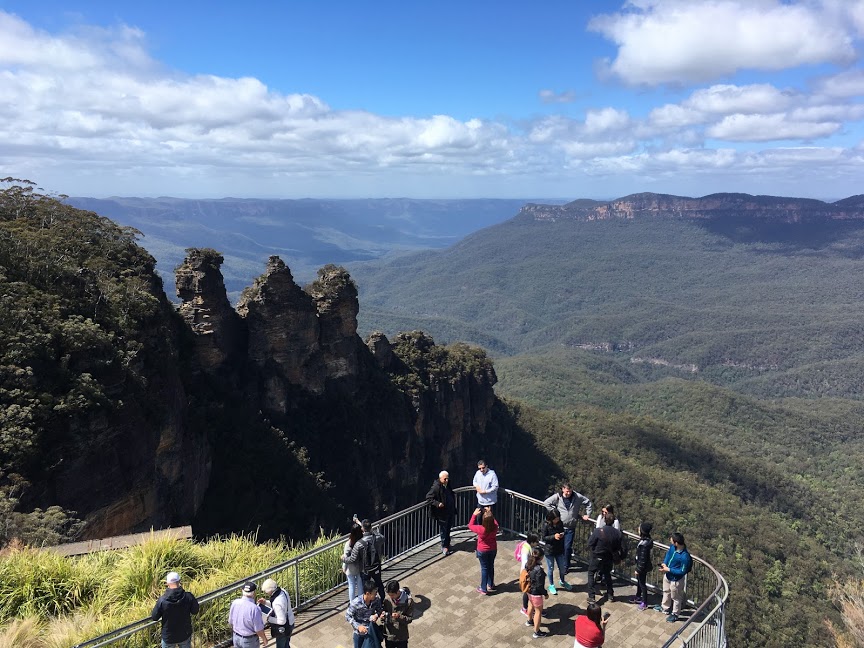 Empress Falls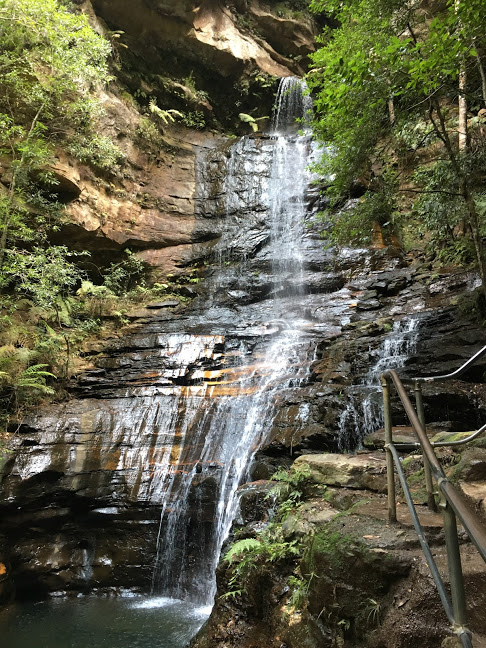 After Echo Point, this falls is also a must-see attraction in the Blue Mountains; navigate the car park area. Then wearing your climbing shoes, bring your bag with water & food, for it needs to walk below of falls valley along the cliff through walk track, easy to down but pretty hard climb back like hell.
See this great fall when you arrive & touch the cold river, take a rest & have some photos. When I visited this attraction with my friends, I saw a group of teens who climbed up these falls with climbing gears, a great experience of adventures. However, this attraction requires the ability to walk & climb in good health.
>>Check location on Google Map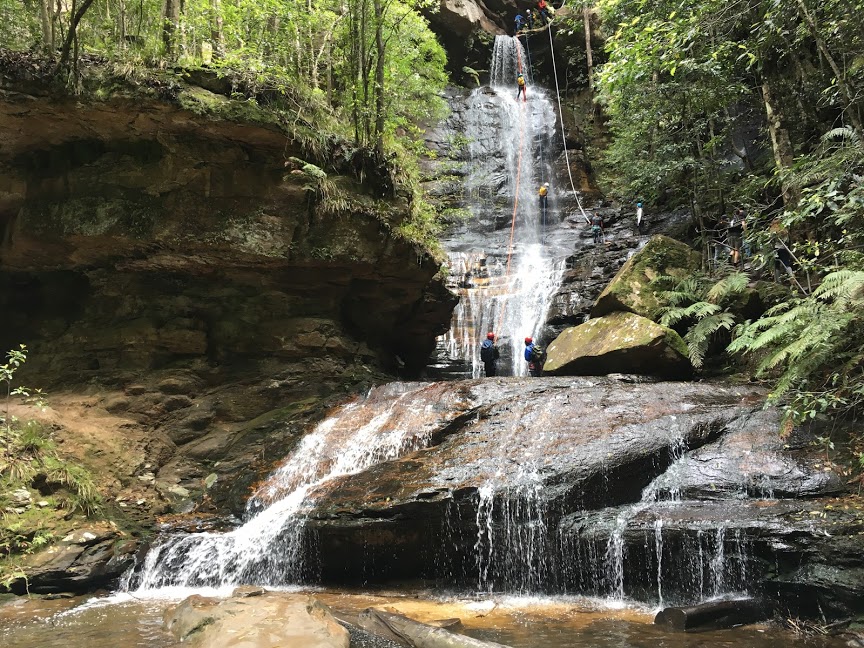 Sylvia Falls
After enjoying Empress Falls, it's excellent to feel cooling. Still, when you try to keep moving below, you will see these falls like a ladder until the natural walk track in the forest of the valley track brings you to other attractions. Still, you don't need to keep walk takes too much time; climb back to your car with patience & willpower.
Eventually, I go back to the car and feel tired. Me & my friends so on. But there's another grade challenge after Empress Falls. Remember this tired feeling; you will touch the next stage of climbing.
>>Check location on Google Map
Wentworth Falls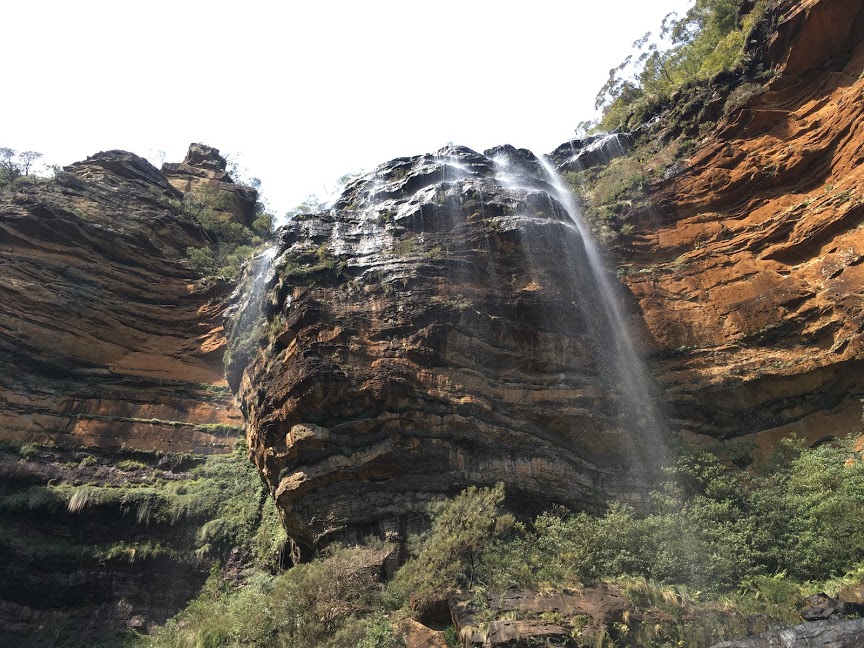 Wentworth Falls, all the spotlight is this giant falls with a cliff, it's more complex than Empress Falls, how do I say that? So let's keep reviewing this.
Parking at National Pass
Car park area here, get started and see the first lookout Jamison Lookout.
>>Check location on Google Map
Jamison Lookout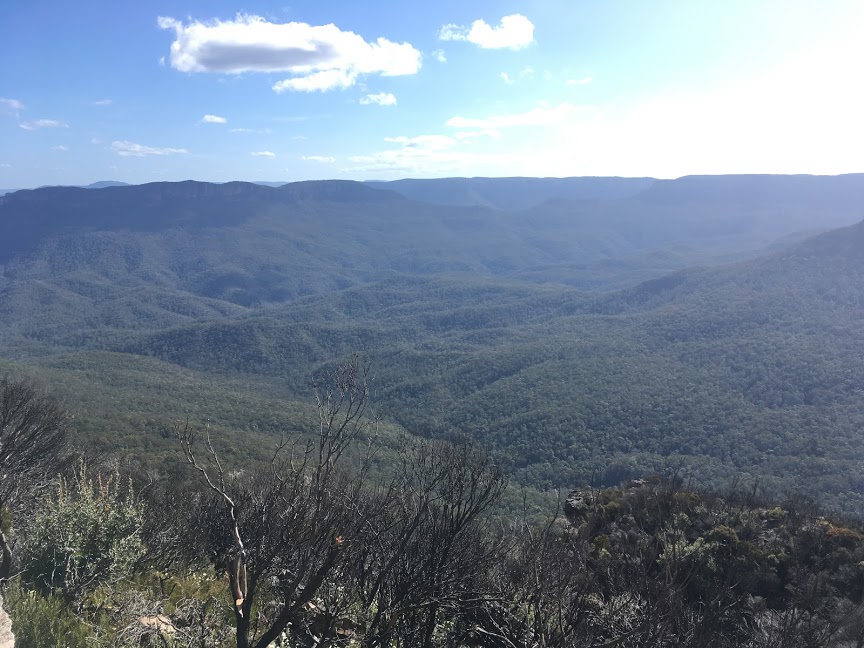 The picture shows the path stair to Wentworth Falls, and the lookout is just a platform to see another sight of the Blue Mountains. It's OK; keep moving forward.
>>Check location on Google Map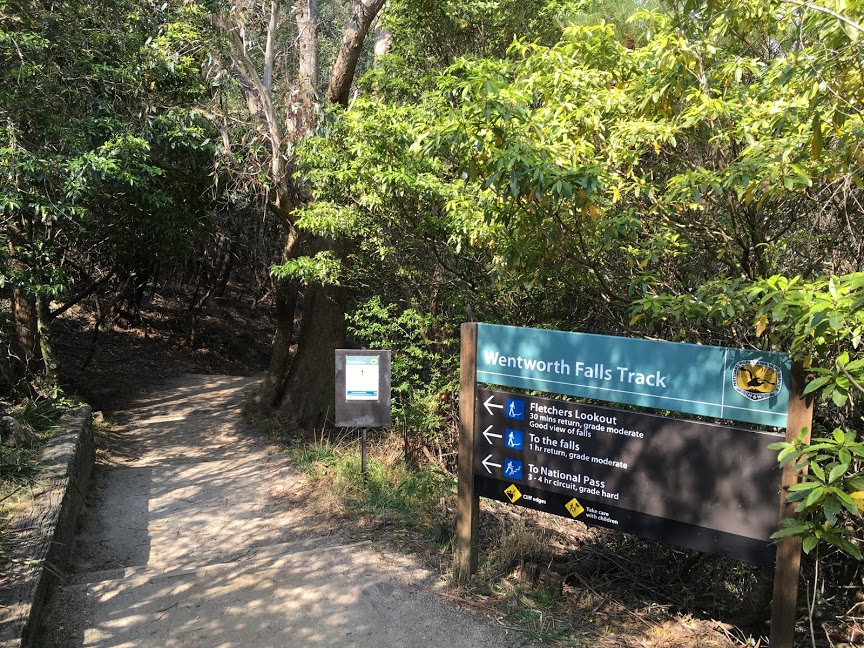 Princes Rock Lookout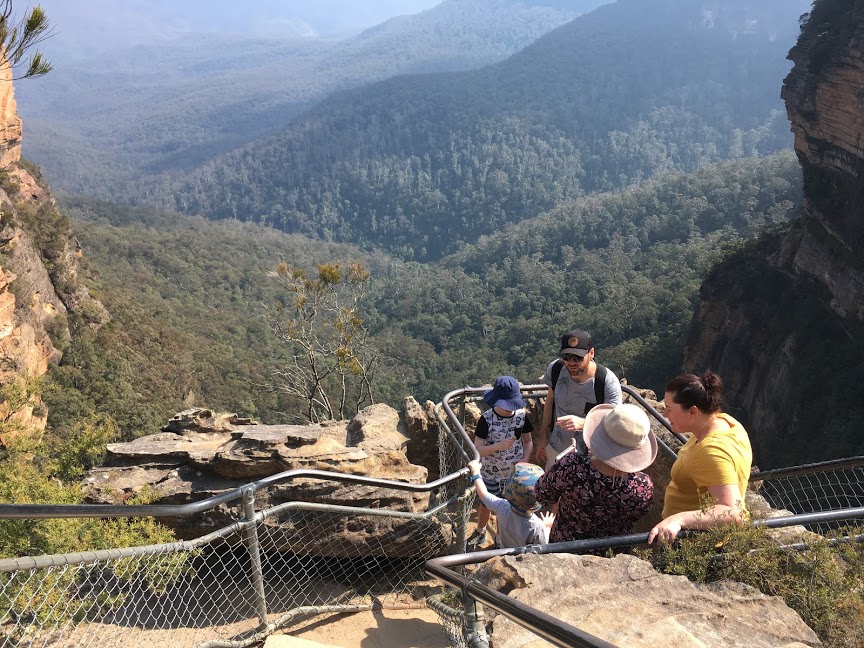 It's an excellent lookout closer to falls but a bit steep; stand here & see another sight, that's it. It's not the greatest one; let's follow the trail.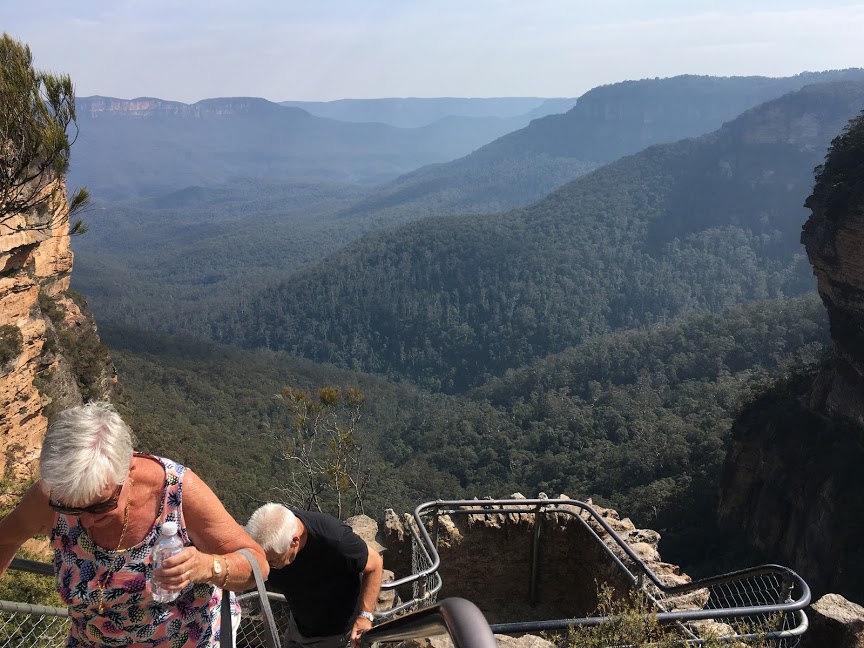 Fletchers Lookout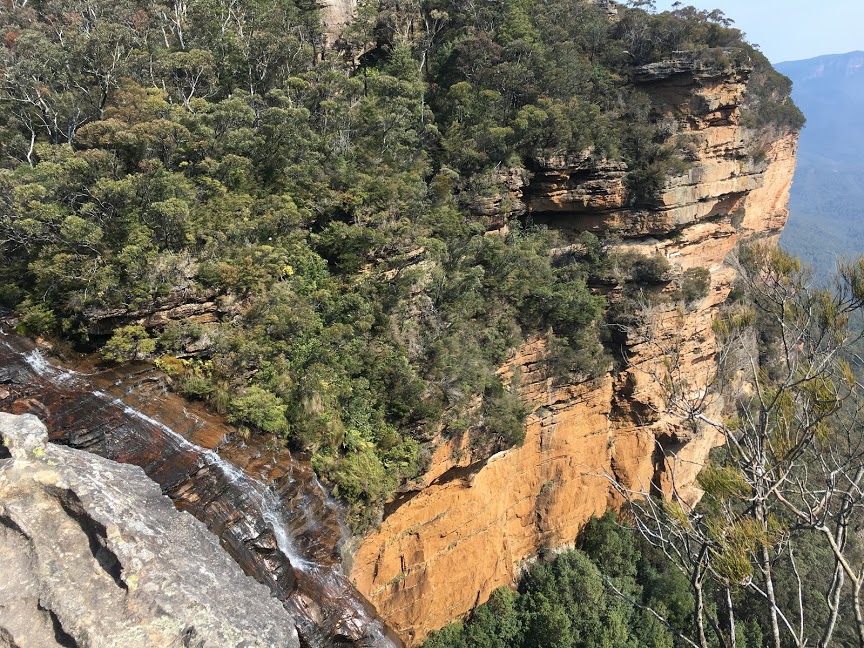 It's an excellent lookout close to the top of the falls; keep moving you will touch the falls.
Top of Wentworth Falls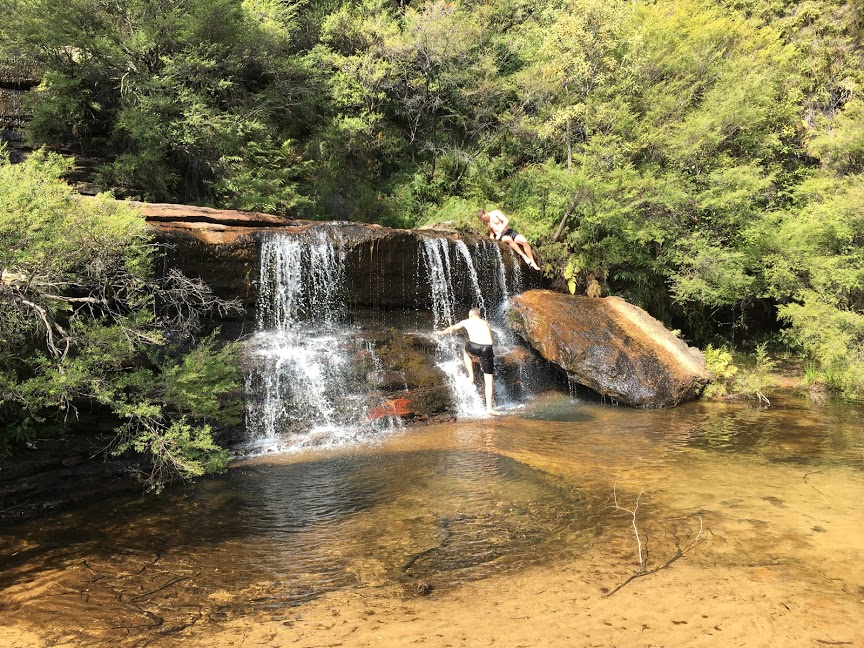 It's a top point of falls, a natural pool with minor falls where you can enjoy the cooling flush, playing for fun. What a great enjoyment, right? So get your stuff; here comes a final challenge after cooling!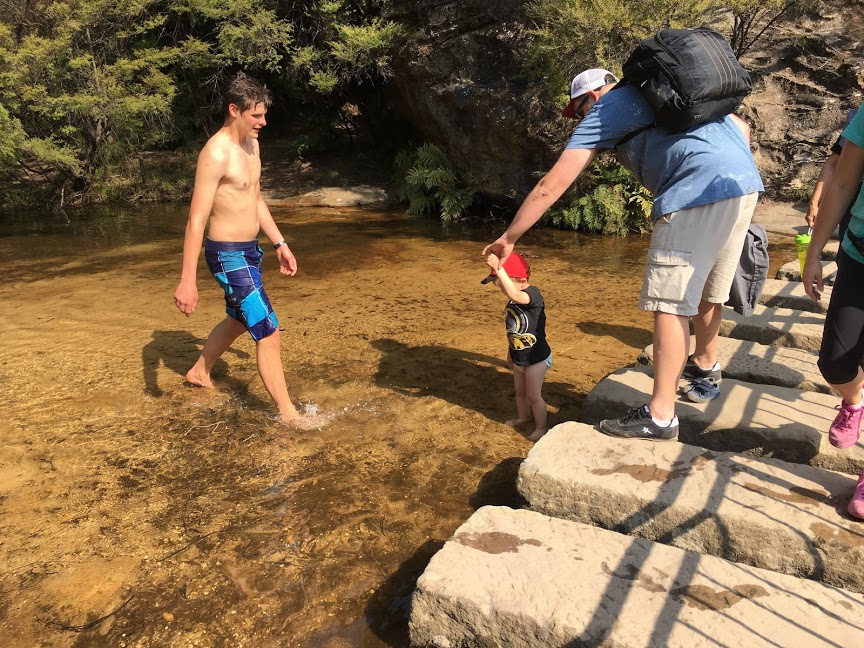 Rocket Point Lookout- Down to Falls below & Head look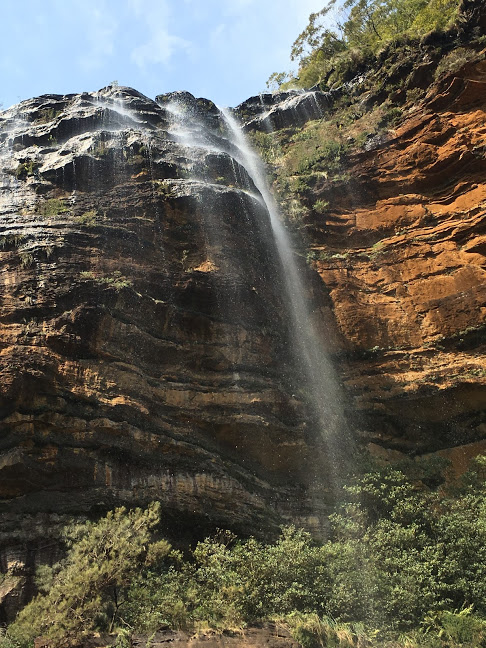 It's a climbing trail built along a vertical cliff to get falls below; shocked when you see this trail, I remind you to bring water & food.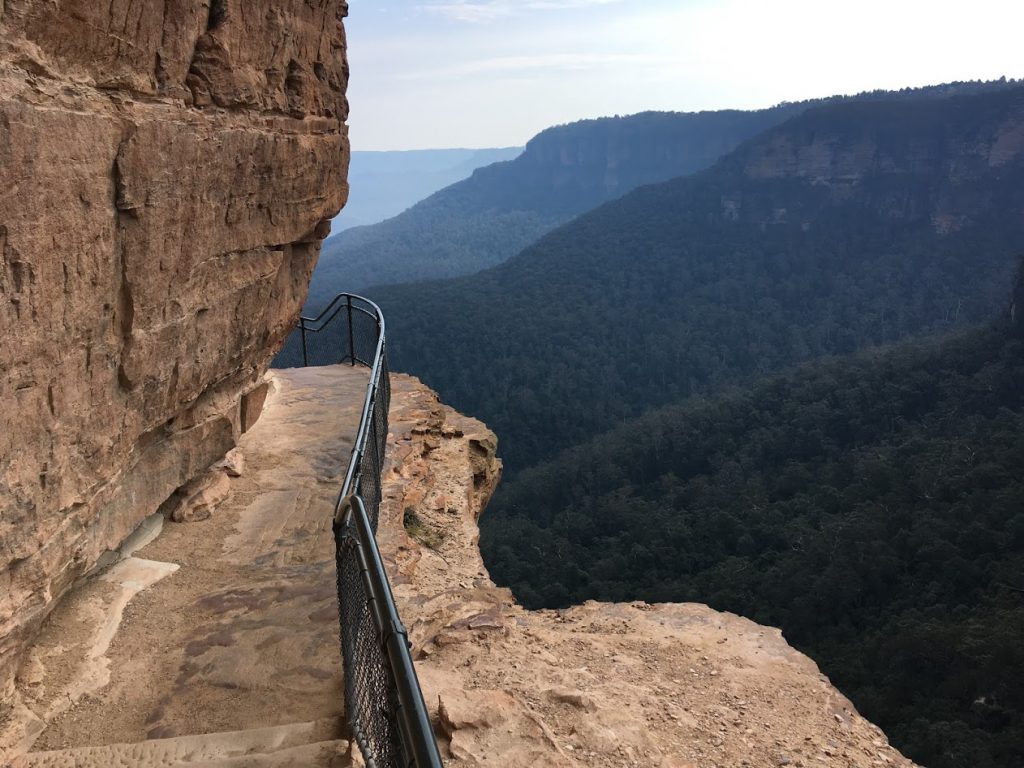 Once you reach the bottom of the falls, head up. You can see this massive cliff with stunning falls, see the waterfalls down that's amazing. People enjoy the cooling pools for fun; everything is worth it as you arrive at this point. But now, it's time to climb back into your car. Take a deep breath. Let's get back!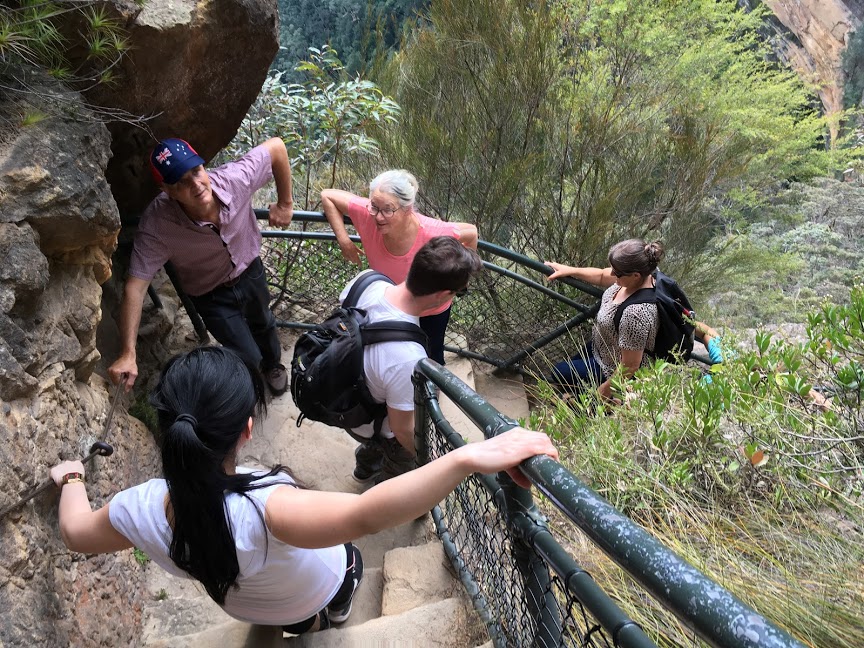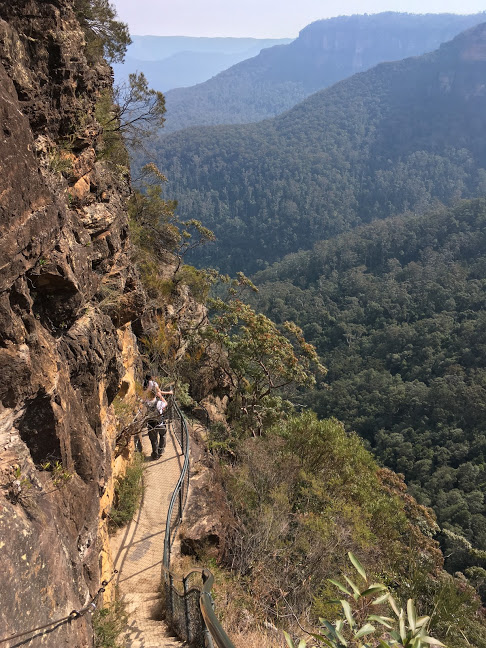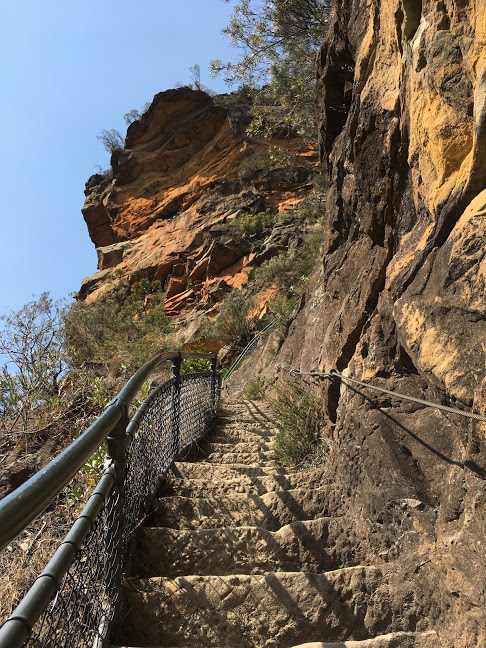 When I first visit here, I bring nothing, so lack of water & food, plus, feel starving. I am still on this ladder of a cliff, just climbing step by step in willpower, holding the left power. Finally, getting in the car, grab the cookies & half a bottle of Lemonade.
Lincoln's Rock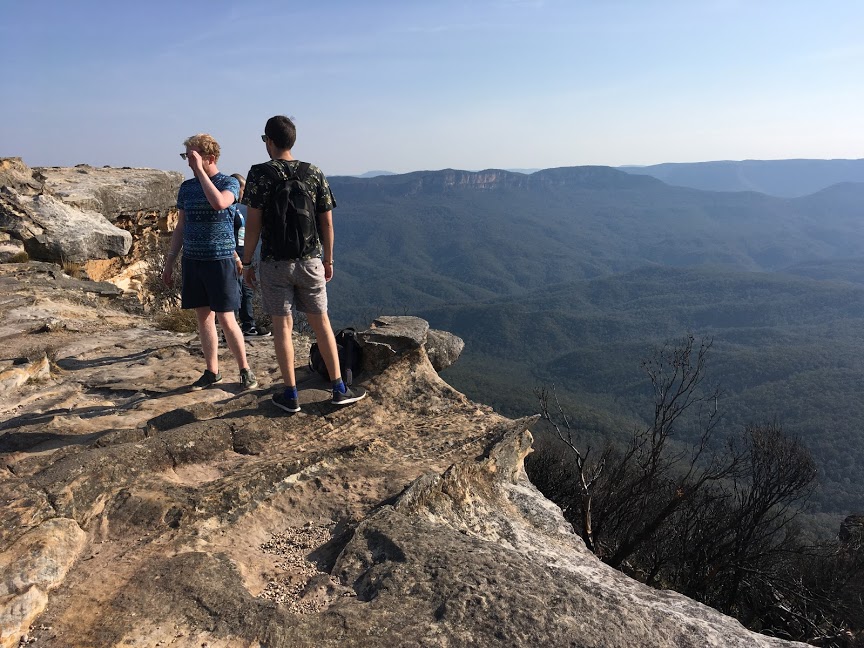 Lincoln's Rock is the best attraction as an ending to the Blue Mountains trip. When I arrived at this place, feeling stunning on the top & caught the whole grand cyan Blue Mountains; what a fantastic site that's worth being. Unfortunately, it's hard to reach for prolonged walking; better book a day tour or rent a car instead.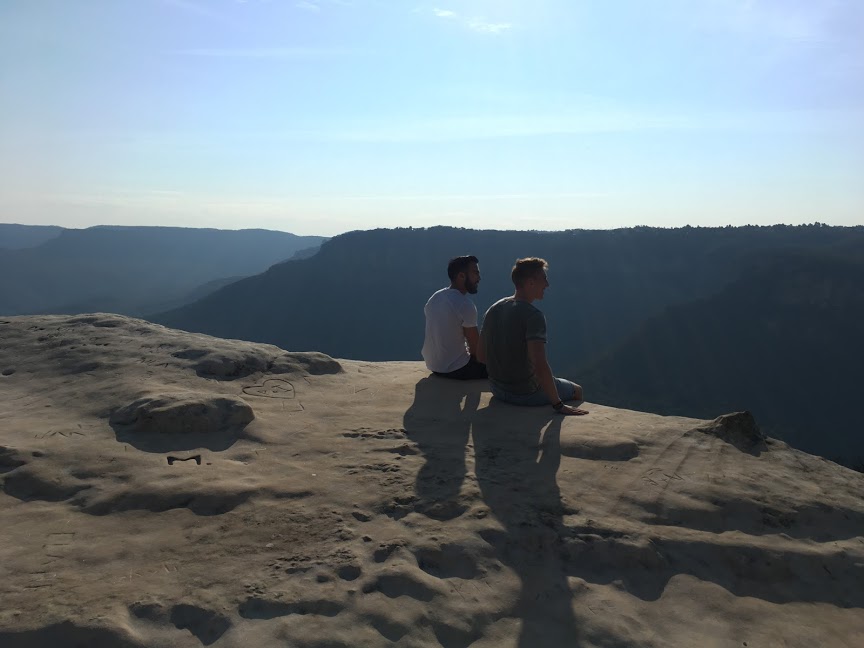 I had two times picked my friends on a Blue Mountains trip, and this attraction was our last point; we were enjoying the grand sight & had a great experience trying something like this posture:

You know what? It's worth a try & takes a photo, but you need to be brave to sit there, nervous, complete, and happier to end this day trip.
>>Check location on Google Map
Conclusion
Want to plan your own Blue Mountains road trip? Read this article and get started!