You must visit Three Sisters if you travel to the Blue Mountains! A giant national park which is near Sydney includes many tourist attractions which are worth being.
Want a Sydney Blue Mountains drive trip? In this article, I will share about these beautiful attractions in the Blue Mountains. Then, I will show you the best road trip from Sydney; this will give you have a fantastic escape.
But, I must first say that I have not been to every attraction. I just tried to recommend some more worthwhile attractions which may be familiar to you. And the advice itinerary I gave, you don't have to do it all, because you can't drive as long as I can, you can follow this route at your own pace. Finally, you must carefully consider your limited vacation time. There is beautiful scenery on this road, so enjoy this trip.
Blue Mountains Self Drive Route Overviews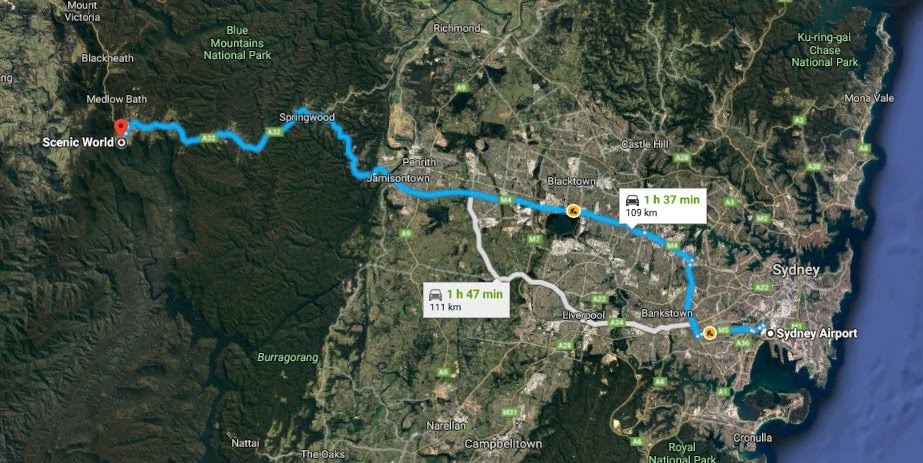 Set Sydney Airport as a start on the map cause everybody gets a start trip while the flight arrives. This route map is for you if you have already hired a car. Also, it sets to avoid tolls.
Then the destination is Scenic World; this place is typical. Finally, most people visited the Blue Mountains, which are accessible to self-drive. So the best place to start your Blue Mountains trip, and don't forget to see Three Sisters!
What is the distance of drive from Sydney Airport to Scenic World?
If you start navigation from Sydney Airport by car, avoid tolls, need about 1 hr 38 mins 109 km via highway. But usually get traffic jams while in the city so that I might be a bit late, generally requiring 2 hrs.
To hire a car or camper van, you can go through these two websites and compare the prices. They are DriveCarNow and RentalCars.
How to Start A Tour In the Blue Mountains?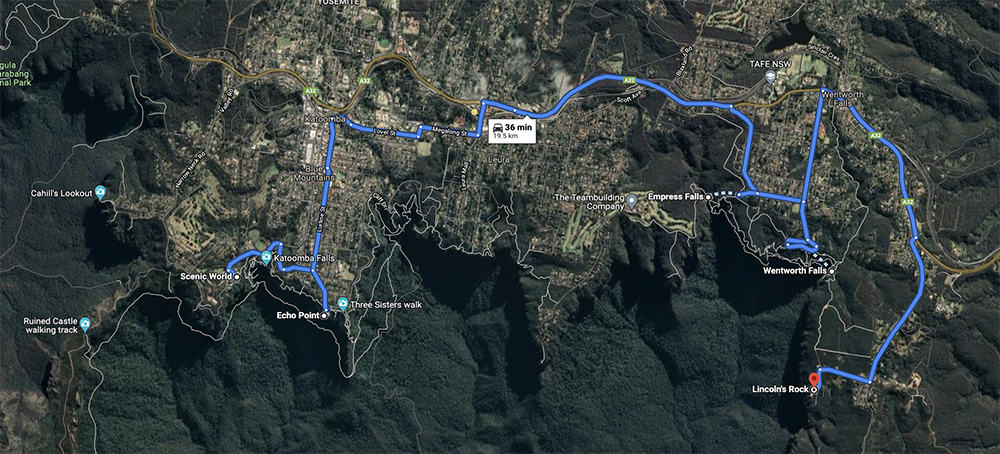 This map is the best route to visit the most natural places in the Blue Mountains. The trip's start point is Scenic World; once you arrive at Scenic World, see Three Sisters, then hike in the other typical places like Empress Falls & Wentworth Falls. The advantage of this route is combining many usual places which nearly visit just enough in a single day!
Best Attractions list in the Blue Mountains
Three Sisters
Scenic World
Katoomba Falls
Spooners Lookout
Giant Stairway
Echo Point
Empress Falls
Sylvia Falls
Wentworth Falls
Lincoln's Rock
Three Sisters is the most popular attraction in the Blue Mountains, which you can see at Scenic World. However, the best viewpoint is Echo Point. The other falls are worth being as long as you drive a car or visit Three Sisters only.
Check the Attractions in the Blue Mountains>>
Tips for Blue Mountains Self Drive Itinerary
Generally, I recommend One Day for a driving trip; there's only one way to drive to the Blue Mountains from Sydney.
1 Day Itinerary Drive Trip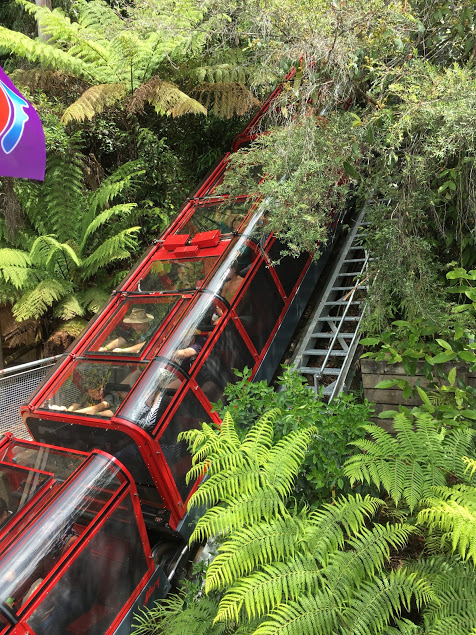 Scenic World is the first destination on Google Navigation; you can see Three Sisters in that park.
2. Echo Point, a good place close to Three Sisters, needs to notice that many people squeeze the platform, and it is not easy to take photos.
3. Empress Falls by walking & climbing cliff trails & enjoying the cooling valley; make sure you have tremendous power to fill climbing.
4. Wentworth Falls, park the car at Natural Pass & follow the trail walking to the top of Wentworth Falls; enjoy the pools with minor falls flush. Then start going down to the bottom of the falls & seeing the giant stunning cliff, climbing through the cliff ladder vertical angle with willpower. Don't forget to bring water & food.
5. Lincoln's Rock, stand on the flat & enjoy the grand cyan Blue Mountains, try sitting on the side of rock & take a photo as an ending.
Finally, back to the City of Sydney, you did the typical tour!
Don't worry; there are still more attractions in this article below, which I'll show you.
If I Couldn't Drive a Car, What's The Alternative?
Indeed, most people go to the Blue Mountains by joint tour or self trip by train. Just take it to Katoomba Train Station. These are good ways for a self trip which won't rent a car but will miss most stunning attractions, that's a pity.
That itinerary without a driving car is only in Scenic World, then next Echo Point, just two attractions, that's all.
So that's why I suggest you rent a car for a self-drive trip to the Blue Mountains. Trust me; it will give you a great experience while seeing what these giants are. Also, self-drive to the Blue Mountains is much more convenient & flexible to visit more attractions as you want.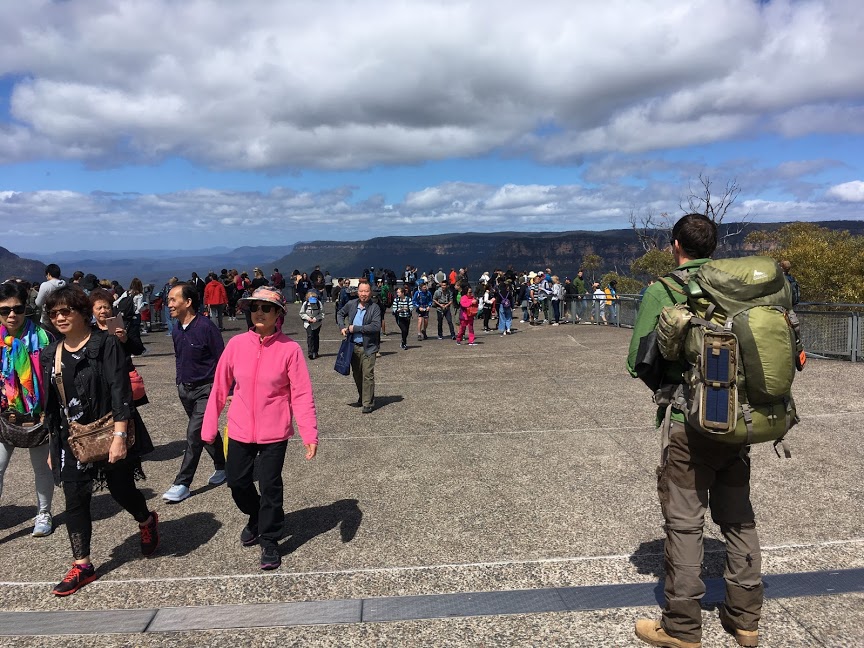 Are you still waiting? Take action, and get your experience!
Don't forget to book a car or camper van through these two websites and compare the prices. They are DriveCarNow and RentalCars.
Check the Attractions in the Blue Mountains>>
Conclusion
I hope you enjoy this road trip, and you already know the best route for Sydney Blue Mountain. Now, get your belongings ready, get food and a map, turn on your car engine and start it! 
By the way, besides the Blue Mountain trip planner, I recommend these route planners for your next road trip: