If you are a backpacker or resident, you must try this unforgettable outback journey. In this article, as a former backpacker, I will reveal the experience of inland road trips from Adelaide to Sydney.
Before You Take Action
I must say that I haven't been to every attraction on this road. So here I just tried some practical recommendations for road trips by my friends & residents and wrote itineraries using my experience as suggestions.
You don't need to follow my whole plan; arrange it, add and remove some places in your mind and consider your limited day & budget. Then, hopefully, you will enjoy a fun fill & unforgettable road trip of your own!
Adelaide to Sydney Via Melbourne Drive Route Map Overview
Before the road trip inland, let's talk about this way along the coast: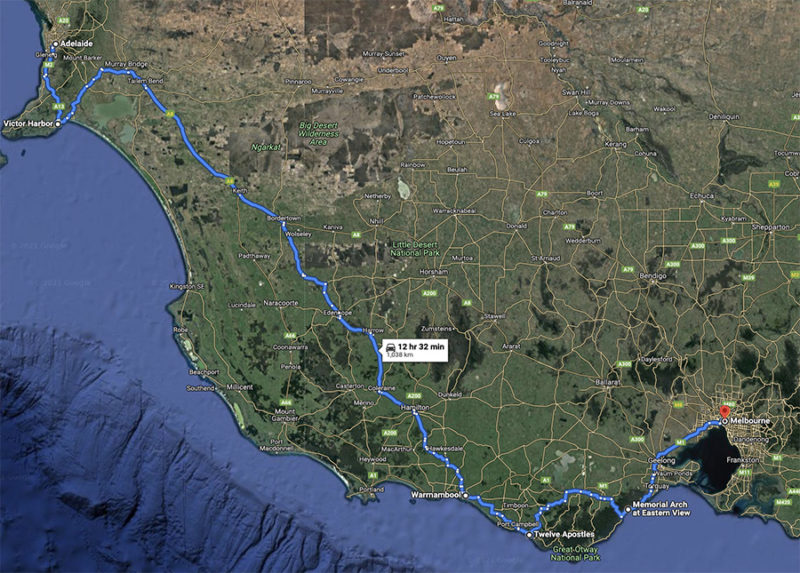 Most people want to drive from Adelaide to Sydney. They usually follow the navigation to tell them this established route (pictured below). They will stop in Melbourne in the middle. This route is usual, nothing special, except for Great Ocean Road If you haven't visited it yet. If you want to know the details of this route planning, please Click Here to read this article.
Stay in Melbourne, Then Turn to Sydney Via Canberra
Immediately after leaving Melbourne, you will reach Sydney via the M1. It's the route with the highest priority for navigation. By the way, you can also visit Canberra before going to Sydney. The scenery here is also beautiful, and it is the capital of Australia. It is also the palace of state power. (Dot in the picture below)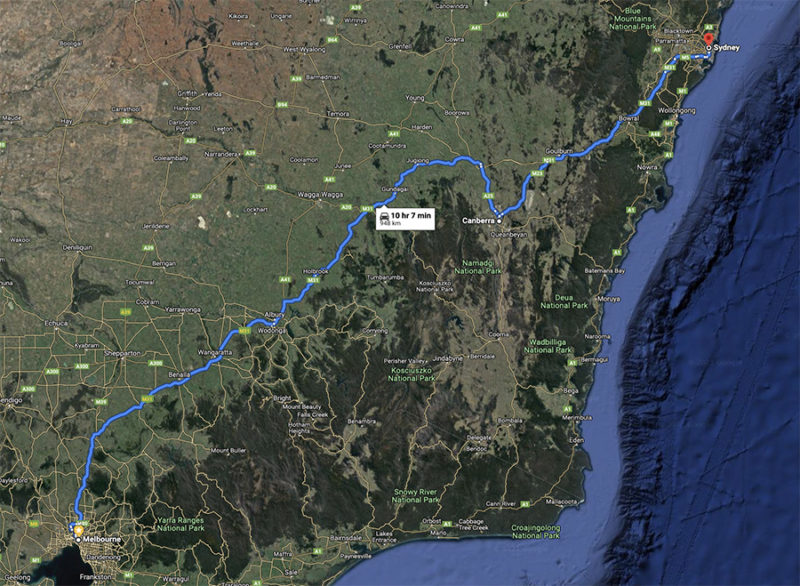 I'm going to talk about this route first because it's easy to drive, not too risky (for me), and almost on major highways, so foreign tourists can rent a car to complete road trips. If you are interested in the Sydney Melbourne Canberra route, Click Here to read this article for the details.
And now, it's time to serve the main dishes. So let's get a road trip inland now!
Sydney Adelaide Inland Drive Route Map Overview
It's a great route map as my experience that you worth trying to reach Sydney from Adelaide inland, like this: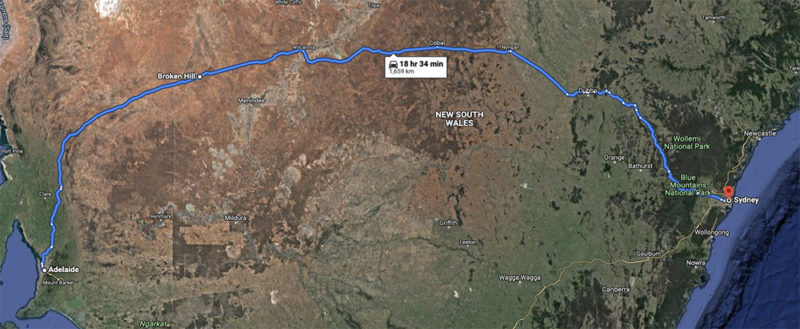 How Many Kilometers Is This Route?
1686 km distance totally if driven from Adelaide to Sydney inland route. Usually, you will not find this route the first time. If you try to use Google Map settings from Adelaide to Sydney, it may point out that it is also an inland route, but not like me.
How Many Days Are Best For A Road Trip?
With thousands of kilometers of Distance that need over 19 hrs driving, on average, need 6 hrs driving per day that at least take 3-4 days. In my road travel experience, I arranged about seven days to complete this route.
At the time, I had to go to Sydney for a new job and had no job opportunity in Adelaide. So to survive, I must start this adventure. The supervisor on the phone told me that he accepts that I can go to him because I own the car for myself. I also told him that I must arrange this time to move so I had the opportunity to implement this driving trip.
When I searched for directions, I didn't want to go along the coast because it was boring and nothing special, so I decided to drive inland routes.
After further exploration, I found many unique places on the inland route with high stars ratings and excellent. So, finally, I decided to arrange seven days to set up this journey to take this route (just in time for the interview).
List this attraction in the following:
Best Attractions between Adelaide & Sydney Inland:
Barossa Valley (Whispering Wall, Chateau Tanunda, Mengler Hill Lookout)
Historic Daydream Mine
Mundi Mundi Lookout
The Living Desert and Sculptures
Line of Lode Miners Memorial
Old Dubbo Gaol
Lake Canobolas Reserve
Glow Worm Tunnel (Optional)
Jenolan Caves
Wind Eroded Cave Lookout
Anvil Rock Lookout
Scenic World
Three Sisters
Echo Point
Empress Falls
Wentworth Falls
Lincoln's Rock
Sydney City
Check Over 23 Up Attractions between Adelaide & Sydney Inland>>
Next, I will show you how to complete the route in the order of the attractions.
10 Days Itinerary Adelaide Sydney Inland Road Trip
It will take about seven to ten days for you because you don't have to work like me. As a tourist, you should slow down and enjoy this route. You can use your available vehicle, camper, or even four-wheel-drive vehicle on this route. 4WD is the best; you will understand later.
Day 1 – Adelaide City Tour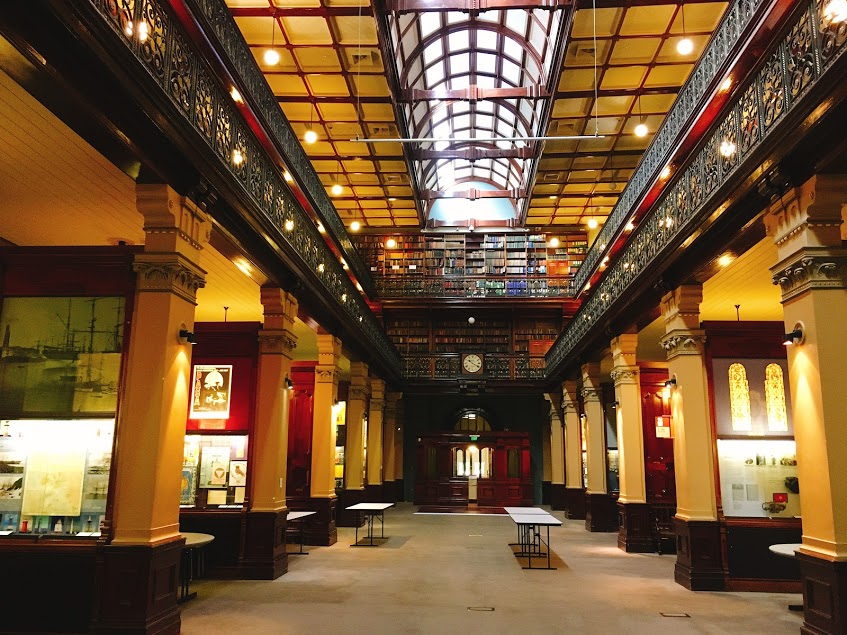 >>Check Attraction List on Google Map.
Adelaide has always been my favorite city, and it feels like I'm here in Germany. Compared to other cities, it makes me more relaxed and slower in life, so Adelaide is the city where I stay the longest.
When I was a backpacker, I was unemployed for a while. I later worked as a warehouse mover, cashier, and Ubereats. My last job before leaving Adelaide was Ubereats. I drove across the streets to deliver pizza and fried chicken. Unfortunately, I got lost in the suburban community and couldn't find the house number. So I ran to the port to see the night view after delivering the meal.
When you search for attractions in Adelaide city, don't just search the city center, there are quite a few attractions to visit. I will write another article to share with you later.
Day 2 – Barossa Valley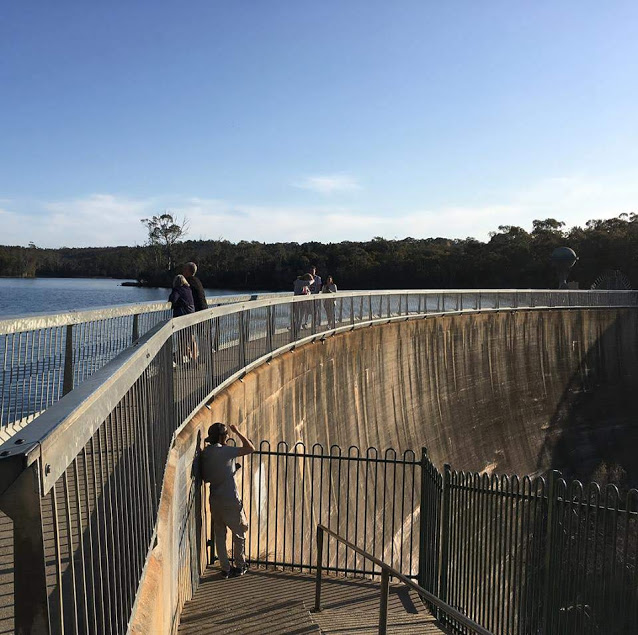 Estimated Distance – 136 km
Estimated Drive Time – 2 hr 13 min
>>Check Navigation on Google Map.
There are many wineries and vineyards in Barossa worth visiting. Still, this area is at least two hours drive from Adelaide City, so you should stay here for a day or join a guided tour. The main thing here is that you can taste the well-known local and red wines, but I think the most famous specialty is the locally produced beer.
Enjoy Some Alcohol!
When I was leaving Adelaide City and moving north, I went on a day trip to Barossa Valley. At noon, I ate at a restaurant called Barossa Valley Brewing. Then, I ordered a pizza with friends and "a row of draft beer" "Yes, you read that right, but it's a great combination of flavors! I love the draft beer here, especially the taste of barley.
Barossa Chateau
Next, I went to Barossa Chateau winery, a magnificent garden where cars can drive directly into the parking lot. There are quite a lot of oak barrels in the winery. When I went there, a group of tourists tasted delicious red wine, but I did not drink it because I had already drunk beer. Then, just as I was going out of the winery, there was a woodball court next to the entrance. Maybe when you sign up for a guided tour, they will let you taste wine and challenge a hole.
Barossa Sculpture Park
Then I went to a scenic spot called Barossa Sculpture Park. You will see ample open space for parking on the mountain not far away when you drive up. The orientation is facing west, but I don't plan to watch the sunset here. However, you can try this; it should be beautiful. You can see the whole Barossa Valley from this place, and it is lovely. In addition, there are more than a dozen megalithic sculptures here, each of which is meaningful, as if telling a story about Barossa's history.
Whispering Wall
When you drive through this area, you will pass a lot of vineyards by the roadside. I used to do the work of pruning grape branches but not here. The next place is to head to Whispering Wall. It is a dam with beautiful lake scenery. More specifically, you can have a direct conversation at both ends of the dam.
I was using the characteristics of this dam-building material. As long as you stand here, you can directly speak to the person at the other end, and the person opposite can hear you, which is very interesting. It was close to five o'clock in the afternoon. The Whispering Wall was only open until this time, and I had to leave, so I drove directly to the rest point of the day: Burra.
Stayover at Burra
Burra is a remote town farther north of Barossa, and there is a hotel in this town. Tonight I choose this because it's a must-go place for driving north. The hotel offers quite comfortable beds and clean double rooms. And the owner is amiable and approachable.
That night, the family members and relatives of the boss were there, and I happened to chat with the boss here and enjoy the alcohol served by his son and the boss's friends in the bar on the first floor. We talked a lot that night. I had a great day.
Day 3 – Heading to Broken Hill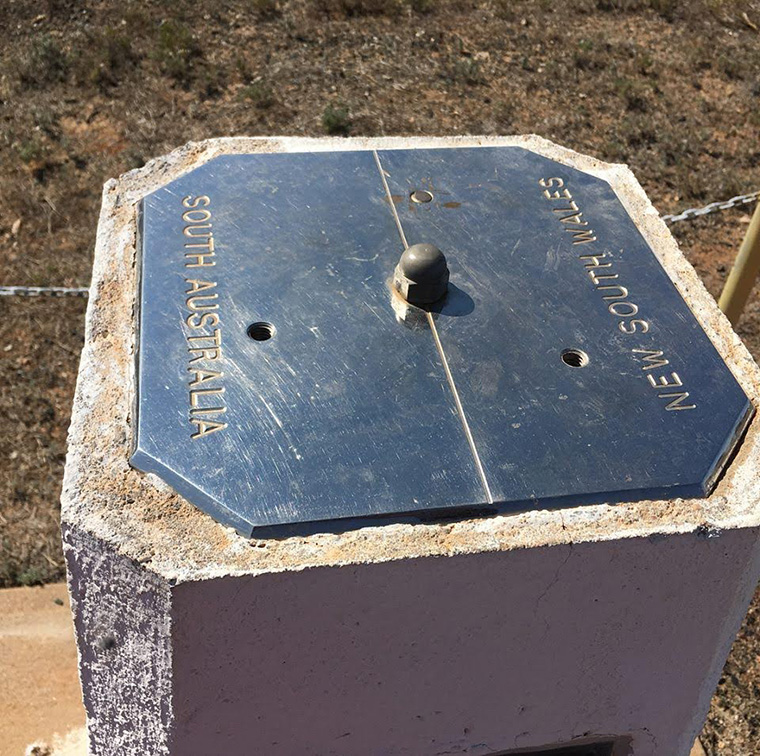 Estimated Distance – 471 km
Estimated Drive Time – 5 hr 15 min
>>Check Navigation on Google Map.
I woke up that morning and wanted to leave Burra but found that the entire hotel was empty. I thought I was dreaming. Breakfast was in an open-plan room on the second floor, and you could use milk and cereal. Since you are going to Broken Hill on this day, you must move early. This day is a moving day. It has a long distance. You will almost see a wide field on the way, including the endless pasture and the wind power tower. The scene made me chill; there must be music in the car to avoid you being bored.
Big Dice
In the middle, you will pass colossal stonework called the Big Dice. There is nothing here, just passing by and taking pictures. Here is a curve with high-speed cars passing; not easy to stop, so look at it.
Cockburn – Border of SA/NSW
At about noon, I came to a small town called Cockburn. It is a small town on the border of SA and NSW. You can see a notice board here, with NSW on one side and SA on the other. Although it is boiling at noon as the name of this town, you can look at the basic terrain. There are only a few houses here, and there is also a simple bar where you can take a break and chat with the female bartender here.
There is also a dog here and one or two residents. The scene here is similar to a cowboy in the western United States. It's just that I need a gun, LOL.
About Broken Hill
Broken Hill is worth staying for three days two nights for some unique attractions; recommended to stay over in the caravan park while you arrive. Loading food, water & drink, and Lake View Caravan Park is the best place for camper vans. It's a small town dominated by ore mining. When you enter this place, you can find many mining types of equipment around it, which is an excellent place. There's an ore exhibition hall in the town to visit, but it's dusk while arriving here, only find a restaurant.
There is nothing here at night, and the supermarket is closed very early, plus I don't see the bar open, so I can only stay in the camping area. Also, I had to go to bed early because I had a trip here the next day.
Day 4 – Special Tour at Mining Dream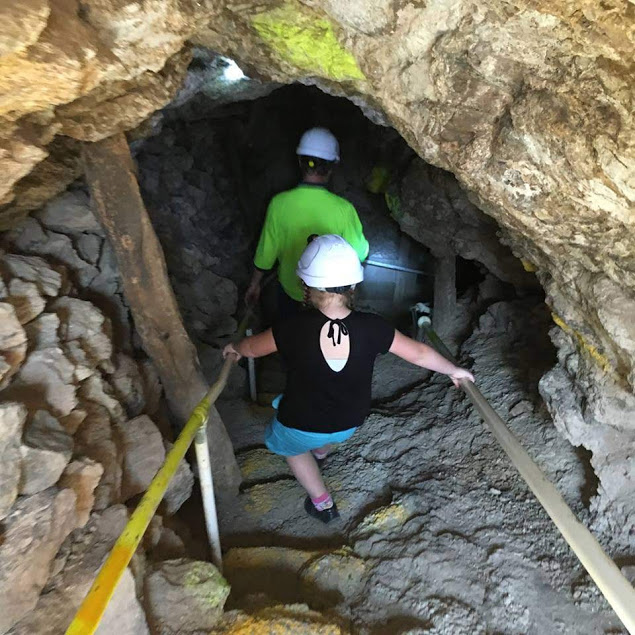 Estimated Distance – 52.7 km
Estimated Drive Time – 1 hr
>>Check Navigation on Google Map.
Tour at Historic Daydream Mine
I embarked on an extraordinary adventure on this day, and something happened that surprised me. I noticed a scenic spot called Historic Daydream Mine near Broken Hill (sorry, this picture doesn't navigate this spot, it is in the upper-middle position). This spot is exceptional but very remote. The road is very close to the off-road, and you will encounter a lot of sand storms.
The ground is red clay accompanied by yellow sand; you must follow the notice board. It will guide you to drive a sure way to reach this underground mine.
Enter the Underground
When I arrived, it looked like a mine no longer mined. It is now a tourist attraction with limited opening hours. There are only two available visits a day. You will force to participate in the tour because you must be wearing mining equipment to enter the mine. Indeed, the mine is a bit dangerous. It was already 10 am when I got here. I was lucky enough to sign up for the second (final) and paid AUD 47.5 for the tour on-site. There were also meals for miners to eat. Unfortunately, a senior miner took us down (Five people in this group), and each member was wearing a hard hat and a searchlight.
The underground mining field's visit trails for travelers. They have handrails to support them if you are afraid of falling. The miner told us about the history and mining process and the story of this mine. He worked here for 23 years and asked him to know that the mine was mining silver instead of gold. Broken Hill mainly mines silver and amethyst and amber-like ore, which impresses me. It is also the first time I have participated in such a memorable trip.
The Living Desert & Sculptures
You can go to The Living Desert & Sculptures to admire this magnificent mountain attraction in the afternoon. You need to pay for a ticket (approximately AUD 6). When you stand at the top, you can see Broken Hill in the Distance and the vast land. Then there are Dozens of stone carvings around you, as if in Machu Picchu, similar to the feeling of ancient civilization in Yama culture. It is also one of the places to visit, but don't stay too long, because I went to Mundi Mundi to watch the sunset.
Today's Highlight – Mundi Mundi Lookout
Mundi-Mundi locates on the highest platform, a wilderness here, and open space just right for parking here. When I arrived here, it was about 5 pm. I went west to this place to watch the sun sunset and disappear on the horizon. The shades are layered, from yellow, red, to purple. It is a unique attraction. Must come here when you come to Broken Hill!
At night from Mundi Mundi back to Broken Hill, be very careful to drive. You will encounter grazing wild horses and even kangaroos on the way, so not recommended to stay in the wilderness at night.
Day 5 – Broken Hill Tour & Head to Cobar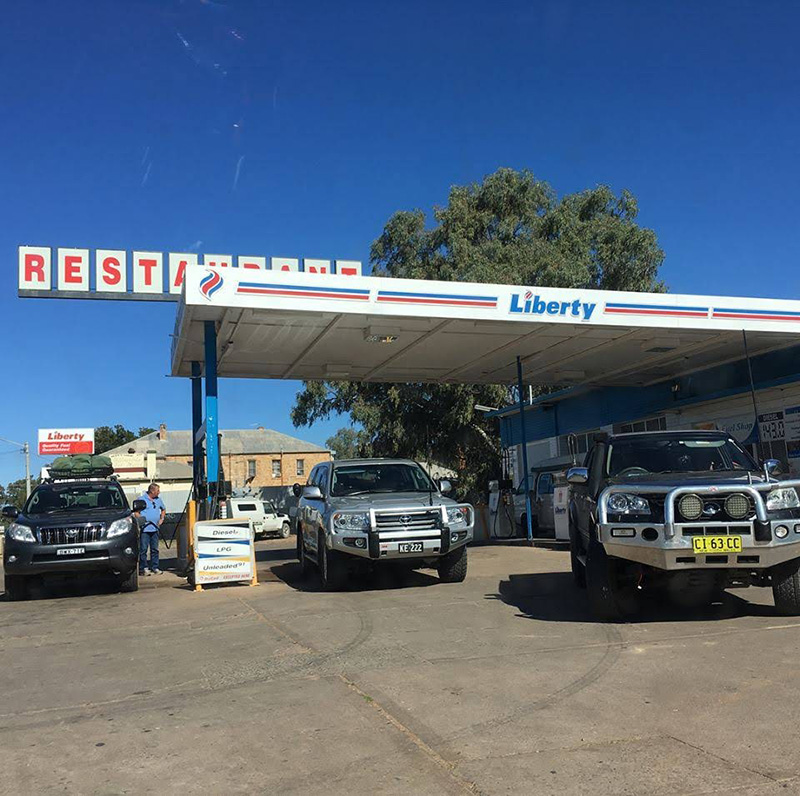 Estimated Distance – 520 km
Estimated Drive Time – 5 hr 49 min
>>Check Navigation on Google Map.
Let me add that the two navigation pictures above are relatively roaming. You still have to decide according to the day's conditions to go to a particular attraction first. You pay attention to the opening hours of the interest.
Line of Lode Miners Memorial
In my experience, since I have been to Historical Daydream Mine and Mundi Mundi, I only need to visit the Line of Lode Miners Memorial on this day.
This mine memorial is on the hilltop southeast of Broken Hill; you go to the top by driving. This facility displays mining equipment and tools and tells people about this town and workers who have lost their lives. Pay tribute to these great miners.
Keep Move On
Leaving Broken Hill and then heading east recommends driving during the day instead of at night. I saw many kangaroo corpses on the way, even if you are driving a camping trailer.
You will see the two towns, Cubba and Cobar, on the map. Then, after a few hours of driving, you can choose one to stay overnight. Here, I just listed the time and Distance you spent when moving. But, of course, this is very distant and tests your patience.
If you missed Historic Daydream Mine, go for it early and make an appointment at their mining site to visit a tour or phone call. They accept visits till 1 pm; they open until afternoon only, so you must go early. After that, leave Broken Hill, drive & stay at Cubba or Cobar overnight.
Day 6 – Big Towns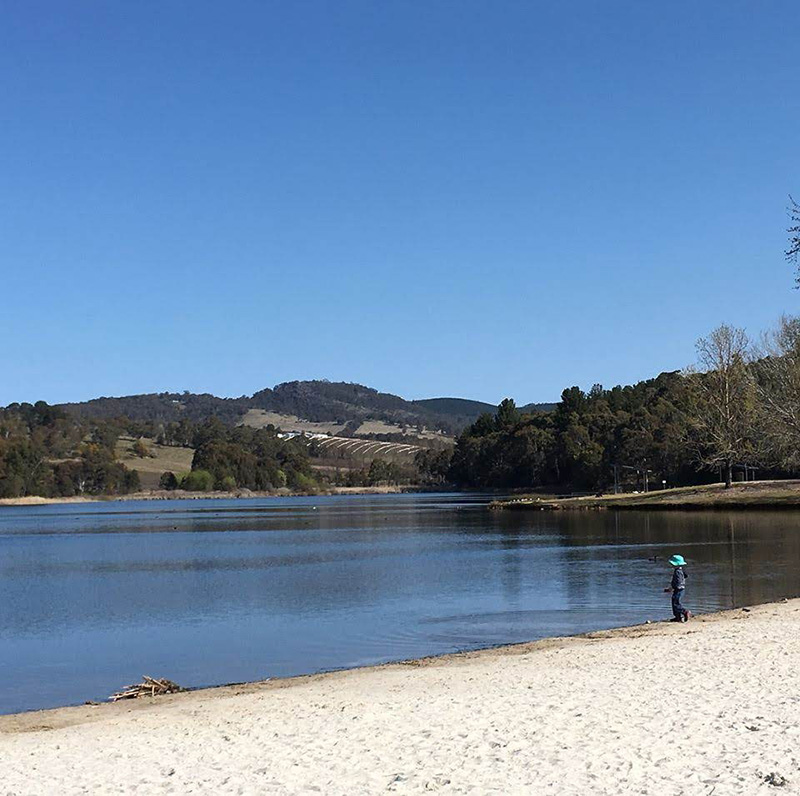 Estimated Distance – 508 km
Estimated Drive Time – 5 hr 45 min
>>Check Navigation on Google Map.
Go ahead and set up to go to a place called Dubbo. It is a large town with a large population and advanced development to get supplies from the supermarket (Coles) here. Before arriving at Dubbo, you can rest in Nyngan and Trangie, two small towns with petrol stations.
Dubbo
In Dubbo, the most famous attraction is Old Dubbo Gaol. It is a very historic castle but requires tickets. You can use Dubbo as a noon breakpoint, then move past Molong in the afternoon, and Orange finally arrives at Bathurst. A small dam called Lake Canobolas Reserve near Orange, with white sandy beaches and clear lakes. You can rest here after passing by.
Stay in Bathurst?
This day is a little faster for me, but you can choose to stay in Dubbo and head to Bathurst the next day. I recommend Bathurst because the big town is already close to the Blue Mountains.
If you want to drive slowly, you can also stay in Orange. The town is not small, and it can visit many orchards around. In short, it can flexibly arrange your journey planning on this day. Moreover, these places I mentioned above are all big towns, so you don't need to worry about food and fuel.
Day 7 – Mystery Points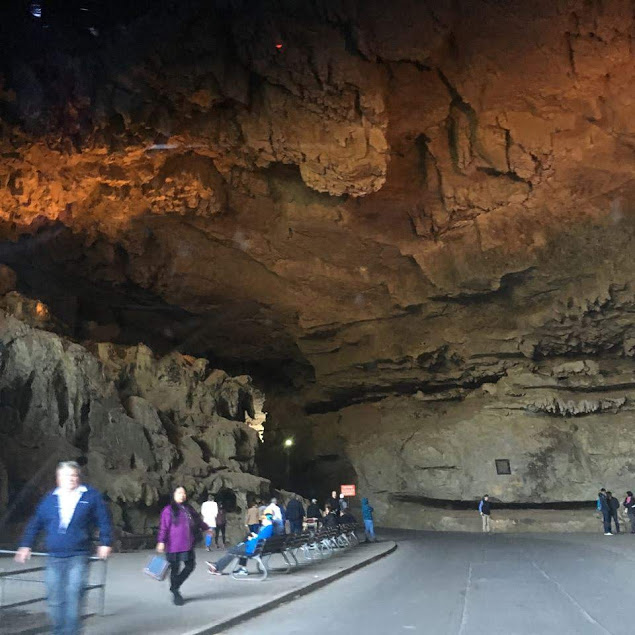 Estimated Distance – 239 km
Estimated Drive Time – 4 hr 28 min
>>Check Navigation on Google Map.
This day was special. I found two scenic spots worth challenging, but both were remote. I went to remember them. I must say that the following route is just my own choice. You don't have to follow my itinerary, because it is dangerous.
Unsealed Way to Glow Worm Tunnel
The Glow Worm Tunnel locates in a very remote spot in the Blue Mountains, which is almost undeveloped. The road to this spot unseals, so you must drive a 4WD. When I drove up the mountain, the road became narrower and narrower, surrounded by dense forest. In the end, your car needs to go through a cave passage and come to an open lot, parking here. You get out of the car and start walking; only the signboards guide you. There are no paved paths, so you must proceed carefully.
It's best to prepare sticks to prevent wildlife (I haven't encountered anything like snakes). I was walking alone on the road without a partner, so I suggest that it is best to have a partner with you if you want to come here. Moreover, there is no mobile signal here; you will be in a state of isolation. I encountered an old couple from the Netherlands on the road, and I went with them.
See This Epic Glow Show Naturally!
Later, we finally walked to this vast cave, which was dark inside. When we walked to a completely dark place, we turned off the lights, looked up, and there was a Glow Worm around us! They emit blue shimmers, concentrated little by little like being in the universe. I feel like I'm no longer on the earth at this moment, and this scene made me unforgettable.
Then walk to the exit at the other end of the cave. It is also a completely undeveloped area, but you can see the distant mountain views through the trees. The whole area is the Blue Mountains, which have a natural cyan tone. Finally, we returned to the parking lot the same way. I admire the courage of the old couple. Of course, they specially rented the Apollo camper, which is very powerful.
Tour at Jenolan Caves
Next, I drove to Jenolan Caves. It is a naturally-shaped stalactite attraction. There are nine routes to visit, but each costs AUD 40 and opens until 5 pm. It's mandatory to participate in the guided tour, so you cannot enter the trail alone. The stalactite attractions are extraordinary; without any artificial carvings, they are natural sculptures worth visiting after tens of thousands of years! Foreign tourist groups also come here for tourism, so I recommend you to go here.
On this day, I can only say that the location of the Glow Worm Tunnel is too remote. It is better not to come here without 4WD. However, you can continue to the following few most famous attractions in the Blue Mountains. Even if you want to be there, check the weather status before going.
It recommends spending the night in the Lithgow camping area, which is the most suitable location between the two attractions.
Day 8 – Blue Mountains Tour Part-1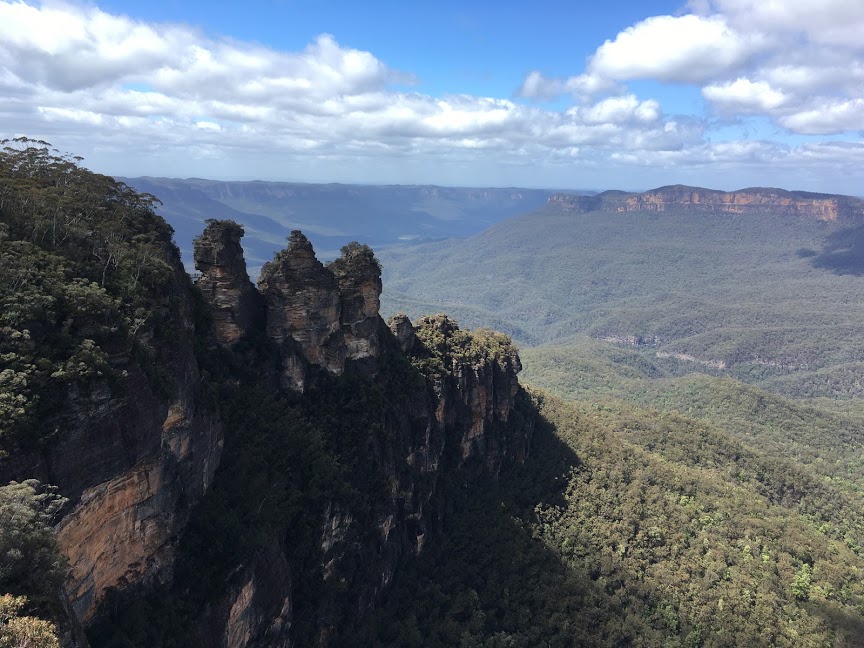 Estimated Distance – 58.2 km
Estimated Drive Time – 1 hr 16 min
>>Check Navigation on Google Map.
For me, the Blue Mountains is a series of attractions near the end of a road self-driving trip. This place contains many attractions worth visiting, and it is just about to reach Sydney City. So before entering the big city, take this opportunity to enjoy this fantastic Natural scenery!
Best Point Stay – Katoomba
Katoomba is a significant town in the Blue Mountains where you can stay here overnight. Before Scenic World is this most popular attraction, visit Anvil Rock Lookout & Wind Eroded Cave Lookout. They are both natural places. They view the great whole cyan tone if standing at lookouts.
Scenic World
Immediately afterward, you can head to Scenic World for the steepest sightseeing train to enter the area. Then, take the gondola and head to Echo Point to admire the beautiful Three Sisters.
Epic: Echo Point
The Echo Point is only near Scenic World, but it is the most popular spot for tourists, so it is not easy to find parking spaces. Therefore, strongly recommended that you park your car a little further and walk here.
As long as you arrive at Echo Point, you can also see Three Sisters, huge rock shapes, standing directly at Echo Point. But, of course, you can also see it from the aerial cable car platform in Scenic World Park.
Day 9 – Blue Mountains Tour Part-2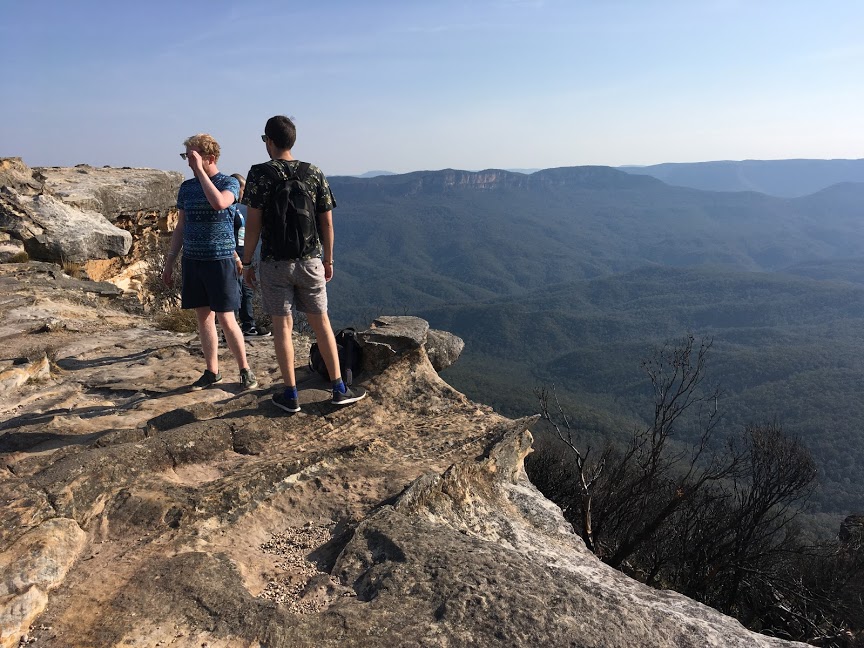 Estimated Distance – 15.6 km
Estimated Drive Time – 26 min
>>Check Navigation on Google Map.
This day is a journey to test your physical and willpower. But, of course, you can also face this route easily. Most of the day, you are walking on mountain trails, and there will be steep stairs behind them, which will test your leg strength.
Trails to Falls
I highly recommend visiting both Empress Falls and Wentworth Falls. Great mountain trails are worth visiting. Before you go, make sure you bring enough water and food because you will quickly feel hungry.
Best End – Lincoln's Rock
After conquering two great attractions, the last one is to come to Lincoln's Rock. It's a natural platform; you stand here overlooking the entire Blue Mountains. The whole mountain stretches into the Distance, beautiful and vast, but be careful not to access the edges without any protective measures.
Finally, you can stay at Katoomba for one more night to relieve your stress and get a beer, fish & chips!
Day 10 – Tour Sydney City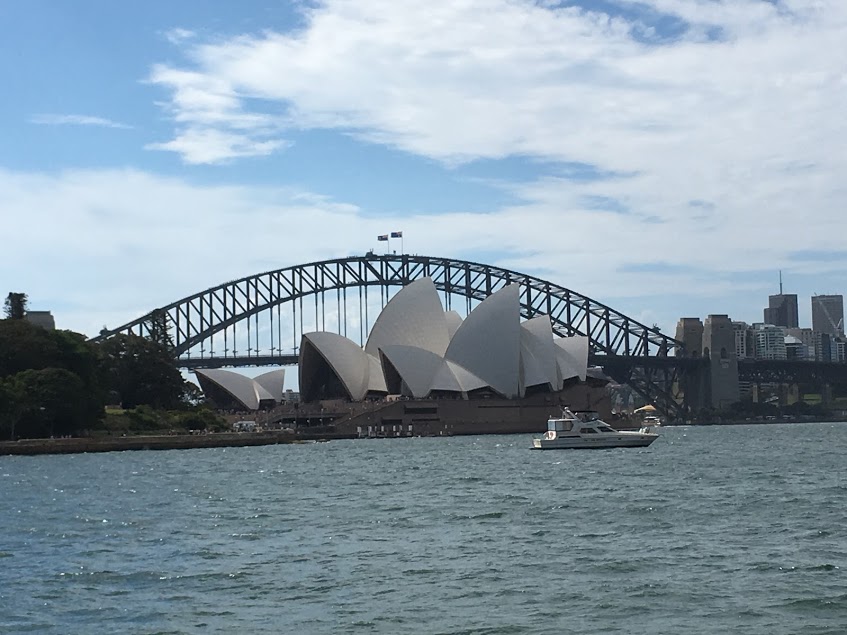 >>Check Attractions List on Google Map.
On the last day, drive east along the A32 and finally arrive at Sydney City, which means your road self-driving trip is also over. Now take a city tour in Sydney, visit famous places like Opera House, Harbour Bridge, Sydney Tower, etc. Road trip accomplished.
Want to know more attractions?
Check Over 23 Up Attractions between Adelaide & Sydney Inland>>
Conclusion
This inland road trip is the most memorable moment of my time as a backpacker in Australia. You can choose the easiest route to travel; with recommended attractions, you are not only enjoying fantastic beer and wine. In addition, many inland beauties fill your eyes. So what are you waiting for it? Get this ten-day itinerary and take action!
You already know the best inland route for Adelaide and Sydney. Now, get your belongings ready, get food and a map, turn on your car engine and start it! 
By the way, besides Adelaide Sydney inland trip planner, I recommend these route planners for your next road trip:
You May Also Need:
Want More Attractions for Your Road Trip?
Are You Looking for Job? Here's Your Jobs List
Some Tools Help Your Road Trip
Read This Australia Guide Book Now to Get More Beautiful Attractions and Plan Your Next Road Trip!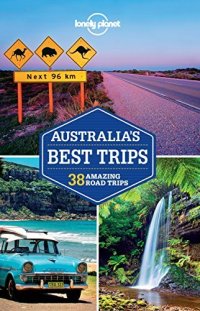 By Lonely Planet. This book introduces the amazing 39 best road trips for visitors who wanna touch beautiful places with night galaxy camping. Cleary descriptions cover all locations: Sydney, Melbourne, Brisbane, Cairns, Perth, Darwin, Uluru, Tasmania & others in the state of Australia. Full-color photography with prominent text trip guides. You can order a paper version to carry on with you or download a Kindle version via Amazon online store. Read more detail>>
Don't Forget to Pick Up This Paper Map with You!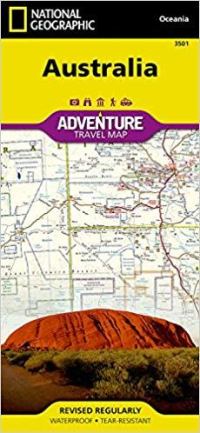 National Geographic created it. Unique paper maps for most visitors who come to Australia need to know where the next place to go. Each route's detail shows the best places, best lookouts, camping areas, best ways, certain motorways & unseal roads. This map for travelers who plan outback without mobile service is the paper map you need! Read more>>