This's another enjoyable road trip from Sydney to Melbourne along the east coast in Australia. This article will share how planning this drive route & itinerary, especially you will come across Kiama, Hyams Beach, Australia Rock, etc.
Most people would like to take a road trip to Sydney Melbourne through the M31 highway inland because it's only this one way faster. Still, I will recommend some beautiful attractions east coast for a road trip by self-drive.
Before You Take Action
I must say that I haven't been to every attraction on this road. So here I just tried some practical recommendations for road trips by my friends & local residents and wrote itineraries using my experience as suggestions.
You don't need to follow my whole plan; arrange it, add and remove some places in your mind, and consider your limited day & budget. So, hopefully, you enjoy a fun fill & unforgettable road trip of your own!
Sydney Melbourne Coastal Drive Route Map Overview
If you are typing & check the Google Map, the route map looks like this:
>>Get Navigation on Google Map
This route mostly runs along the Princes Highway, which passes through many small towns & forests without a mobile network. Therefore, you will get many points to camp & enjoy more natural attractions.
How Many Kilometers Is This Route?
This route is 1028 km total distance without any stop, the fastest way needed is to take at least two days' self-drive.
How Many Days Are Best For A Road Trip?
Because that's a long way trip which takes two days, for the self-drive so that I need to stay overnight somewhere, the best place to stay overnight which along the east coast is Jervis Bay. If you depart from Sydney, it will take 3 hrs up about 196 km to Jervis Bay, but take over 9 hrs 932 km if from Melbourne, So that I recommend starting the trip from Sydney.
Another point, if you wanna go to Sydney from Melbourne along the east coast. The best place to stay overnight is Eden; you need to take 7 hrs 554km. It should be better but exclude visiting additional attractions.
But, I must first say that I have not been to every attraction. I just tried to recommend some of the more worthwhile attractions, which may be familiar to you. And the advice itinerary I gave, you don't have to do it all, because you can't drive as long as I can, you can follow this route at your own pace. Finally, you must carefully consider your limited vacation time. Basically, there is beautiful scenery on this road, so enjoy this trip.
Best Attractions Along East Coast Sydney Melbourne
This section will show you these attractions that you can fill in your trip plan, some places that make you have fun with children. So take walking around, and enjoy the natural, peaceful atmosphere. Also, you will find out these tourist attractions which don't appear in most tourist groups.
Wedding Cake Rock
Providential Point Lookout
Figure 8 Pools
Kiama Blowhole
Tree Adventures- Nowra Park
Hyams Beach
more….
All of Wedding Cake Rock, Providential Point Lookout, and Figure 8 Pools are in the Royal National Park, others along the seaside.
Check Over 25 Up Attractions between Sydney & Melbourne East Coast>>
These three places: Wedding Cake Rock, Providential Point Lookout, and Figure 8 Pools, are in the Royal National Park. Once you decide to head there, what route should you plan for? I have another article to show you this route planner; Click Here>>
3 Days Itinerary Sydney Melbourne Via East Coast Road Trip
About a day trip, I suggest you arrange at least 3 days for this coast. Indeed you can add more days that enjoy more tourist attractions as you would.
Day 1 – Royal National Park Tour
Estimated Distance – 86.1 km
Estimated Drive Time – 1 hr 46 min
>>Get Navigation on Google Map
In this part route, you have these places drive-through:
Drive to the car park from Sydney
Figure 8 Pools
Wedding Cake Rock
Providential Point Lookout (Optional)
Overnight
Day 2 – Sydney to Melbourne East Coastal Trip
Estimated Distance – 155 km
Estimated Drive Time – 2 hr 35 min
>>Get Navigation on Google Map
In this part route, you have these places drive-through:
Old Helensburgh Station.
Coalcliff Rock Pools (Optional)
Sea Cliff Bridge
Kiama Blowhole
Little Blowhole
Trees Adventure- Nowra Park (Optional)
Hyams Beach
Overnight
Day 3 – Head to Melbourne
Estimated Distance – 700 km
Estimated Drive Time – 8 hr 20 min
>>Get Navigation on Google Map
In this part route, you have these places drive-through:
Australia Rock (Optional)
Horse Head Rock
Eden Lookout and Rotary Park
Melbourne City (Finish).
A little story of midway to Melbourne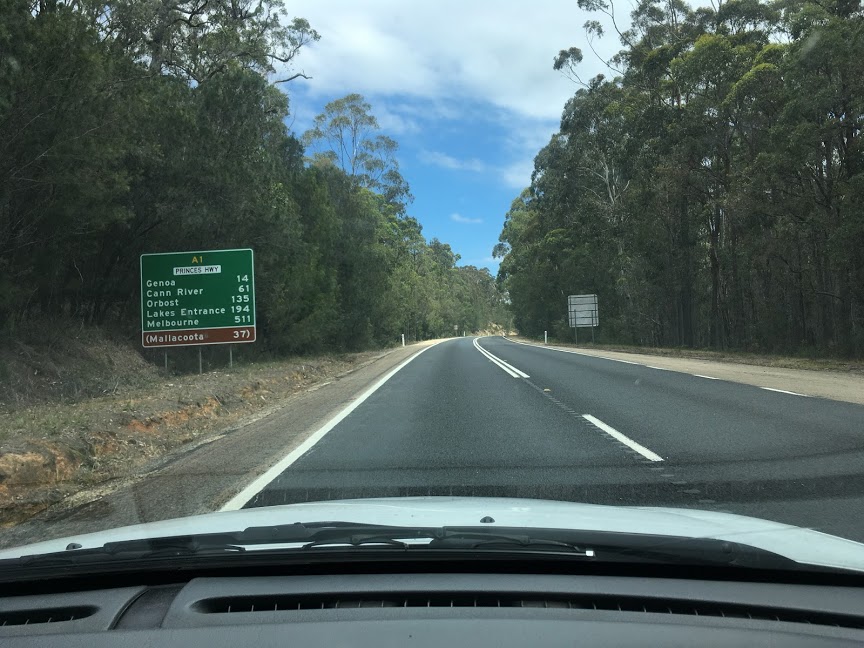 The mobile network will get no service while through the forest of this route to Melbourne, which means it will cross the whole forest beyond the border and enter Victoria (VIC).
I saw a man standing at the side road & handing a stop sign to me. In contrast, I stopped in front of that man & he told me about a team logging & arranging in the forest. And he admired them working in a non-signal environment like an escape from the city. Well, this's a different lifestyle in Australia but similar in the United States, respect these workers.
After passing through several small towns of Bairnsdale, Sale, Traralgon, Morwell, Warragul, eventually arriving in the big city of Melbourne, means a road trip complete while on the M1 highway with multiple paths.
So, let's get started!
Melbourne, even if you can drive from Melbourne City well. There still are many beautiful attractions around this highway to fill your route. But I suggest you set this route on a road trip in 1 week or less. Then, finally, put on your own self-drive way, get car rent & enjoy now.
Have you ever been to the Blue Mountains by self-driving trip? If I haven't touched it, I have a 1-day tour for you. Read More>>
Want to know more attractions?
Check Over 25 Up Attractions between Sydney & Melbourne East Coast>>
Conclusion
I hope you enjoy this road trip, you already know the best route Sydney Melbourne east coast. Now, get your belongings ready, get food and a map, then turn on your car engine and start it! 
By the way, besides Sydney Melbourne coastal trip planner, I recommend these route planners for your next road trip:
You May Also Need:
Want More Attractions for Your Road Trip?
Are You Looking for Job? Here's Your Jobs List
Some Tools Helps Your Road Trip
To Get More Beautiful Attractions and Plan Your Next Road Trip, Read This Australia Guide Book Now!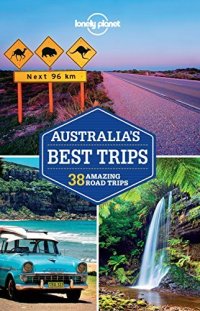 By Lonely Planet. This book introduces the amazing 39 best road trips for visitors who wanna touch beautiful places with night galaxy camping. Cleary descriptions cover all locations: Sydney, Melbourne, Brisbane, Cairns, Perth, Darwin, Uluru, Tasmania & others in the state of Australia. Full-color photography with prominent text trip guides. You can order a paper version to carry on with you or download a Kindle version via Amazon online store. Read more detail>>
Don't Forget to Pick Up This Paper Map with You!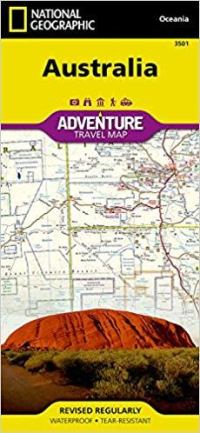 Created by National Geographic. Unique paper maps for most visitors who come to Australia need to know where the next place to go. Each route's detail shows best places, best lookouts, camping areas location, best ways certain motorways & unseal roads clearly. This map for that traveler who plans outback without mobile service is absolutely this paper map you need! Read more>>